By Steven Graham
ITWPA Member
Do you dream of making your escape to the tropics… to the island life? Does the thought of exploring a remote island full of coconut palms and banana trees, surrounded by a warm, greenish-blue sea, fill you with yearning?
The Philippines is sure to have an island just the right size for you. After all, there are 7,107 of them — some no larger than a Buick! But there is one in particular that is less known and more of a mystery. It is Palawan, "the last frontier" as it is known in the Philippines. Palawan is not only sparsely populated, but also the least-developed province of the Philippines.
This 280-mile-long stretch of land lies far to the west of the main group of islands between the South China Sea and the Sulu Sea, just north of Borneo. It is not uncommon to see a farmer riding his "caribou" (think water-buffalo) while pulling a cart, or to see workers stooped over in the rice paddies.
Your first brush with the friendly locals will most likely occur in Puerto Princesa City, the capital of Palawan. The small airport is served by Cebu City and Manila, and is only a one-hour flight from either city. Puerto Princesa is a small town, although busy with traffic. Most people in the Philippines speak fairly good English, and Palawan is no exception.
Located at the end of a two-hour scenic drive heading south along the coast from Puerto Princesa is a charming oasis known as the Crystal Paradise Resort, Spa & Winery. Here, elegance meets tranquility in a beautiful, sprawling garden cove on the beach. Coconut palms and tropical flowers are everywhere! Fantasy Island will surely come to mind in this serene setting.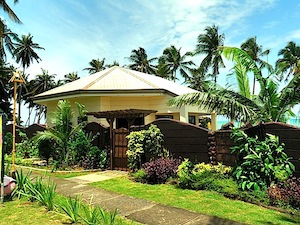 The staff is remarkable — either anticipating your every need or quickly tending to them with grace and charm. As you arrive, you are welcomed with a smile and a garland of yellow flowers that is draped around your neck. Then you are escorted into the pavilion and served "Buko" — a large, freshly-picked coconut filled with coconut water that you drink from a straw.
The beach-front villas are the epitome of modern elegance, with solid wood and rattan furniture, white-tiled floors, and canopy beds. The most surprising feature is the incredible view through the sliding glass doors opening up to your very own private infinity pool. And just 10 feet beyond that is your own private stretch of beach.
Beautiful, swaying palm trees frame an idyllic, aqua-blue sea as you sit on a lawn chair by the pool, sipping your favorite beverage. The warmth of the sun and the sound of the pounding surf just a few feet away are guaranteed to calm even the most pent-up traveler. Pure heaven!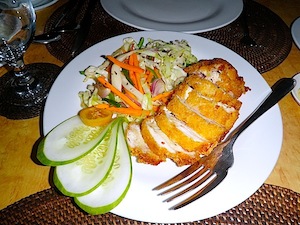 Dinner is served in a huge gazebo-like structure with a view of the tropical garden surrounding you and the ocean just beyond. The menu is well-thought-out, presenting you with a wide assortment of delectable choices… all quite reasonably priced. Breakfast, lunch, and dinner are served.
If a spa treatment is on your must-do list, be sure to try their one-hour cleansing scrub using all-natural ingredients, plus massage, for only $18.76. This is done as you lie on a pedestal of warm circulating water.
Palawan really is a pristine paradise worth exploring for at least a few days, and this resort is the perfect place to stay while you do it. You will walk away knowing that you've been thoroughly pampered and spoiled. The Crystal Paradise Resort, Spa & Winery is perhaps Palawan's best-kept secret.
If you'd like to purchase this article for your publication, click here to contact the author directly.