by Tamara Whiteside
"Things certainly have changed since I was here 10 years ago," I said to my fiancé, as we drove past Costco, in Cabo San Lucas, Mexico. I was a bit fearful that the relaxing getaway I remembered might have been overtaken by "progress."
But I calmed when we saw the grand view of the cliffs rise up to meet us, overlooking our sanctuary by the sea: Pueblo Bonito Pacifica Holistic Retreat & Spa.
Smiling faces welcomed us in the reception area, and warm hand towels scented with eucalyptus and lavender immediately refreshed us.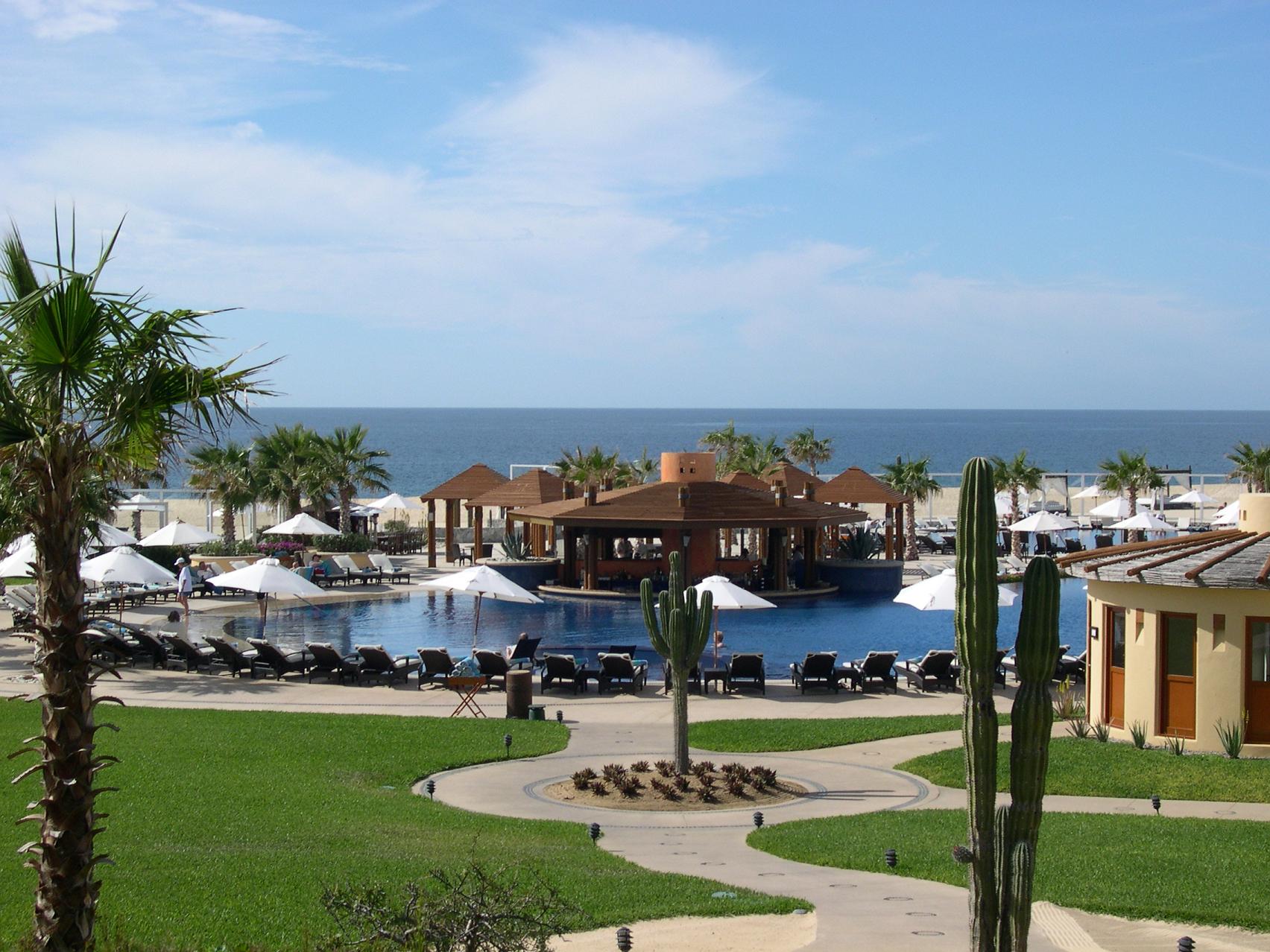 We were led to our Zen-inspired guest room with an ocean-view balcony (each of the 140 rooms and 14 suites have them), ornate pebble-inlaid tile floors and Oaxacan onyx accents throughout. The landscape is impeccably manicured and planted with a variety of native flowers and cacti, palm trees and vibrantly colored bougainvillea.
The property has two infinity pools, swim-up pool bar and Aire the outdoor cafe/grill that delivered our shrimp tacos and chicken quesadillas right to our chaise.
For our first night, we dined at the spa's elegant Siempre Restaurant, where Chef Candelario Leon uses local organic ingredients in both a wellness-oriented spa menu and a "splurge" menu.
Within minutes of mentioning our recent engagement, our server presented us with a chocolate molten cake. As a memento, we were gifted the label from the celebratory bottle of Italian Langhe wine we had with dinner.
The luxurious Armonia Spa offers an extensive menu of services, including a multitude of massages and body wraps that incorporate the healing properties of the sea and of desert plants.
For a touch of decadence, try the Royal Mexican Lime Deep Body Scrub or Chocolate and Hazelnut Pedicure.
We decided to start with the Swedish couples massage. I was ushered into the tranquility room, where I could relax and await our massage. I had my choice of chilled water with floating apple slices, a green chlorophyll beverage, or warm ginger tea. I sampled all three and nibbled on dried cranberries while listening to tranquil music.
For more of an indigenous experience, you can choose the seaside Temazcal, an ancestral-style Indian sweat bath enclosure that resembles a terra cotta igloo. The name comes from the Aztecs and means "bath house." Enjoy a ceremony of deep spiritual and physical cleansing with native medicinal plants and steam.
The Couples Royalty Day Package also offers a romantic way to spend the day on the beach. It includes a private canopied beach bed, cocktails and lunch. The outdoor seating area with soft rattan sofas and open-flame pits is a great place for cocktails and for watching spectacular sunsets.
While the 2-mile stretch of private beach is not suitable for swimming due to strong currents, it is great for strolling in the sand and whale-watching. One breached the water's surface only 100 yards away from us. (For the best whale-watching experience, visit during the January-March migration season.)
The concierges can book a huge variety of activities for you, from whale-watching by ferry or in a high-speed zodiac (recommended for the adventurous), to ATV trail rides, golf, horseback riding, and world-class sports fishing.
Pueblo Bonito Pacifica truly is a haven for couples, honeymooners, and adult vacationers seeking seclusion and pampering. To book your package, visit: http://www.pueblobonito.com/
———-
To buy this article for your publication, click here.
To use the photo, please e-mail the writer for permission.
Are foreign drugstores clinically appropriate for Americans. Part 2