By Sharron Calvin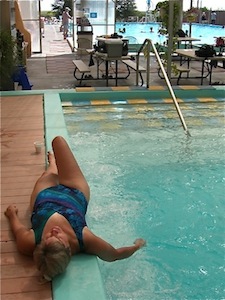 In southern Colorado there is an artesian hot springs corridor that follows the Sangre de Cristo mountain range into New Mexico. Along this route are four unique mineral springs establishments that offer lodging or camping and are open year round for the tourist passing through or for the locals needing a relaxing soak. This journey starts north of Poncha Pass off Highway 24 leading from the town of Nathrop.
Mount Princeton Hot Springs Resort 

This natural Colorado hot springs is surrounded by towering peaks and is the perfect getaway with every amenity for a family gathering. There are three outdoor pools, a near-Olympic-sized lap pool, a main soaking pool, and a cooler upper pool which includes a 300-foot water slide. If you want a more rustic experience, below the resort is Chalk Creek, where you can regulate the temperature by rearranging the rocks that line the banks. Overnight lodging is available by the cliffside or poolside or in the resort lodge or new cabins located in the woods. The facility boasts a variety of massage and oriental bodywork, a restaurant, and a country store. For more information and reservations, call (719) 395-2447 or visit www.mtprinceton.com.
Orient Land Trust and Valley View Hot Springs
About 50 miles south down Highway 17 is a refuge that is a naturist (clothing optional) rustic recreational facility open to all ages, shapes, and sizes including families, couples, and singles. Off-grid hydroelectric and geothermal is in use throughout the grounds as well as camping sites and a few cabins for overnight stays. The now defunct Orient Mine houses bats, and on warm summer evenings you won't want to miss witnessing the out flight of 100,000 to 250,000 bats as they emerge from the recesses of the earth. (719) 256-4315 or www.olt.org.
Joyful Journey Hot Springs Spa
Not far outside the town of Moffat right off Highway 17 is a haven the Native Americans claim "Where Healing Waters Flow" because of the organic qualities of the natural geothermal springs. Three outdoor pools are gravity fed by artesian springs and naturally kept between 98 and 110 degrees. While here, you'll want to take advantage of their massage and bodywork therapies, body wraps, aromatic facials, or overnight lodging in tipis, yurts, or hotel rooms. For more information, visit www.joyfuljourneyhotsprings.com or call (719) 256-4328.
Sand Dunes Swimming Pool and RV Park
And last but not least, this artesian oasis located in Hooper offers a large thermal swimming pool that is maintained at 98 degrees and a 25-person therapy pool maintained at 107 degrees. There is also a 25-foot kid's water slide and soaking area along with a grilling and picnic area. Lodging is now available for RVs and tents, as well as three one-room cabins and a family-style travel trailer. Furthermore, a not-so-ordinary, full menu concession stand promises you won't go hungry. It was voted "The Best Concession Stand in Colorado" by Channel 7 News in Denver, CO. For more information, call (719) 378-2807 or visit www.sanddunespool.com.
By all means, if you are planning to visit the Great Sand Dunes National Park, then any of these hot springs retreats are a must-stop destination to unwind and enjoy the magic of the San Luis Valley in Southern Colorado.

If you would like to purchase this article for your publication, please click here to contact the author directly.

Are foreign drugstores clinically appropriate for Americans. Part 2