By Amy Muschik
ITWPA Member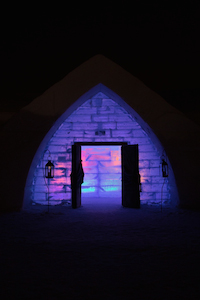 Balanced on the side of a bed made of ice, I removed my coat and boots and shivered as I sat only in my underclothes. The vivid reality of spending the night in a room made of snow and ice, in temperatures of 26.6 degrees to 23 degrees Fahrenheit, suddenly struck me. In Canada, not only enduring but enjoying winter is a source of national pride, and at the award-winning Hotel de Glace in Quebec they are embracing that tradition with gusto! Although it cannot be described as luxurious, a night at the Ice Hotel is a unique experience not to be missed by those with a hearty sense of adventure.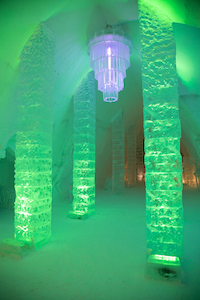 Throughout the day, the Hotel de Glace, located 10 minutes from downtown Quebec City, hosts throngs of tourists who come to tour the icy rooms and admire the beauty of this amazing place. Sculpted completely from snow and ice, this unique hotel is created each winter and demolished again each spring. This year's theme of Myths and Legends from Around the World includes a 600-pound ice chandelier, an ice chapel where weddings are held, and an indoor ice slide. Many will enjoy cocktails in the "ice bar" where colorful drinks are served in glasses made from translucent blocks of ice. At 8 p.m., however, all guests who are not staying the night are ushered out and you are left to enjoy the facilities with only your kindred overnight guests.
Although the design of the fireplace eliminates any heat, it glows magically as you sip your drink, perched on a bench carved from ice and draped with furs. Music plays and laser lights dance around the icy caverns in the ice bar. You find yourself tapping along in spite of the cold. You may enjoy games arranged by the staff or perhaps try your hand at carving your own ice sculpture, or relax in the Nordic sauna or the outdoor spas under the stars, before preparing to retire to your room for the night. Each room is designed with its own theme or story by artists who transform blocks of ice into works of art using chainsaws and chisels. The display is then accentuated with magical bursts of changing colors and light.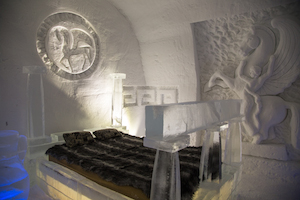 Once in your room for the night, your breath billows before you as you climb into the Nordic sleeping bag (following carefully the instructions of your pre-sleep prep tutorial). Candlelight flickers from the sculpted ice table, catching crystal-like reflections and casting its dancing glow onto the walls carved with majestic images of mystical tales and creatures that loom large in the frozen silence. Absorbed by the thick snow walls the sound seems to just drop off, and only the occasional crunching of snowy footsteps can be heard. Unsure what time you finally drifted off, you may even be surprised when they wake you at 8 a.m., wondering why your dream of Vikings seems so real.
Congratulations, you survived! Compare notes with your fellow survivors over breakfast in the pavilion, and head home to enjoy the bragging rights.
If you go:
Open January 3 to March 23, stays start at $200 per person depending on day of the week, month, theme rooms, fireplace, etc. A stay at the beginning of the season will be less costly though construction of some phases will not be complete; however, the interesting process of building can be observed. Warm lounge, hot drinks, and restrooms are available 24 hours in the pavilion for those who need them. For more information visit www.hoteldeglace-canada.com.
If you would like to purchase this article for your publication, please click here to contact the author directly.