by Tracy Cheney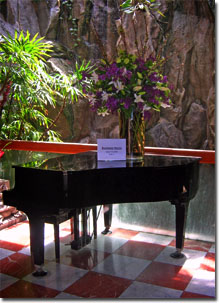 Poised as it is on the Pacific rim of fire, California is a geothermal hotbed. Underground volcanic activity spurts up as mineral hot springs from hillsides up and down the length of the state. For eons, Native American families enjoyed soaking in the gurgling springs and pools. Later, 19th century travelers refreshed themselves after dusty, hot travels by stagecoach and horse.
Shrewd entrepreneurs bought the most accessible springs, building up amenities around them or over them. Some of these resorts are just as popular today. And while several have become the exclusive domain of the rich, others offer relaxing day spa treatments within reach of the ordinary wallet.
For the bone-weary of urban Los Angeles, the opportunity for a luxurious submersion comes in two completely out-of-the-ordinary experiences.
One would hardly expect to find an unusual spa experience tucked into a gritty area just off Koreatown in central Los Angeles. Nondescript from the outside, the boxy building housing Beverly Hot Springs seems completely hidden in plain sight. But stumble through the front door, nerves jangled from negotiating the snarly streets of LA, and your overwrought senses are immediately soothed by a symphony of quiet.
Men and women head off to comfortable separate floors. Celebrities and refugees from the workforce marinate in dark grottos of silken hot water burbling up 2,200 feet from its secret subterranean source.
While immensely rejuvenating, it's the treatment that comes next that sets this spa apart. It's not for the shrinking violet.
In a communal setting, naked patrons stretch out on rubber-covered tables, each served by a Korean attendant wearing a simple black swimsuit. Get prepared for an outrageously vigorous body scrub while a cucumber mask swathes your face. You can get a massage just about anywhere these days, but this unique, oddly invigorating body treatment is what people succumb to at Beverly Hot Springs.
For a more splendid outdoor setting, dip into Glen Ivy Hot Springs sixty miles east of downtown Los Angeles. Since the mid-1800s, fatigued folks have sought out this canyon oasis.
The co-ed facility tucked around 11 lush acres also has a dark grotto for soaking up the minerals. You can be massaged under oak trees, float in pools, and munch on a savory luncheon.
But this place has a not-to-be-missed signature skin treatment as well. You can sink into the red clay mud pool, get covered head to toe in gloppy mud and then sit in the sun to bake until you cake. Scrape it off, then slather on a creamy coating of aloe and sea kelp while rehydrating in a moist grotto. It's the perfect recipe for a glowing return trip home.
Both spas charge an entrance fee for an unlimited soak. Prices are higher on weekends and holidays. Specialized treatments are additional, but complete the total experience. You'll find the rates on their websites.
Getting There:
Beverly Hot Springs
323.734.7000
www.beverlyhotsprings.com
308 North Oxford Avenue
Los Angeles, CA 90004
At the corner of Oxnard and Beverly Boulevard. Located between Melrose off 110 Freeway and Third Street. Oxnard is one block south of Western.
Glen Ivy Hot Springs Spa
1.888.453.6489
www.glenivy.com
25000 Glen Ivy Road
Corona, CA 92883
From Los Angeles, head east on I-10, I-60, or 91 Freeway to I-15 South. Go south on I-15, exit right onto Temescal Canyon Road. Turn right onto Trilogy Parkway, left on Warm Springs Road. Turn right onto Glen Ivy Road, drive to end.
If you wish to purchase this article for your publication, click here to contact the author directly.

Are foreign drugstores clinically appropriate for Americans. Part 2