By Janie Pace
ITWPA member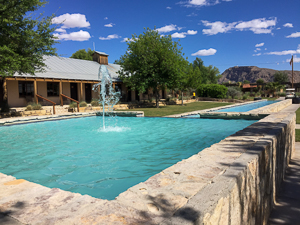 Just getting to Lajitas Golf Resort is an adventure. Leave Alpine Texas, drive east to Marathon, then motor south on 385 to Big Bend National Park. Stop at Chisos Basin Lodge for lunch and then make your way west through the park, to Study Butte, Terlingua and finally Lajitas. Make your 2-night stay at Lajitas Golf Resort the base for exploring Big Bend National Park, which is celebrating its 75th year as a National Park.
Historic lodge
The rooms in the main lodge are not accessible by an elevator, just the long flight of stairs, so we were kindly moved to a place across the road in the old historic Cavalry Post. This group of rooms was the Old Cavalry Post Motel back in the '60s and '70s, built on the original foundation of the army barracks used in the early 20th-century by General Black Jack Pershing and his Army Cavalry during their raids against Pancho Villa's Mexican Army. This Army post was headquarters for the horse-mounted cavalry that patrolled along the border for several years, protecting the life and property of the citizens of the area. Find the Texas Historical Marker nearby for more information.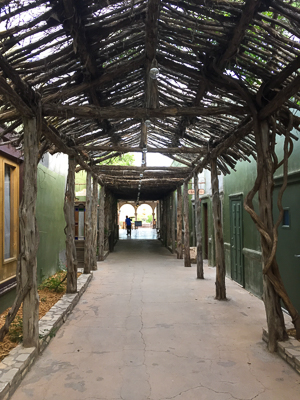 Our room happened to be a handicap room, which we didn't object to, with queen bed, decorated western style with antiques, a large TV, sink, refrigerator, microwave, safe, with a large counter in the bedroom, and even a lighted make up mirror. The bathroom, supplied with luxury Green Natura amenities, was spacious with a wheelchair accessible shower.
Thousands of acres
Be sure to study the resort property map and brochure provided to get the lay of the 27,000-acre resort before you head out for dinner. We walked across the road and wandered a bit before finding our way to the Thirsty Goat Saloon, named after the mayor of Lajitas (the mayor really is a goat) and the Candelilla Cafe. Seated at the corner table by the full-length glass windows in the restaurant, we had an unobstructed view of the patio seating, palm trees, and mountain beyond.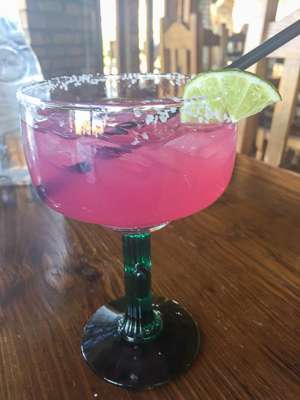 Food and libations
My husband ordered a local Big Bend Brewing Company beer (they didn't offer the Tejas, my favorite), and I ordered the Prickly Pear Margarita from a menu of creative Texas drinks. My husband and I ordered the beef fajitas for dinner, tender and delicious served with grilled onions, peppers, rice, charro beans, cheese, guacamole, pico de gallo, plus flour and corn tortillas.
Among other choices are a Prime NY Strip Steak, a Prime Prosciutto Filet, Shrimp and Grits, or Shrimp Scampi along with Tres Leches Cake or Banana Split for dessert. My favorite breakfast choice was the Migas – two scrambled eggs with sausage, peppers, and onions topped with melted cheese, tortilla chips, a side of refried beans, and a bottomless cup of great hot coffee.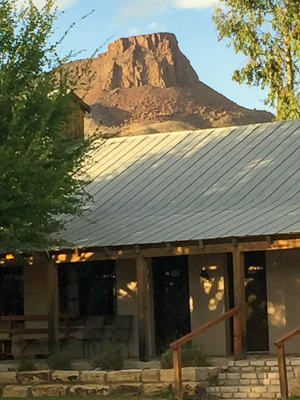 Check out the exhilarating video of Black Jack's Crossing World-Class 18-hole Golf Course when you click on Golf on the website. The Golf Course is top-rated, designed by PGA Hall of Famer Lanny Wadkins. Golf Magazine rated Lajitas Golf Resort Black Jack's Crossing, as the Most Beautiful Golf Course in Texas. Golfweek named the course the number-four Best Course You Can Play in Texas. The Pro Shop and Longhorn Museum were once the old historic Lajitas Trading Post from the 1800s, where miners and cowboys drank whiskey and traded supplies.
Plenty to do
Stargazing is a must! Millions of stars illuminate the beautiful evening skies. Other resort activities include shooting sports, zip-line tours, mountain biking, hiking trails, equestrian events, dining under the stars, jeep rentals, the Agave spa, fitness center, and bird watching. We ordered two box lunches to go and a couple of Lajitas T-shirts at the General Store on our way to Santa Elena Canyon for the day.
Listed on the back of the Resort Brochure are expedition partners offering Big Bend River Tours, Desert Sports and Far Flung Outdoor trips, Big Bend Ranch State Park tours, and more.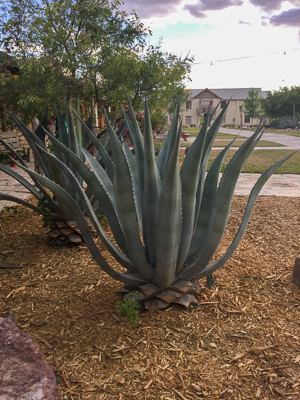 When you leave, take the scenic road from Lajitas west to Presidio, one of the most scenic drives in Texas and a big draw for motorcycle riders. This route has a maximum speed of 45-mph with 10 and 20-mph twists and turns and some 15% grades.
Getting there
Resort Air Services operating out of Dallas is currently offering service to Lajitas Golf Resort, accommodating 30-passengers on flights departing Dallas Love Field and Sugar Land Regional Airport. To reserve your trip, click HERE. For more information about Lajitas Golf Resort and Spa, click HERE. ~TPM
About Janie Pace—Janie is a travel writer/photographer and a native Texan based in Fort Worth. She covers travel destinations, wineries, breweries, restaurants, and cruises. She works locally, nationally and internationally from Peru to Canada plus Hawaii to Bermuda. Janie is a member of International Travel Writers and Photographers Alliance, United States Press Agency, and TravMedia. See more of Janie's work HERE.