"Driving past small rural towns along I-70 in rural southern Illinois, you will see plenty of road signs trying to catch your attention. I've traveled that route numerous times. I've seen the road sign for the World's Largest Wind Chimes.
However, I didn't stop until recently.
I had no idea what I was missing."
Casey, Illinois, is a small rural town where the population is less than 3,000 and is only 2-square miles. But those 2-square miles pack a punch. Casey holds 12 of the 'World's Largest' Guinness Records. Casey has an additional 16 large items to see and interact with.
Fun Fact—To qualify for Guinness Records, someone must demonstrate that the object works. It has been quite a challenge to operate these big things. Can you imagine how they showed how to knit using knitting needles 13.75-feet long and weighing 25-pounds each? It took ten grown men to make the rocking chair rock to earn them the Guinness Record in 2015.
How did this big idea come about? In 2011, Jim Bolin, a lifelong resident of Casey, came up with the idea of using leftover pipes from his pipe-laying business to create a giant wind-chime. His vision came to fruition, and Guinness World Records certified it as the World's Largest Wind Chime at 56-feet tall in 2012, and thus the wind chime was the first of many records to follow. His idea was to bring people to his little town by creating oversized works of art out of recycled materials, and it has worked.
Take the BIG tour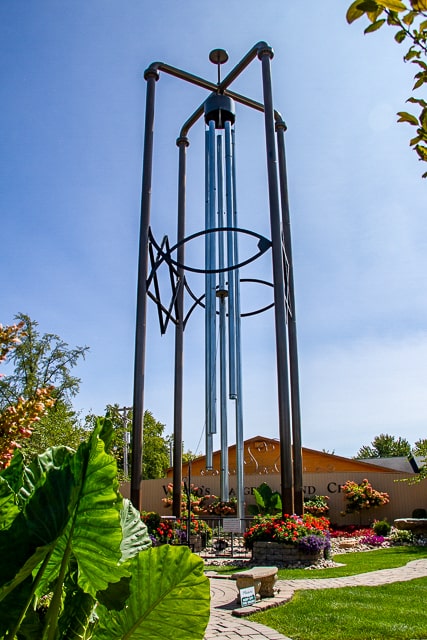 When visiting the small rural town of Casey, you can pick up a map from a local store that has all the locations of the oversized items listed or download it ahead of time. Most of the sites are within a three-block stretch of Main Street within walking distance from each other. There are directional signs all around the town to help you navigate. There are a few other big things that you can reach with a short drive. The attractions are all free and mostly outdoors. There are only a few that you will have to go inside to see.
The World's Largest Wooden Shoes is in Casey's Candy Depot. If you have a sweet tooth, stop in, and you can find old-time candy in barrels. The World's Largest Knitting Needles & Crochet Hook from 2013 until 2017 are in the Yarn Studio, but you can see them through the window if it is closed. You can find the large Rocking Horse upstairs inside J-JET Rentals. Look for the large antlers in front of the store.
Small rural town selfies
Walking around the town, you will come across the large birdcage, corn, golden cactus, mousetrap, minion, spinning top, yardstick, a 32-foot long pencil, and a bookworm sporting glasses. The town does a great job placing the items near buildings that relate to the structure. For example, the bookworm is right in front of the Public Library. The wooden spinning top is in front of Deborah's Attic antique shop.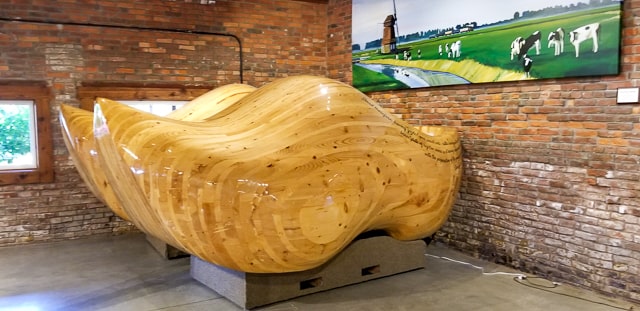 Besides taking the obligatory selfie with these oversized everyday items, some of the large objects are interactive. You can climb up to pose inside the World's Largest Mailbox and drop in an actual letter to be mailed. Try swinging inside the giant birdcage or take a ride on the World's Largest Teeter Totter. You can also have beautiful music resonate through the air by activating the World's Largest Wind Chimes.
The World's Largest items you will see in this small rural town are the Wind Chimes in a flowery garden next to the Whitling Whimsy Cafe. The World's Largest Rocking Chair is directly across from the Wind Chimes. The rocking chair is 56- feet and 1-inch tall. You can see the detailed carvings of the dove of peace and olive branches on the wood. The World's Largest Teeter-Totter is across from the Rocking Chair on the opposite corner of the Wind Chimes. The teeter-totter is 82-feet long and is 4-feet tall. On Saturdays during the tourist season, an operator is available to make the seesaw move while you are on it.
Casey's Main Street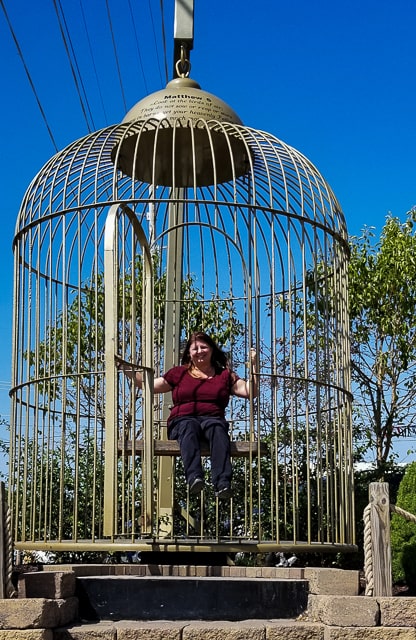 Toward the other end of Mainstreet, you will find the World's Largest Mailbox. The door is open, and you can climb up to pose inside. The mailbox is 32-feet tall and has an active post office box where you can drop off a letter to be mailed. Across the street, the World's Largest Barber's Pole is in front of Tina's Barber Shop. The World's Largest Key is right by a vintage Casey auto-shop one block behind the barbershop. The key is a replica of the key for Jim Bolin's truck.
The World's Largest Swizzle Spoon is placed in front of Jim Bolin's friend's bar, Brownie's Place. The last item in town is the World's Largest Golf Driver. I hunted for this one a while until I realized it has moved. The Golf Driver is currently in transition to be eventually placed by the visitor's center.
The rest of the World's Largest Items are only a short drive from the downtown area. The World's Largest Golf Tee is over 30-feet tall and is located at Casey's Public Golf Course. You will have to go through the pro shop to see the golf tee. Driving down the same road, you will find the World's Largest Pitchfork at Richards Farm.
More small rural towns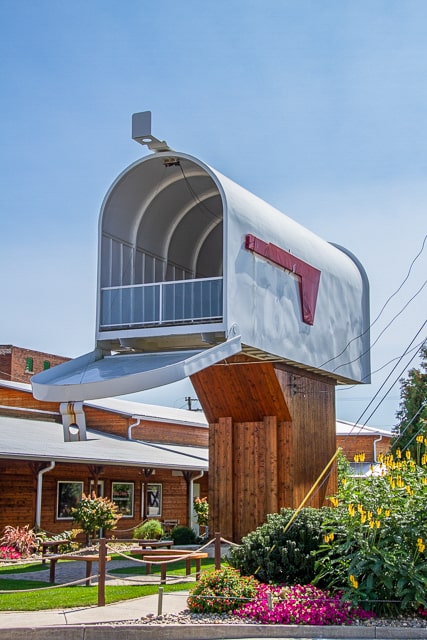 Don't limit your small rural town visit to only Casey. There is more to see in the small towns of Marshall, 17.7-miles, and Martinsville, 7.6-miles. Marshall hosts the World's Largest Gavel on the steps of the Clark County Courthouse, along with beautiful vintage murals and decorated lion statues throughout their village. In Martinsville, you can find a large anvil and the World's Largest Horseshoe from 2013 to 2015.
If you time your visit around Labor Day, you can enjoy Casey's Popcorn Festival. It's a 3-day street festival with bands, a carnival, a car show, and a tractor pull, with lots and lots of free popcorn.
World's Largest and expanding
Jim Bolin continues to expand the World's Largest Collection and Big Items around Casey, Illinois. His goal is to have enough big things to rotate displays throughout the town to keep visitors coming back to see what has changed. Today, it brings thousands of visitors to Casey and several other cities in Southern Illinois.
These small rural towns depend on tourism dollars to help sustain their communities and contribute to their economic vitality. So, why not stop and check them out when you see one of those road signs saying the World's Largest… is here. You will not only be helping the small town, but you might be pleasantly surprised by what you find there.
To learn more about Casey, visit their website – Big Things – Small Town.
About Heather Raulerson—Heather is a freelance travel writer, photographer, and social media influencer based in St Louis. She is the owner of RaulersonGirlsTravel, a travel website sharing her solo adventures and photographs from around the world. She loves slow travel where she can stay in one place, getting to know the local scenery and culture. You can always find her with her camera exploring. In addition to TPM, Heather has been published in GoNomad. She is a member of ITWPA, TravMedia, and Travel Writer's Cafe.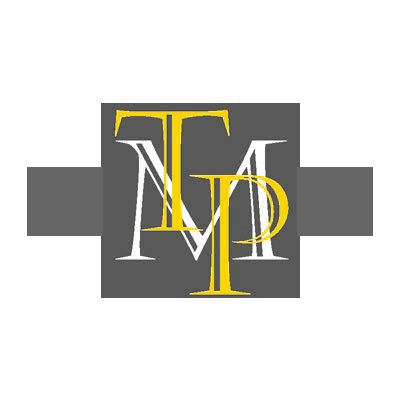 Travel Writer/Photographer Theresa St. John
shares tips for writing about your hometown ~
Tips for a New Writer Starting Locally