By Shana Jones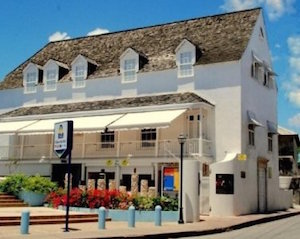 Welcome to Arlington House Museum, a uniquely interactive foray into Barbadian life — past and present. Beautifully restored and converted from its original establishment as a prominent ship chandler, the three-story single-gabled structure (classic 17th-century-style Barbadian architecture) boasts engaging virtual displays and interactive exhibits to present the story of Barbados, starting from its geological beginnings. The museum's location in Speightstown, St. Peter (Barbados's northern hub of commercial activity) is an important feature throughout the exhibit, highlighting the town's significance as a thriving port at the time.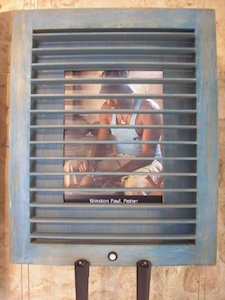 Walking through the first floor entrance and onto the "streets" of Speightstown, I peek through pickled (distressed-looking) jalousie shutters to watch viewer-activated interviews with local businessmen, potters, shoemakers, hawkers, and coconut vendors eager to tell of their trades. Interspersed among the jalousie shutters are various color and black and white paintings and photos, and the clay artifacts on display — monkey jars used for keeping water cool, a coal-pot (the original barbecue), a conaree jar for holding salted meat, etc. — all call to mind stories heard at my grandmother's knee.
Climbing the rubblestone-walled stairway to the next floor, I am intrigued to learn that coral rubblestone is a unique construction material concoction typical of pre-1796 buildings in Barbados. I say unique because it is a mix of sand, molasses, lime, eggs, and stout — yes, stout like Guinness, my smiling tour guide Michelle confirms! That the walls are as delicious as they are sturdy slips my mind as I enter Plantation Memories, a virtual sugarcane field dotted with mini static displays of slavery, Crop Over (the island's annual carnival-like festival commemorating the sugarcane harvest), and sugarcane processing. Strolling through the sweet green "stalks," I happen upon two slaves and two aristocratic belles discussing a new thing called emancipation. Suddenly the booming voice of the "man in the canes" is heard overhead beckoning me to the theater area to view a short film of Barbados's geological beginnings, its dark period of slavery, and the conversion of sugarcane into world-famous rum.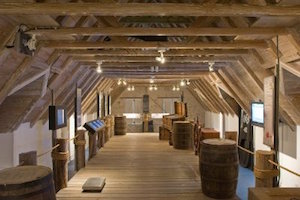 The highlight of this mostly self-guided tour awaits me on the top floor: Wharf Memories features a "jetty" in old Speightstown, formerly known as Little Bristol for its major business activity with the English port. Gazing out over the virtual azure water, I glimpse lifelike turtles and flying fish meandering by while I enjoy some really interesting displays: a scale that converts my weight in sugar to an old-time dollar value (I would have been worth a whopping $.59!), a film of old-time Speightstown cast on actual sand, the story of Barbadians who went to help build the Panama canal, and a surprise visit by Stede Bonnet, the pirate, quite eager to regale me with his lively adventures! I am not surprised when Michelle tells me that visitors dub Bonnet one of the most voted-for aspects of the exhibit. I decide to end my visit to the jetty with a leisurely virtual sail through the Caribbean island chain directed from my very own Captain's wheel!
This is truly a great day to be had, full of educational experiences presented in a newly engaging way. The interactive displays and virtual exhibits not only bring to life the important events and characters in Barbados's rich history, they also invite us all to take part in this exciting story.
Arlington House Museum
Monday-Friday 9 a.m.-5 p.m., Saturday 9 a.m.-3 p.m.
Adults BDS$25 (USD$12.50)/Children 6-16 years old BDS$10 (USD$5) (Local/CARICOM rates available)
(246) 422-4064
If you would like to purchase this article for your publication, please click here to contact the author directly.