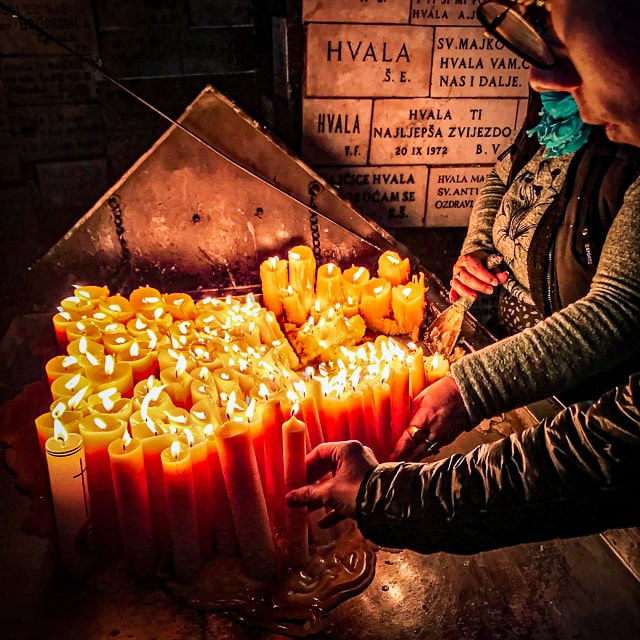 Croatia's medieval-style capital, Zagreb, transforms into a luminous Christmas fairy tale each advent season.
Larger than life nutcrackers and sparkling lights drape cobblestone city squares filled with the young at heart. Wafting scents of mulled wine, gingerbread, and savory sausages are just a few reasons to visit one of Europe's best Christmas markets.
Advent in Zagreb festivities envelops both upper and lower towns, making this storybook celebration perfect for a long weekend holiday getaway. Each December, people flock to the city to enjoy free activities such as choral events, storytelling, and a live nativity scene. Zagreb's affordability offers value for everyone.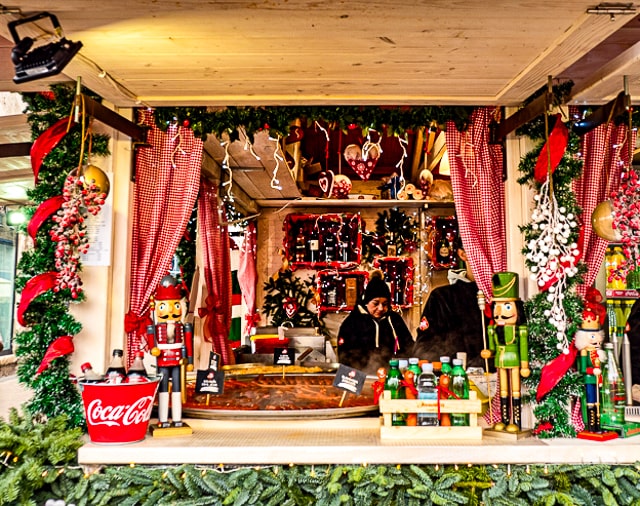 Heated tables with wooly blankets and inviting outdoor venues encourage lingering over a cup of hot chocolate despite the chill in the air. Brilliantly colored craft markets offer cherished holiday memories. And be sure to make time for mouth-watering goulash laden with twenty-three ingredients and a heaping pile of crusty bread.
Tour upper and lower town architecture
Beyond the Christmas markets, Zagreb's gothic old city buildings make for an enjoyable walking tour. The city's cathedral, which has survived multiple earthquakes and fires, is adorned with Renaissance ramparts dating back to the 16th century. The devout gather to light a candle at Stone Gate, honoring a painting of the Virgin Mary that was spared during a fire in 1731. In St. Mark's Square, the church's roof is covered with a multi-colored coat of arms on glazed tiles.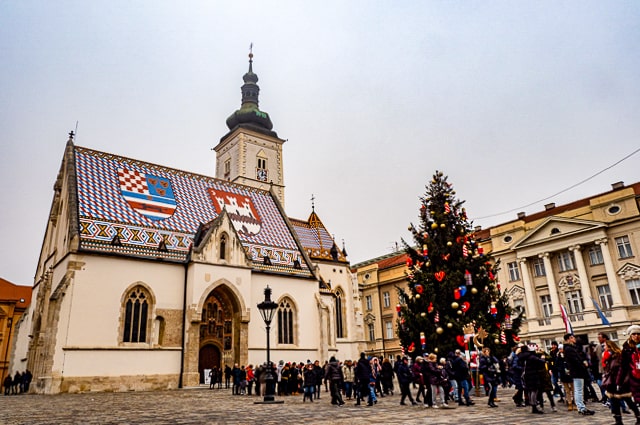 Tucked off Opaticka Street, Marija Jambrisak residence hall welcomes passersby to their festively decorated courtyard. The residence hall is a high school for medical professions dedicated to girls from small villages all over Croatia. Here students hold a fundraiser for hospital-bound children. They serve homemade cakes and tea steeped with cinnamon, orange, and anise on Friday and Saturdays during the first two weeks of Advent. "Be the reason someone believes in the goodness of people," printed on a handmade note accompanies the rum cake and captures the warmth of the season.
Festive city squares in Zagreb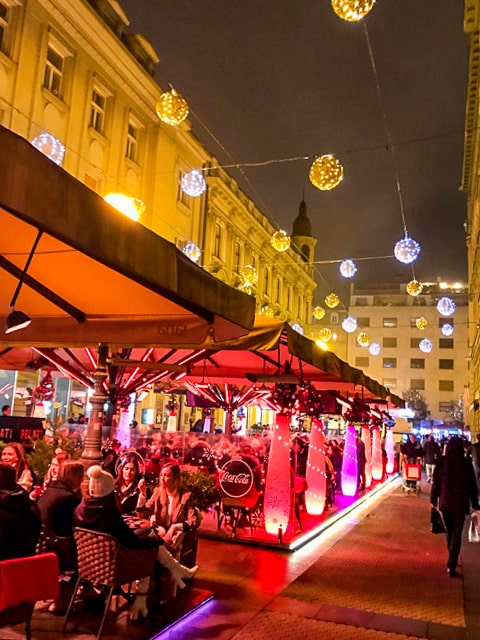 If you're planning a trip, start in the heart of Zagreb's city squares. Ban Josip Jelačić Square boasts a candy cane layered fountain and large bandstand devoted to local musicians. A heated conservatory located next to the square serves hot beverages and a bounty of treats. The path through Christmas Tale tells a story with holiday decorations for the little ones. For a little more creativity, head to European Square for artistic displays, craft markets, and some mulled wine.
Wander further to upper town via the world's shortest funicular ride to Strossmayer Promenade for a sweeping view of the city. The Stros is known by the locals as the city's first public walkway. A romantic spirit fills this glowing street. Stop at one of the cafes and enjoy the street music, dancers, and comedians.
Experience holiday atmosphere
Continue onto Advent in Tunnels for a one-way tour underneath the city. The series tunnels were built to protect during bombing raids in the world war. For Advent, the tunnels are transformed into a glowing blue menagerie complete with snowflakes, gingerbread men, reindeer, colorful candies, and live pines.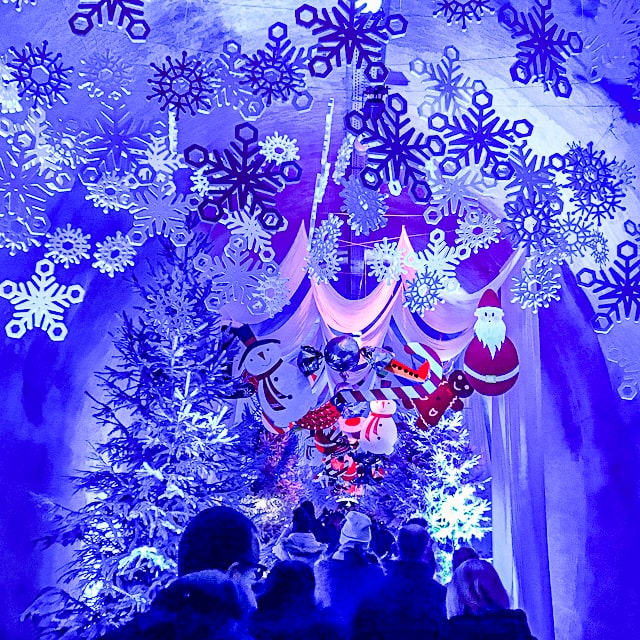 Back in the lower town, Advent in Zrinjevac Park hosts wooden stalls filled with holiday crafts. Be sure to buy a shiny red Licitar heart ornament—the symbol of love and the city itself. Stroll down the glittering walkway to a lantern-lit pavilion in the center of the park. Take in the sounds of the season. For a little nightlife, head to Fuliranje, also known as Fooling Around, for cocktails and a little rock and roll.
Ice-skating in Zagreb
Work off the strudels and pastries at the ice-skating rink located in King Tomislav Square. Families and groups of young teens gather to glide around intricate icy circles in front of the stunning Art Nouveau Croatian State Archives building. Or take a step onto the pine tree laden platforms, sip mulled wine and watch the skaters having a grand time.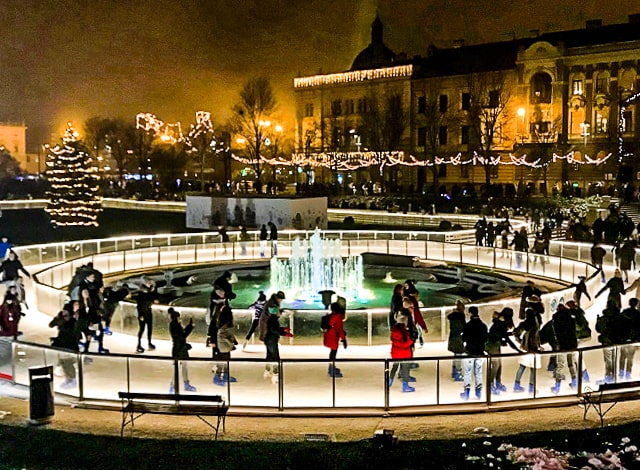 Throughout Advent in Zagreb, numerous events are planned. There is the Advent Run, where Christmas stocking-clad runners dash through town. Santa can be seen hopping onto the Merry Christmas Tram. Storytelling, miniature train exhibits, and other special tours are just some of the adventures. New Year's Day features a Changing of the Guard in St. Mark's Square. Zagreb's holidays will provide lasting memories, full bellies, and warm hearts no matter the experience.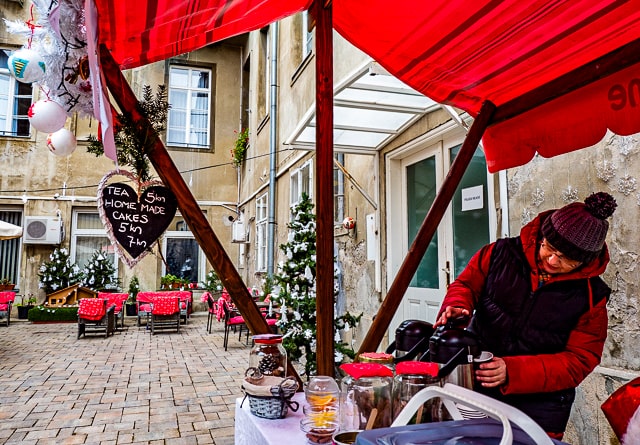 For more information about Advent in Zagreb
Advent in Zagreb runs from November 27, 2020, to January 3, 2021. Centrally located hotels near the activity include the affordable Hotel Dubrovnik and the glamorous Hotel Jägerhorn.
Dining options are found on Varsavska and Tkalciceva Street. For a bowl full of flavorful goulash, head to Mali Medo Pub.
About Julie Suman—When not mentoring scientists speaking at conferences, Julie might be sunning herself at the beach. A published author and photographer, Julie D. Suman, can be found traveling the world and capturing those moments through her lens. Julie is a member of ITWPA and The Travel Writer's Café. Follow her on Instagram @seebyjuliedee.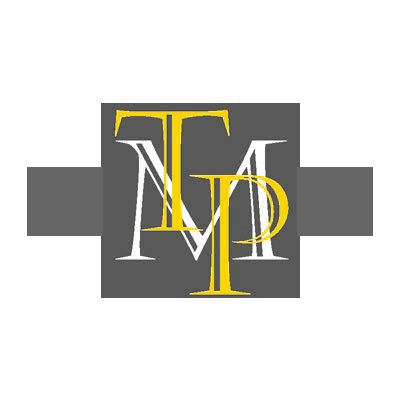 Q: Do Travel Writers really get free travel?
A: Yes, learn how HERE.