By Deborah Dickerson

ITWPA Member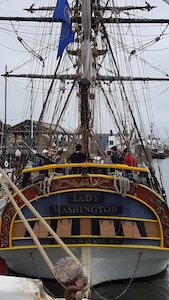 The tops of the masts were barely visible above the blanket of fog, and the maze of ropes, rigging, and hardware creaked and clanked in the offshore breeze.
The first mate walked over and pointed upward. "Those are called baggywrinkles; they keep the lines from rubbing against the sail." The hand-tied baggywrinkles looked like fuzzy bee nests hanging off the ropes.
Standing on the deck of the Lady Washington, one of two grand sailing ships anchored in Coos Bay, Oregon, one could imagine what life must have been like when explorers roamed the west coast of North America in the late 17th century. The European-American explorers were not welcomed by the natives, in part because they had harvested to near extinction the North American sea otter, much sought after for its luxurious brown fur tipped in white.
Every spring, the stop in Coos Bay brings the Lady Washington and her sister ship, the Hawaiian Chieftain, through tribal waters and includes a reenactment of the ceremony of reconciliation between the local Indian tribes and the foreign intruders.
To honor their ancestors, members of the Coquille and Confederated Tribes of Coos, Lower Umpqua, and Siuslaw arrive in canoes, chanting and bearing gifts of salmon and cookies. In exchange, the crew offers handmade gifts, often tied up with a crew member's button (historically regarded as valuable) and served up on cedar boughs (symbolizing peace).
While the tall ships are in port, visitors are invited aboard to explore the ships' galleys and living quarters. Crew members dressed in period costume are at the ready to answer questions and explain the intriguing aspects of a sailor's life — as well as baggywrinkles.
Want to try your sea legs, feel the salt spray on your face, and hoist a line? You have a choice of onboard excursions.
On the family-oriented Adventure Sail, passengers are invited to join in the heave ho to assist the crew in raising a sail, taking the helm, and joining in a rousing rendition of "Blow the Man Down."
If your preference is to hear the crack of gunfire, see and smell the smoke of black powder, and feel the excitement of combat, sign up for the Battle Sail. The two ships recreate the look and feel of an historic naval battle, with real gunpowder and real cannons — minus the cannon balls.
Or simply relax and cruise into the sunset on the Evening Sail to watch a crimson sun sink into the deep blue waters of the Pacific Ocean. You know what they say, "Red sky at night, sailor's delight."
www.festofsailcoosbay.com
City Dock, 200 S. Bayshore Drive, Coos Bay, Oregon
June 1 to June 4, 2017
If you would like to purchase this article for your publication, please click here to contact the author directly.