By Keely L. Herrick
Every Italian tour includes the greatest hits of Rome, Venice, and Florence, but if you want to vacation in Italy like the Italians do, spend a few days in Lerici on the Bay of Lerici. (Be careful to pronounce it "Lay-ree-chee," with the emphasis on the first syllable, or the locals won't know where to direct you!) This postcard-perfect beach village is accessible by bus or taxi from the La Spezia train station and provides access to the more-frequented hills of Porto Venere and the Cinque Terre by ferry several times daily.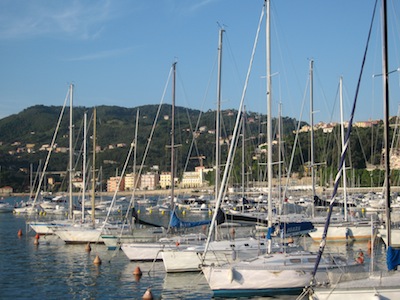 The Bay of Lerici is nicknamed Golfo dei Poeti, or Poets' Gulf, for the first famous English-speaking tourists in the area, Romantic writers Lord Byron and Percy Shelley. A plaque in Porto Venere commemorates the Byron Grotto, where Byron was said to have started his swim across the bay back to Lerici. Sadly, the seas were less kind to Shelley, who drowned in a storm attempting to sail home to Lerici from Genoa. Today, you have your choice of bards — you may stay in Hotel Shelley or Hotel Byron, among other places.
Take a walk down the serene boardwalk to see Casa Magni, the last home of Shelley and his wife, Mary Shelley, the author of Frankenstein. Enjoy your early-morning cappuccino while watching the waves, and for lunch follow your nose down a side street to one of the tiny trattorias offering simple, well-made meals such as squid ink pasta with seafood fresh off the boats in the bay.
As late as October, vacationing Italians can be found on the shores of Lerici, swimming and sunning with their families. It is nearly impossible to reconcile the clear, gentle waters with the tragic storm that claimed Shelley's life.
The hilltop Lerici Castle is accessible by stairs or elevator, although you may have to wait a minute or two for the call button to rouse the operator — like everyone else, he is often lost in the view of the bay from the castle walls.
Even Fellini admitted that La Dolce Vita was difficult to find in Rome, but in Lerici, the sweetness of doing nothing flavors the air. You may claim a boardwalk bench for your afternoon gelato and find yourself still sitting there as the sunset quietly dazzles its way below the horizon. At night, leave your window open and let the bells of the boats lull you to sleep. It's not on the standard itineraries, but Lerici is a tranquil treasure with stories to tell.
If you'd like to purchase this article for your publication, click here to contact the author directly.