By Loretta Berry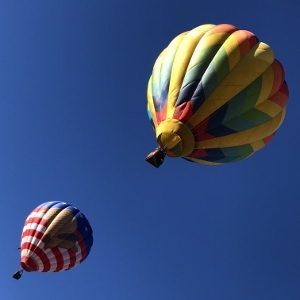 The late-afternoon sunshine is pleasantly warm as people migrate to one end of the big grassy field. There's a palpable excitement in the air. A shout is heard from the crowd, "It's a go!" There are more cheers from the crowd and then suddenly, as if on cue, a kaleidoscope of patterns and colors appear right before your eyes.
The Carolina BalloonFest is an annual three-day event held in October. Dozens of pilots and their hot-air balloons from all over the U.S. join the celebration. With a state logo of "First in Flight," it makes sense that the country's second oldest hot air balloon festival and the largest festival in Iredell County is held in Statesville North Carolina – an area rich in aviation history.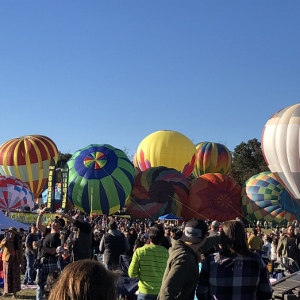 In 1969 Bill Meadows and Tracy Barnes made the first hot-air balloon flight in Iredell County, in Land of Oz – its maiden flight. Meadows, a balloon flight instructor/trainer, started a rally for interested balloonists. In 1974 Barnes, a hot-air balloon engineer moved his business to Statesville and together the two of them continued hosting the rally. For several years after, more and more pilots with their balloons kept showing up. Soon the rally became a festival, and it took off from there. Today, tens of thousands of spectators and balloon enthusiasts are drawn to the festival to enjoy over 50-pilots and balloons.
It's an awe-inspiring sight as the mass of giant balloons grows and fills the field. They are so close, it seems unreal. More shouts of glee are heard as, one by one, they majestically and almost effortlessly start floating skyward. It's an amazing sight as dozens of vibrantly colored orbs fill the brilliant, blue sky and pass overhead. It's absolutely mesmerizing as the colorful, gentle giants magically float by and then away, becoming mere specs on the distant horizon.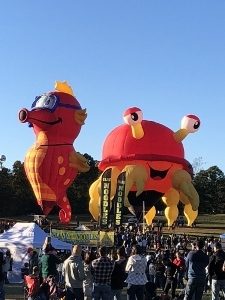 Carolina BalloonFest 2019 will be held, rain or shine, on October 18, 19, and 20. There's a ton of family-friendly fun to offer. There will be twice daily mass ascensions – early morning and late afternoon. One only on Friday afternoon. Always a crowd favorite is the after-dark Balloon Glow on Saturday night. For the pilots and crews, there are sanctioned competitions that are fun to watch. Festival-goers can get up close and personal to the hot air balloons and talk to their pilots. Pilots are always happy to entertain people's curiosity about balloons. They love to share their passion and answer questions, sharing facts like, the average hot-air balloon is 50-100 feet tall. That's as high as an 8-story building. For the more adventurous tethered rides and actual flights are offered.
The festival rounds out with dozens of activities. Shop in the marketplace, craft booths, and exhibits. A kid's fun-zone includes a climbing wall and bungee jumping. Two stages have on-going entertainment and live music. Try the NC wine & craft beer gardens. No festival would be complete without great festival food—funnel cakes, hot dogs, chicken-on-a-stick, and fried onion blossoms.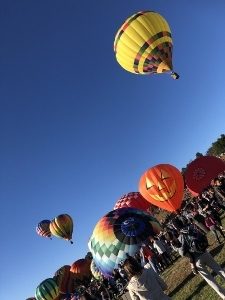 The festival location is near Statesville Regional Airport, at 260 Hangar Drive, Statesville North Carolina. The festival will happen rain or shine. All ballooning activities, including static displays, tethered rides, and balloon flights, are weather-dependent.
Admission and on-site parking prices vary with discounts for online pre-purchase. All kids 12 & younger are free all weekend. Sunday is Military Appreciation Day. Free parking and charter-bus shuttles are available at the fairgrounds in nearby Troutman – a great way to get to the event.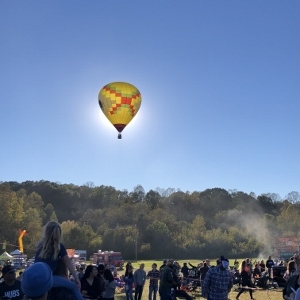 For those needing accommodations, on-site camping is available. Many quality hotels are within minutes of the festival.
Complete information including ticket pricing, event schedule, entertainment line-up, maps, parking, shuttles, the history of the festival, and hot-air ballooning, can be found at CarolinaBalloonFest.com.
If you would like to purchase this article for your publication, please click here to contact the author directly.