By Susan Payton
ITWPA Member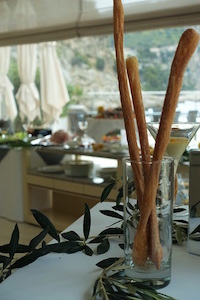 A crispy baguette. Fresh, creamy goat cheese. While these were all we could afford when backpacking through France in our 20s, we still clamored for them 15 years later when visiting France, even though we were no longer broke college students. And yet, on a recent trip to Provence, my husband and I wanted something more, something different.
Being foodies, we were well aware of the Michelin star rating system in France. Restaurants vie for even a single star that says the food merits a visit. The more stars a restaurant has, the more expensive and harder to get in it is.
When I bit my nails about the price of such an alimentary endeavor, my husband pointed out that we were more likely to remember the experience of having a Michelin-starred meal than the price years down the road. Good point.
So one Sunday, we visited La Table de Patrick Raingeard in the Hotel Cap Estel in Eze, France, for its weekly buffet. We figured a buffet would give us the opportunity to try a wide selection of fine cuisine, and maybe would feel like a better value than a three-course meal at several hundred dollars a pop.
A Transformative Experience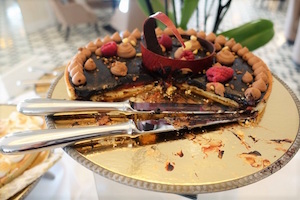 As we wound down the mountain and into Eze, located just outside Monaco, we were rewarded with breathtaking views of the million-dollar houses that pepper the Riviera, as well as the azure waters lapping its shores. As soon as we parked outside of the walled hotel, I knew we were in a different France. I even felt different as I held my head up high and tried to look like I belonged.
We descended in the elevator of the hotel into a brightly-lit, modern restaurant with surprisingly few patrons for the time of day. We sat down and took it all in.
In the corner was the buffet station. Now, Americans are used to about three miles of food choices, but La Table was more discerning and had fewer options. And yet, each was better prepared, not overcooked the way a buffet back in the States often is.
Taking Food to New Heights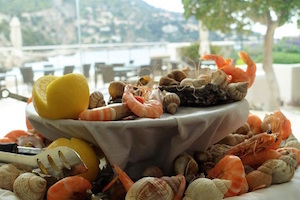 The buffet itself was art. Shrimp and snails were piled majestically into a silver tureen with the hotel garden as a backdrop. Delicate slices of salmon were deliberately draped across a silver tray. Fresh salads of every type glistened with olive oil and glowed with the colors of freshly-picked vegetables.
Unlike the buffets we were accustomed to, here you filled your plate at the buffet with appetizers, then were served a plated meal as the next course. I chose the cod, and my husband, the duck. Both were sublime.
We topped off the heavenly meal with miniature desserts of every type, including the local tarte tropezienne and a cup of café.
My husband was right. My memory isn't of the $100-plus per person we paid for the meal; it's of the care that the chefs took in preparing such a delicious meal, the attentiveness of the staff, and the backdrop that made it such a relaxing and enjoyable experience.
If you would like to purchase this article for your publication, please click here to contact the author directly.