By Kathryn Mohrman
ITWPA Member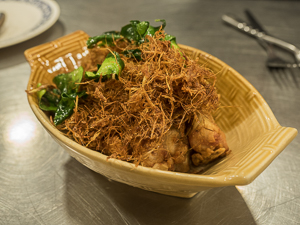 Penang beef curry! Coconut pancakes! Issan fried chicken! Tamarind sorbet!
Pang, our guide, asked the group of 11 foodies to list our favorite dishes from the Bangkok Food Tour in the Bangrak section of town. In three and a half hours we had stopped at five sit-down restaurants and numerous street stalls to sample a range of Thai delicacies — sweet and savory, meats and vegetables, snacks and main courses. We all felt stuffed by the end, agreeing that we wouldn't need to eat again for many hours!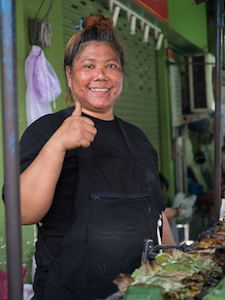 We met at the Saphan Taksin Skytrain station at 9:35 a.m., from which Pang led us to our first restaurant to sample roast duck over rice. Our early lunch continued as we strolled through the neighborhood, stopping for little tastes of Bangkok's justifiably famous street food. Most of the restaurants had a multi-generational history; in several cases we met the grandson or great-grandson of the founder. Several of the street vendors were also well-known for their wares — in one location renowned for changing the frying oil on a daily basis (apparently not the case at some competitor food carts).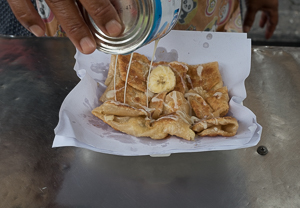 In between bites, Pang provided information about the differences in food from Central, North, Northeast, and Southern Thailand; Central tends to be sweet, Southern fiery, North herbaceous, and Northeast simple and spicy. She also shared a bit of history about the neighborhood we visited. For example, Bangrak can be loosely translated as Village of Love, but it also served as a major shipping port in the 18th and 19th centuries. Many of the restaurants we patronized have been in the same building for decades. Panlee Bakery, for example, is located on Charoen Krung, the first road in Bangkok; until it was constructed in the 1860s, canals and the Chao Phraya river provided all transportation.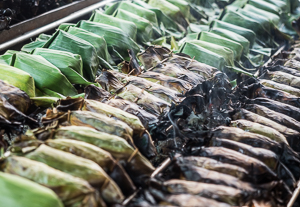 The website for Bangkok Food Tours (www.bangkokfoodtours.com) lists a range of foodie options, including Chinatown tours, tours by tuktuk, evening walking tours, and floating market tours. It appears that evening trips are more popular than daytime experiences, based on the number of evening options that were sold out while day tours were still available for purchase. During peak seasons, visitors interested in these food tours should book well in advance.
While there are several organizations offering similar programs, Bangkok Food Tours describes itself as the first and only 100% local company in this market. The mom-and-pop restaurants and food carts we patronized were definitely run by local people, so our tour fees were helping to support small businesses in one traditional neighborhood of Bangkok.
If you would like to purchase this article for your publication, please click here to contact the author directly.