By John S. Mooshie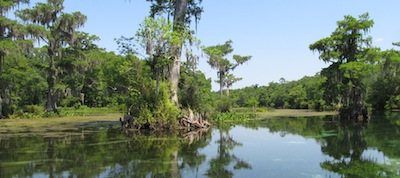 Conveniently located on Florida's panhandle, an easy journey 20 miles south of Tallahassee, Wakulla Springs State Park is a veritable magnet for outdoor enthusiasts.
The 6,000-acre wildlife sanctuary hidden in the lush wilderness of North Florida is literally a Garden of Eden. (The name Wakulla is an Indian word for "strange and mysterious waters.") The park is home to one of the world's largest and deepest freshwater springs surrounded by deep jungle. The modern history of the springs dates back to 1510 when Spanish explorer Ponce de Leon sailed his ships up the St. Marks River in search of the mythical "Fountain of Youth." Estimates of 200 to 300 million gallons of water per day seem incredible, but a record peak flow in April 1973 measured 14,324 gallons per second, which computes to 1.2 billion gallons in one day. The water that flows from the springs becomes the headwaters of the Wakulla River, one of the last remaining pristine rivers in Florida. It's not surprising, then, that Wakulla Springs was the setting for a number of the early 1950 Tarzan films and for the 1954 movie "Creature from the Black Lagoon."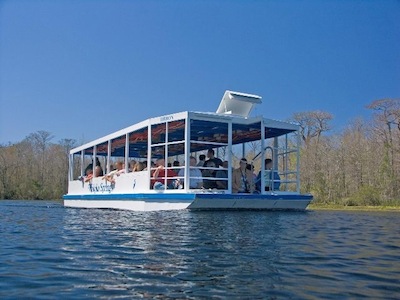 Visiting Wakulla Springs is a truly unique experience that includes two boat tours that operate year round and offer tours of both the springs and river. Glass bottom boats drift over the bowl of the spring where the 70 degree water is so crystal clear that a coin can be seen sinking to the depths of the spring. The three-mile river tour affords the opportunity to see wildlife in its purest state. Whitetail deer, wild turkeys, osprey, alligators, and a growing herd of the elusive manatee will captivate your attention. It only takes a little imagination to picture Tarzan, Jane, and Cheetah in this magnificent environment.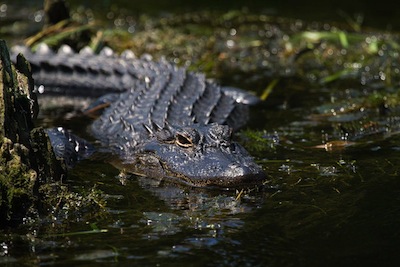 Walking trails include the famous Tree Walk, a short but picturesque and easy trek designed to increase one's knowledge of local trees. A number of tree communities abound. Bald cypress, some estimated to be five to six hundred years old, dot the river along with black gums, red maples, and green ash. Away from the river, the most spectacular of the park's tree communities is the upland hardwood forest consisting primarily of towering trees, some attaining heights of over 100 feet and trunk circumferences of 80 to 120 inches. Wakulla Springs currently claims more than 16 trees which are either state champions or close contenders.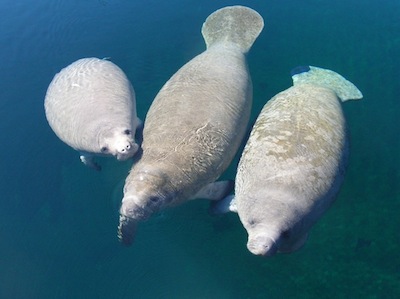 Numerous sink holes, an integral part of the Floridan Aquifer System, comprise a system of underground caves and porous conduits, some of which are the only undiscovered areas on planet Earth. One such cave is large enough to house an entire lighthouse and lies directly beneath the park's lodge. While you won't be able to experience firsthand the mysteries of the caves, the lodge maintains extensively recorded documentation and artifacts from professional divers who have navigated and mapped a small section of the system.
The rustic 27-room Wakulla Springs Lodge was built in the 1930s and features Mediterranean architectural elements with high arched windows and extensive use of foreign and domestic marble. The magnificent lobby with its massive stone fireplace is highlighted by a meticulously hand-painted ceiling.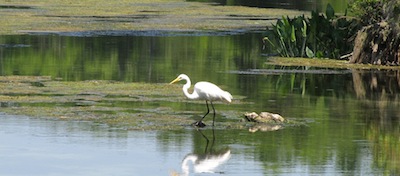 Wakulla Springs State Park is a short and sweet experience that will then entice you to explore the rest of Wakulla County. Sport aficionados will be afforded a variety of county-wide outdoor activities that include but are not limited to birding, boating, camping, canoeing and kayaking, cycling, fishing, golfing, hiking, and hunting. Traveling by tree vines is optional.
More detailed information can be obtained from the Wakulla County Tourist Development Council, P.O. Box 67, Panacea, Florida 32346, www.visitwakulla.com.
If you would like to purchase this article for your publication, please click here to contact the author directly.