By Deanna Lawrence
ITWPA Member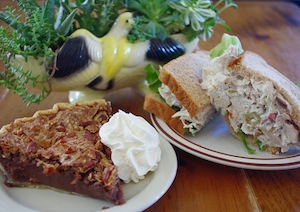 Although it has been a popular local lunch spot for over 20 years, yesterday was my first visit to My Just Desserts in Alton, IL, known especially for their half-pound chicken salad sandwich and ever-changing selection of more than 150 homemade desserts. I knew I was in for a treat.
The menu, which changes daily, listed several sandwiches, salads, and soups including roasted turkey on a croissant ($7.99), black-eyed pea and rice soup ($2.25/cup, $2.75/bowl), a chef salad ($4.95/$7.95) and one special — beef brisket with pasta ($8.95). On my server's advice, I opted for half a chicken salad sandwich and a cup of broccoli soup served with chips ($7.99).
As I glanced around the room in anticipation, I was taken back in time by the antique quilts and other Americana adorning the walls. Looking closer, I noticed that many of the items were made by local crafts people, and all were for sale. I was impressed by the demonstration of small town interdependence that you often see in local places like this.
The restaurant, originally a flower shop owned by a prominent Altonian, has managed to retain much of its original mid-1800s lighting and other architectural features. To help solidify its place in history, there is a small collection of Abraham Lincoln memorabilia commemorating his 1858 debate with Stephen Douglas that took place just yards from the building's door.
At 1 p.m. on a weekday, I was a little surprised to see only three other diners. But I was soon to realize that the lack of patrons was no barometer for measuring the food's tastiness.
As if taking a cue from its surroundings, my soup and sandwich echoed the simplicity and quality of days past. The sandwich consisted of large chunks of white meat chicken mixed with some mayonnaise and pickle and served on wheat bread. No extra embellishments or fancy treatment. It was delicious. The same can be said for the broccoli soup. Perfectly seasoned, it was fresh, hot, and just the right consistency. The chips were the everyday rippled variety, not homemade, but still contributed a nice crunch to the meal.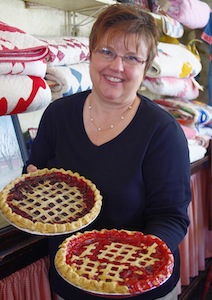 Looking back to the menu board after my meal, I read through the list of available desserts (all $4.75). The day's offerings included Carmel Candy and Sweet Georgia Peach pies, Red Velvet cheesecake, and Tollhouse™ cookie bars.
Of the dozen or so other choices, one dessert immediately piqued my curiosity — Mrs. Ledbetter pie. "That's the one we're known for," my server announced. "It is a German chocolate pie topped with pecans and coconut." Of course I had to try it.

Within minutes I was sinking my teeth into the rich, chocolaty pie. Served warm with a dollop of whipped cream, it had the consistency of not-quite-done brownies. I wasn't sure at first if I liked it or not, but when I finished it later — after it had been refrigerated — I was a fan.
As I finished my meal, I wondered why I had waited so long to give My Just Desserts a try. It has all the components I look for in a lunch spot: homemade food, reasonable prices, friendly service, and exquisite desserts. Mix in the period furnishings and décor and this is definitely a place that deserves to be on your list of places to visit in Alton, IL.
Hours are daily from 11 a.m. to 4 p.m. Located at 31 E. Broadway, Alton, IL 62002. (618) 462-5881. http://myjustdesserts.org. They have an extensive catering menu and accommodations for groups up to 57 people.
If you'd like to purchase this article for your publication, click here to contact the author directly.