By Debra Borchert
Sailing the Seine is at the top of every Parisian sightseeing list — and that's the problem. At least, it is if you're in search of serenity on your Parisian vacation. If you take a Bateau Mouche, it can feel like every other visitor in Paris is on the boat with you. If you're in need of an antidote to the clamor and jostle of your fellow tourists, you'll find rejuvenation and serenity on Canal Saint-Martin.
Boarding at Bassin de la Villette, the atmosphere of this boat is more like a Sunday afternoon family picnic — a floating one.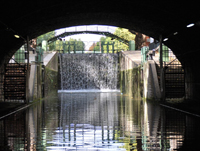 Fellow passengers quietly chat while you sit on the deck sipping glasses of Bordeaux.
Sailing through a mile-and-a-half-long tunnel under the Place de la Bastille, home of the prison that sparked a bloody revolution, may seem like a gloomy way to spend a sunny afternoon. I thought I was in for a ride through a dungeon, complete with mangy rats, rusted manacles, and piles of bones.
Au contraire.
A recording of La Marseillaise accompanies your guide's brief description of the centuries of history you sail beneath, while veils of light stream through large holes in the roof of the tunnel, just a few feet above the barge. Translucent leaves tumble down in vines from the rim of these open-air sky lights and sway in a soft breeze. Shafts of sunshine reflect on the water, radiating golden arcs that illuminate the ceiling like a subterranean aurora borealis.
Twenty minutes later, you approach the first of four sets of locks on the way to Bassin de la Villette. The boat snuggles up to louvered gates that loom ahead. As doors creak closed behind you, water gushes from slats as in the doors before you.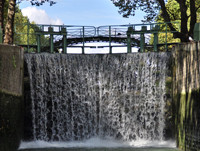 A few passengers stroll to the bow and lingered in the cooling mist. Powerful jets of water raise your barge until you're level with the river ahead. The gates crank open, and you sail on beneath crescent-shaped footbridges and ancient horse chestnut trees.
We have Napoleon to thank for Canal Saint-Martin—built upon his order to not only quench the thirst of 19th-century Parisians but also as a shortcut from the northern waterways to the Seine. This day, Parisians rode by on bikes, scooters, and roller skates.
If you wish to purchase this article for your publication, click here to contact the author directly.