By Shannon E. Johnson
ITWPA Member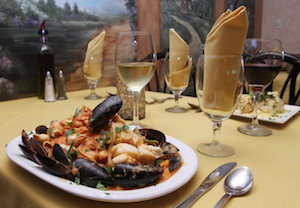 Di Paolo's Italian restaurant began life as an authentic Italian deli located in the heart of Penns Grove. Fast forward more than 40 years, and the business has grown into a shining example of fine Italian cuisine and is known as one of New Jersey's best kept secrets. Upon stepping into Di Paolo's, you are immediately transported back to old-world Italy with the interior's rustic Tuscan décor. The restaurant is still owned and operated by the Di Paolo family, who take great pride in creating some of the most mouth-watering Italian dishes that can be found anywhere on the East Coast.
Di Paolo's features an extensive menu that is packed with Italian classics along with a few extra surprises. The appetizers feature plenty of different seafood creations including the spicy calamari fritter seasoned with garlic, hot peppers, lemon, and olive oil. Vegetarians should try the authentic Italian bruschetta topped with vine-ripened tomato, pesto, and lashings of extra virgin olive oil. Di Paolo's offers four different soups including the Crespelle in Brodo, an Abruzzi specialty that consists of homemade crepes stuffed with pecorino romano served in a savory chicken broth topped with parmesan cheese.
The entrees include a wide choice of pasta including a homemade broccoli rabe and chicken ravioli that is worth the trip alone. The veal chop saltimbocca is not to be missed and is stuffed with mozzarella di buffalo and garlic spinach and then wrapped in parma prosciutto and served with baby portabello mushrooms and a sweet marsala wine sauce. Steak lovers can choose from four different Angus beef steaks including the succulent fillet gorgonzola and crab. No trip to Di Paolo's is complete without sampling their signature "orange size" crab cakes that are made from 100% jumbo lump crab meat and seem to be held together through willpower alone. All of the entrees are served with antipasto, a crispy house salad, Yukon potatoes, and a side of pasta.
Di Paolo's may not be one of the cheapest options when it comes to authentic Italian cuisine, but they certainly offer a lot for your money. The portion sizes are enough to satisfy even the hungriest Italian, and you can expect to leave with a sizable doggy bag. Di Paolo's also offers plenty of specials including the Tuesday "crab cake sandwich night" that features their famous crab cakes served on a brioche bun with a side of seasoned fries for $10. An all-you-can-eat lunch buffet is served on Wednesdays for just $13.95 per person and features a carving station serving prime rib steak, turkey, and porchetta. Friday nights offer live music with a happy hour and dinner buffet serving meatballs, sausage and peppers, fried calamari, cheese steaks, and homemade pizzas.
If you are looking for a hearty Italian feast served along with fine wine and good company, Di Paolo's is well worth a visit. Sign up on the restaurant's mailing list via their main website to be kept informed of upcoming events and specials (www.dipaolosrestaurant.com).
If you would like to purchase this article for your publication, please click here to contact the author directly.