By Cynthia Archer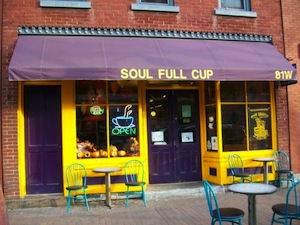 Take a stroll along Market Street in downtown Corning, NY, on a Friday evening in November, where the trees are wrapped with tiny white lights and storefronts tempt you with their beautiful arts and crafts and glass work, and your sense of smell will lead you to a lively little coffeehouse called Soul Full Cup. Once you open the wood and glass-paned door you are greeted by the arousing smells of fresh roasted organic coffees, pumpkin spice lattes, and hot apple cider, and friendly baristas with big smiles.
Sit down at one of the glass top tables with coffee-inspired tablecloths or relax in one of the cozy, plush chairs while listening to local musicians playing acoustic selections. For even more relaxation, retreat to the back of the shop and sink into an oversized sofa or chair and read a book or simply unwind your mind and body down from a busy day.
Since 1996, Soul Full Cup has been serving fresh organic coffees, lattes, espressos, and teas as well as an array of muffins, scones, brownies, cakes, pies, cookies, cinnamon rolls, and baklava — and they have monthly drink specials. They also sell their famous logo hats, t-shirts, coffee mugs, and travel mugs, and offer free wifi. They roast and blend the finest coffee beans onsite at their Big Flats, NY, facility, thus providing customers with the freshest coffee available. To show their love for the locals, they have a convenient wall-mounted mug rack where locals can bring in their own coffee mugs and get them filled, and when they're done the barista will wash them and place them back on the mug rack — and it only costs $1!
Soul Full Cup is open seven days a week and is located at 81 W. Market Street in downtown Corning, NY. They are open Monday-Thursday from 6:30 a.m. to 8 p.m., Friday from 6:30 a.m. to 10:30 p.m., Saturday from 8 a.m. to 8 p.m. and Sunday from 8 a.m. to 6 p.m. From I-86 East take Exit 45 (Downtown Corning/Riverside/Route 352), turn left on S. Bridge Street, then turn right on W. Market Street. From I-86 West take Exit 46 (Watkins Glen/Corning Museum of Glass/Route 414), turn left on Route 414, stay straight onto Cedar Street, then turn right onto E. Market Street. Visit them online at www.soulfullcup.com or call them at (607) 936-9030.
If you would like to purchase this article for your publication, please click here to contact the author directly.