By Ann Randall
ITWPA Member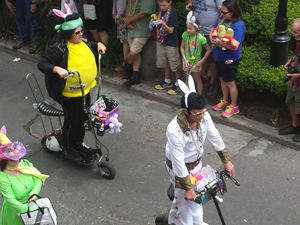 According to the French Quarter bartender serving my Sazarac, "the Easter Parade was the brainchild of 'a well-preserved 80-year-old showgirl and her curated contingent of NOLA [New Orleans, Louisiana] friends.'" My back home NOLA-to-Seattle-expat colleague assured me the Easter parade would illustrate the grand tradition of genteel Southern ladies dressed in their Easter bonnets accompanied by dapper gents in boater hats. And the NOLA pedicab driver described it as the craziest, wildest party in NOLA second only to Mardi Gras.
As it turned out all three descriptions were spot on because the New Orleans French Quarter celebrates Easter Sunday in style with not one but three distinctly different parades. Amazingly, not one of my three NOLA sources knew about the entire triumvirate of festivities, which get increasingly more colorful and flamboyant as the day progresses.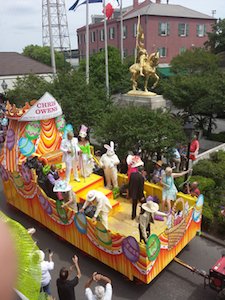 Easter Sunday morning begins with the most traditional of the processions, The Historic French Quarter Easter Parade. Big hats, flowing chiffon, and a sea of seersucker and bow ties are the costume de rigueur as ladies and gentlemen board fancy horse-drawn carriages and convertibles at Antoine's Restaurant and roll through the streets tossing plush bunnies and candy before disembarking at Jackson Square. There they make their way through the artists, tarot card readers, and unsuspecting tourists strolling with their plastic cups of Bloody Marys to St. Louis Cathedral for 11 a.m. Mass. Post Mass, the celebrants promenade Jackson Square before boarding their buggies and returning to Antoine's to award prizes for Most Exquisite Chapeaux, Grand Easter Basket, and Regal Attire.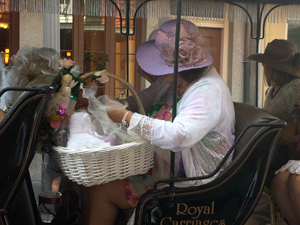 Following that event comes the Chris Owens French Quarter Easter Parade. 2015 was the 32nd time the local icon of Bourbon Street and former showgirl Chris Owens and her merry band of friends and supporters put on this impressive event. It also begins at a local hotel (The Astor Crowne Ballroom) with breakfast, an Easter hat contest, and a silent auction of bidders who want to ride in one of the parade floats. The money from the auction supports music education in NOLA schools. Then the vintage cars, brass bands, dance teams, and floats line up at the corner of Bourbon Street and Canal Street and snake through the French Quarter tossing out beads and Easter-themed trinkets to the crowds. By tradition the parade is led by Ms. Owens, the Grand Duchess (it is her parade, after all), who stands on an extravagant float dressed in a colorful Easter ensemble and bonnet that she designs each year.
The final parade, the Annual Gay Easter Parade (the 16th annual in 2015), has all of the trappings, costumes, and extravagance of the earlier processions. There are Easter chapeaux, chiffon, bow ties, and horse-drawn carriages that make the two earlier festivities feel sedate by comparison. There are brass bands, dance teams, and Grand Marshalls. It is a raucous, irreverent, bead-tossing extravaganza that's a fitting end to an Easter Sunday celebrated as only the French Quarter knows how to celebrate. It's also a benefit parade with proceeds going to the NO/AIDS Task Force Food for Friends program.
If you would like to purchase this article for your publication, please click here to contact the author directly.