By Elsa Dixon
ITWPA Member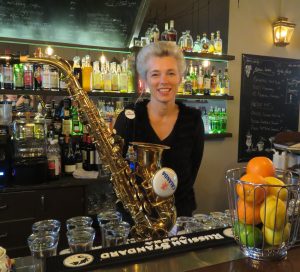 A welcome wood fire burns in the hearth as we shake off the snow and enter Kaffee Klatsch Lounge. We wind our way through the tables in the Kaffee restaurant to the adjoining Sports Bar where the air is thick with laughter and chatter (klatsch). It is après-ski time in Klosters Switzerland when winter sports fans flock from all over the world to this region.
Kaffee Klatsch Lounge is conveniently situated right next to Gotschnabahn (Gotschna station), where a cable car conveys skiers up the mountain. As we settle down, snatches of different languages come floating through the air: at our table, there is a mixture of English, German, Dutch, and Afrikaans.
Dominique's dream takes flight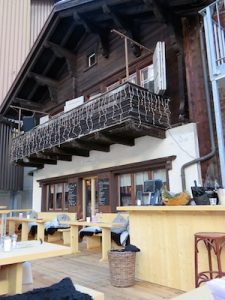 It is this cosmopolitan atmosphere that warms owner Dominique Maier's heart: "It reminds me of the days when I was a flight attendant for Swiss Air. When customers stream in during the winter season, it is like being on the airplane again. I love working with people."
Dominique grew up in Zurich, but family holidays were spent in Klosters. She went on to study business and commerce and then worked as a flight attendant. After raising two children, she settled in Davos with her partner who was running the Bardill Sports store in nearby Klosters.
She always had a dream of doing something special in her life, somehow combining enterprise skills with social interaction. An opportunity came up when the restaurant bar, Mountain Lounge, next door to the Sports store became available and they turned it into Kaffee Klatsch Lounge. At the same time, they opened Kaffee Klatsch Easy in center Klosters. Dominique is happy that the bar business could extend to include the coffee houses: "By chance, my dream came true. The Kaffee is my passion."
Après-ski in the Kaffee, Sports Bar, and Sun Terrace
Kaffee Klatsch Lounge caters for diverse guests, local and foreign, young and old. In the more traditional 'Kaffee section' one can savor the famous hand-brewed coffees, fine choice teas, a variety of baked goods and wholesome meals made with fresh seasonal ingredients.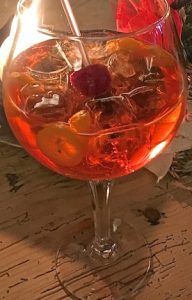 The adjoining Sports Bar has two levels, each boasting a well-stocked bar offering fine wines and fun-loving signature cocktails, and of course, the vibrant après-ski drink Aperol Spritz, an aperitif consisting of Aperol, an orange-based liquor, prosecco, a splash of soda water, ice cubes and decorative slices of citrus fruit.
The Sun Terrace outside, overlooking the Landquart river, offers beautiful scenic views and one can watch the cable cars going up and down the snow-capped mountain. Cushions and cozy blankets are splashed around on the ample seating to ward off the cold.
During the busy winter months, Kaffee Klatsch Lounge hums with activity, and a DJ offers additional entertainment in the early evening. The Sports Bar is used regularly for private functions and New Year is celebrated with fireworks and enthusiastic dance parties.
Klosters Alp-chic ambiance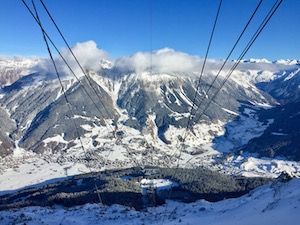 Combining a coffeehouse and a bar is a challenge, but Dominique succeeds in providing 'State of the Art' service comparable to anywhere else in the world, as well as add something 'Klosters' in the mix: "People come here for the surrounding mountains, snow, blue sky, pure air, quiet and a stress-free atmosphere. Our Klosters Alp-chic-ambience is known all over this region."
This ambiance is enhanced by Dominique's eclectic interior decorating style and personal flair. During her travels, she brings back objects that 'touched her heart' and finds a special place for them in Kaffee Klatsch Lounge.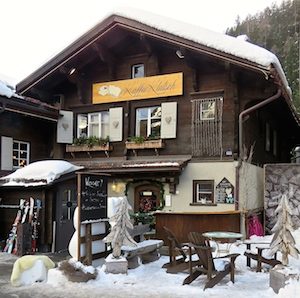 Pre-Ski, Après-Ski or without Ski
Although Klosters is renowned as the playground for royalty, it has retained its character as an unspoiled traditional village. At this moment, however, we raise another glass to camaraderie and friendship during après-ski moments in the Sports Bar. Pre-Ski, Après-Ski or without Ski – Kaffee Klatsch Lounge is the place to be.

Kaffee Klatch: http://www.kaffeeklatsch-klosters.ch/
Klosters: https://www.davos.ch/en/davos-klosters/information-arrival/tourist-office/
For Gear: http://www.bardill-sport.ch/16-0-Hauptgeschaeft-Klosters.html
Golfing: https://www.davos.ch/en/summer/activities/golf/
If you would like to purchase this article for your publication, please click here to contact the author directly.