By Bob Starink
Albuquerque is hard to spell and you may only recognize the name from Bugs Bunny's directions to turn left there. However, not only is this city in the desert a great place to use as a base camp to travel to exotic places in all directions, it is a tourist attraction in its own right.
Albuquerque, New Mexico, is an easy flight from all major U.S. cities. From here, the Rocky Mountains in Colorado are to the northeast, the magnificent desert national parks of Utah lay northwest, the Grand Canyon in Arizona is due west and Carlsbad Caverns and White Sands National Monument are southeast.
The road system in Albuquerque makes navigation to the variety of attractions easy. These attractions include Old Town, which celebrates the city's history dating back to 1706; the Indian Pueblo Cultural Center which, as the name suggests, concentrates on the 19 local native tribes; the Sandia Peak Tramway, a cable car ascending nearly two miles from the desert floor to seasonal snow fields; and the Albuquerque Aquarium, which is very popular with kids.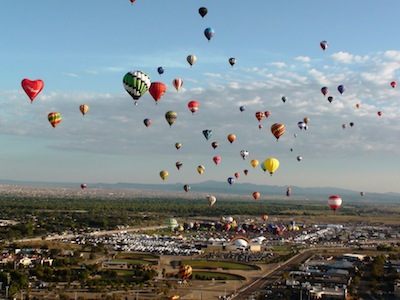 Albuquerque's greatest claim to fame, though, is the annual Balloon Fiesta the first week in October. Balloons from all over the country converge for a spectacular air show where up to 700 balloons take to the sky in the Mass Ascensions. This balloon festival began in 1972 with 13 balloons and has developed into the largest event of its type in the world. A unique weather combination makes Albuquerque ideal for ballooning — varying winds at different altitudes allow balloonists to circle the area rather than fly away in a single direction.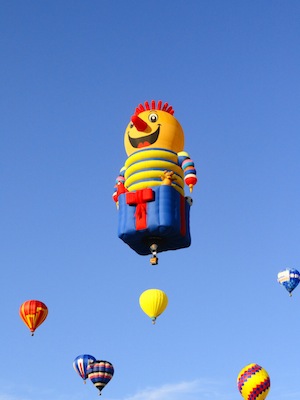 The many different shapes of balloons make the show even more fascinating for spectators. During some of the Fiesta nights, balloonists fire up their crafts on the ground to create a multi-colored light show. Food and souvenir stalls that line the field provide more entertainment after the balloons are done.
Entry to the Fiesta is only $6 per adult and parking is $10 for those who drive in. The Mass Ascensions occur just after sunrise (about 7 a.m.) so a pre-dawn awakening is necessary.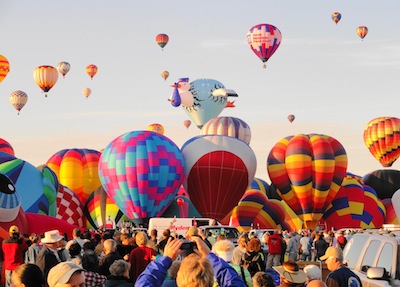 For a special treat, Rainbow Ryders provide rides in their balloons during the Ascensions. Aloft for up to two hours, you can watch balloons taking off from the field below, landing in nearby clearings and surrounding you in the air. This is an extraordinary way to appreciate the Fiesta. With only about 50 people per day allowed, the price of $375 per person is not that unreasonable for a once-in-a-lifetime experience.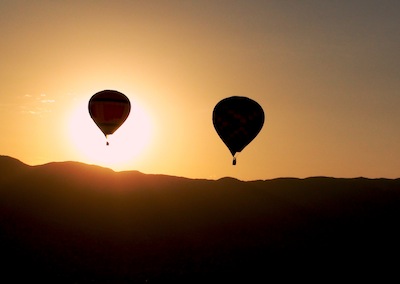 Visiting Albuquerque during any season of the year is worth your time but doing so in October adds remarkable memories that are treasured forever.
If you go:
A flight from Los Angeles to Sunport International Airport in Albuquerque costs around $150 per person. An interesting alternative is to take an Amtrak train. A seat from Los Angeles will set you back approximately $65 for the 16-and-a-half-hour overnight journey (a sleeping car is extra).
There are many good hotels in Albuquerque, especially around the airport. Prices during the Fiesta are naturally higher than the rest of the year. Car rental is cheap. Advantage has cars for $55 per day (including all taxes).
Food options are plentiful. Try the Genghis Mongolian Grill at least one day. It's a stir-fry chain restaurant but it's a great value and very tasty.
For more information and photographs, visit www.balloonfiesta.com and www.rainbowryders.com.
If you'd like to purchase this article for your publication, click here to contact the author directly.