By Leia Thomas
ITWPA Member
Steamboat is a safe, beautiful, robust, and perpetually cold mountain community that never stops reconstructing itself. Shops relocate to the other side of town, newfangled condo projects are always on the rise, and jobs are available for a man with a trade certificate. The demography is skiers, construction laborers, and physical therapists. The common story goes that men move here for the construction work and return with their families to call it home. Their kids start taking gymnastics and the rest is history.
First impressions are of thin, adrenaline-addicted people who avoid sunscreen and makeup — imported midwesterners driving large vehicles for safe maneuvering in the yearly wonderland blizzards while dodging the soccer mom motif.
Visitors can take advantage of "mud season" prices in November and April, when restaurant and spa deals — and parking spaces — abound.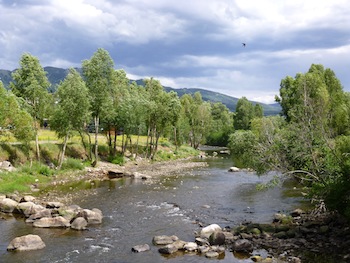 Busier times of year create hub points along downtown streets and on the mountain. Fireworks bedazzle the sky at New Year's on Mt. Werner and again on July 4th behind 5th Street, on the Olympic athletes' training grounds at Howelson Hill. Parking on July 4th is non-existent. Bring your patience and ride the bus. The best restaurant offering a bird's eye view of Howelson Hill is the Rio Grande Mexican Grill, on their upstairs, outdoor balcony.
There are lesser-known jewels as well: the Steamboat Meat & Seafood Company along the river purveys varied, quality goods like mandarin juice from Italy and farm cheese from Wales. Bamboo Market and Sweet Pea Market (both along the river's route) live up to their names by bringing true health to a growing-season-deprived customer base. These smaller businesses prove beneficial for avoiding crowds and parking problems, not to mention providing an alternative to the flavor-deprived food offered ubiquitously at the hackneyed Safeway and City Market.
A favorite locals' restaurant is Sweet Water Grill, along the river, with live music groups and ample seating, delicious martinis, interesting salads, and scrumptious chocolate cake. Delightfully different menu choices will please you at your table with its smart blue napkins, or your round bench encircling a fire pit on the cozy porch. Don't mind the sound of the coal train just over the river. It's all part of the charm, they say.
It's not dramatic to claim that this locational pearl will mesmerize you. The scenery is stunning and the warmth of the locals will remind you of your last trip to Texas.
Wait a year — you'll be back.
If you would like to purchase this article for your publication, please click here to contact the author directly.
Are foreign drugstores clinically appropriate for Americans. Part 2