By Sarah Van Blaricum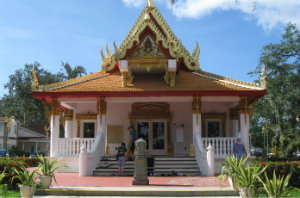 Five miles east of Tampa, along the banks of the McKay Bay Greenway, people sit at brick-red picnic tables, talking, laughing, and joking. Behind them is a Buddhist temple with an ornate golden rooftop and red trim. Pairs of shoes are strewn at the bottom of the small staircase leading to the temple's entrance. It is a hot summer day in Florida, with temperatures in the 90s and humidity that hangs in the air, still, wet, and damp. Yet nobody is complaining about the weather. They're too busy feasting on the authentic Thai cuisine temple volunteers dish up every Sunday at the temple's Sunday Market.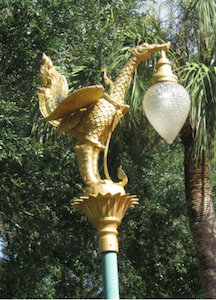 Wat Mongkolratanaram of Florida, or the "Thai Temple" as locals call it, was established in 1981, and launched its Sunday Market six years later with just two tables. The market has since grown, achieving cult status among area foodies. Today, it features vendors selling everything from Pad Thai and fried bananas to orchids and preserves. Hungry visitors walk along a large wooden wrap-around deck, enticed by the smell of bubbling soup broth, steaming dumplings, and peppery spices emanating from the various food tables. It is the most authentic Thai cuisine you can get in the area — and the cheapest. You'd be hard-pressed to find a better value in Tampa Bay.
Pricing for each food item is in the single digits. Pad Thai runs $5. A favorite among regulars, the noodle soup — a sumptuous concoction of noodles, spicy-sweet broth, green onions, sprouts, dumplings, and cilantro that comes with either beef, pork, or vegetables — ranges from $6 to $8. Pork Sarapao, flour dumplings filled with pork, garlic, onion, water chestnuts, and egg, sell two for $3. A bag of fried bananas runs from $3 to $5. Bottled water and canned soda are $1 each. Tables with condiments and seasonings are located around the deck so that patrons may season the food to their individual tastes. Portions are generous, so expect to take home leftovers. Better yet, bring extra money and stock up on food for the next few days. You won't be alone, as it's not uncommon to see people walking away holding plastic bags of take-out boxes filled with food. All proceeds from the Sunday Market go directly to the temple, helping to further its mission of propagating Buddhist teachings and practice.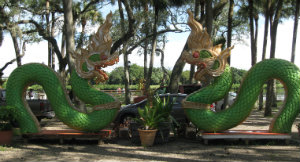 The Sunday Market is open every Sunday, rain or shine, from 9 a.m. to 1 p.m. It gets crowded quickly, so aim to get there between 9 a.m. and 11 a.m. in order to secure parking and take advantage of the more popular food dishes before they run out. One important note: the market accepts cash only, so hit up the ATM before your visit!
Wat Mongkolratanaram of Florida (Wat Tampa)
5306 Palm River Road, Tampa, Florida 33619-3746
Telephone: 813-621-1669
Fax: 813-626-8850
www.wattampainenglish.com
If you would like to purchase this article for your publication, please click here to contact the author directly.
Are foreign drugstores clinically appropriate for Americans. Part 2