By Karen Barrett Griffin
ITWPA Member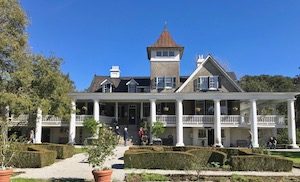 Majestic live oak trees with sprawling branches dripping silver Spanish moss surrounding stately white-columned mansions. The dazzling Ashley and Cooper Rivers meandering their ways to the sea.  Long-necked, lanky egrets perusing the swampy marshes where cypress knees eerily protrude from the murky water.  Alluring gardens with fragrant flowers bursting forth no matter the season. When you envision Charleston South Carolina, is this what you see?
You will absolutely see all that and more in Charleston's exquisite, welcoming plantations. No visit to Charleston is complete without visiting at least one. But since each has its own unique personality, visiting several is even better.
Choosing which to see first can be difficult, so to help you decide, here is a partial list with some of their highlights.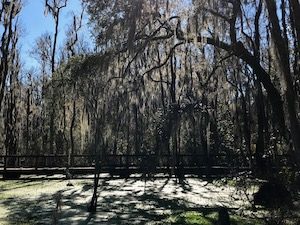 Boone Hall, established in 1681, is one of the more well-known plantations since it has been a location for dozens of films and TV series.  It offers a variety of events all year, everything from Strawberry and Oyster Festivals to Summer Concerts and Scottish Games. The present-day mansion was built in 1936 and sits on 736 stunning acres. Nine original brick slave cabins allow visitors to explore the unique Lowcountry Gullah culture. After enjoying an open-air coach tour of the plantation, you can have a lip smackin' homemade meal that includes homegrown farm to table fruits and vegetables in the nearby Boone Hall Farms Market. Location: 1235 Longpoint Rd, Mt. Pleasant 29464. Website: BooneHallPlantation.com.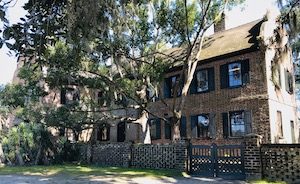 Drayton Hall, circa 1738, is the sole surviving Ashley River plantation that is wholly intact, having never been updated or modernized. A guided house tour is offered. Other features include an interpretive program, "Connections: From Africa to America," a historic African-American cemetery, and self-guided nature and river walks. The Museum Shop has apparel, jewelry, books, food, and other interesting items. Rudi's Old Village Café & Wine Bar serves light breakfast, lunch, beer, wine, and cheese. Location: 3380 Ashley River Rd, Charleston 29414. Website: DraytonHall.org.
Magnolia Plantation is the original ancestral home of the Drayton family since 1676, with the 12th and 13th generations still living there. It is the oldest plantation on the Ashley River with nearly 500-acres of grounds, 70 of which are gardens. These are the oldest major public gardens in the United States. Besides the plantation house, there are miles of walking trails, a Nature Train, Nature Boat, Audubon Swamp Garden, and diverse wildlife to be enjoyed. For refreshment, check out The Peacock Café and do a bit of shopping in their gift shop. Other fun features include a maze, petting zoo, and playground for children. Location: 3550 Ashley River Rd., Charleston 29414. Website: MagnoliaPlantation.com.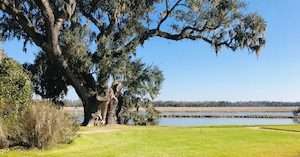 Middleton Place was first granted in 1675, but not actually established until the 1830s. It has working plantation stable yards complete with colonial and antebellum livestock. The gardens, precisely balanced and symmetrical, overlook butterfly lakes and the tranquil Ashley River. They are America's oldest landscaped gardens that bloom year-round. Just months before the end of the Civil War, most of Middleton Place was burned. Twenty-one years later, in 1886, the Great Earthquake destroyed the remaining walls of the main house and the north flanking structure. The property lay neglected until 1924 when a descendent restored the remaining south flanking structure, where he and his wife lived for the rest of their lives from October to April. There are guided tours of the Museum House, carriage rides, kayaking, horseback riding, and nature hikes available for lots of fun things to do. Middleton Place Restaurant offers lunch daily, and romantic candlelight dinner Tuesday through Sunday. If interested in staying over, The Inn at Middleton Place offers 55 luxurious rooms. Location: 4300 Ashley River Rd., Charleston 29414. Website: MiddletonPlace.org.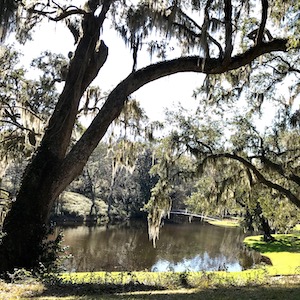 Charleston Tea Plantation There are hundreds of tea plantations in the world, but only one in the United States. This 127-acre plantation offers factory tours, trolley tours and all the tea you can drink. Their extensive gift shop is filled with all things related to tea – mugs, infusers, teapots and tea sets, tea towels, tea bags, and loose tea plus body products incorporating tea. It has a large free tea bar with various hot or iced flavors for you to sample. Location: 6617 Maybank Highway, Wadmalaw Island 29487. Website: CharlestonTeaPlantation.com.
It is recommended that you check the individual websites for operating hours. Most have admission fees. Some activities are at an additional cost. Some welcome pets on leashes.
No matter which you choose to visit, you will enjoy exquisite beauty tickling all your senses and experience gracious and congenial Southern hospitality. When they say, "Y'all come back now," they sincerely mean it.
If you would like to purchase this article for your publication, please click here to contact the author directly.