By Mike Hopkins
ITWPA Member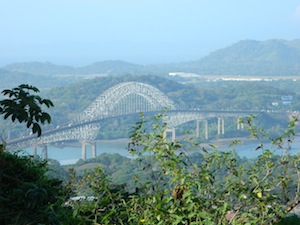 Located on the northeast end of Panama City, overlooking the Panama Canal, is Cerro Ancon. It's the highest natural point in Panama City and has excellent views of the Panama Canal, Bridge of the Americas, Casco Viejo, and the modern skyline of Panama City. But it's not on the "must see" list for most tourists or tourism companies. In fact, until recently you couldn't even write a review for it on Trip Advisor. So let me be the first to suggest you take an hour or so out of your already busy trip to Panama City and visit Cerro Ancon.
Cerro Ancon (ANCON is an acronym for the Panamanian environmental group Asociacion Nacional para la Conservacion de la Naturaleza) is translated as Ancon Hill. It was held by the U.S. as part of the Panama Canal Zone until 1977 when it was returned to the Panamanians. Since it was controlled by the U.S. for much of the 20th century, it escaped the developers. It is a little jungle oasis inside the city with numerous species of birds, sloths, armadillos, and deer. In my walks to the top, I've seen a toucan (though it escaped my photo attempts) and several other types of birds, sloths, and armadillos. I've seen deer wandering through the residential area at the bottom of the hill.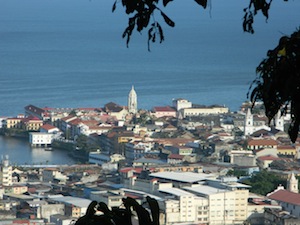 While there is a single lane road that runs to the top from the Quarry Heights area that is driven mostly by taxis and tourism vans, it is a fairly easy walk. If you begin your walk from the Quarry Heights area and travel at a leisurely pace, it should take about 30 minutes. As you climb the hill, there are photo opportunities of the Panama City skyline and Casco Viejo that vehicles can't stop for. Also, benches are conveniently located along the road so you can sit and watch the birds or just take a break. Once you arrive at the top, from one side of the hill you'll have a great unobstructed view of Casco Viejo, the Pacific Ocean staging area to enter the Canal, and some views of the city. On the other side, you'll see the Bridge of the Americas, the port of Balboa, and the Miraflores Locks of the canal.
If you'd like to purchase this article for your publication, click here to contact the author directly.
Additional photos available upon request.
Are foreign drugstores clinically appropriate for Americans. Part 2