Wailua River kayaking to a secret waterfall in Kauai was one of those moments in paradise you wish you could hang onto as long as possible.
Known for its unique geography and unparalleled natural beauty, Kauai is one of the world's most breathtaking islands—and an outdoor lover's nirvana. 97 percent of its land is covered with verdant, undeveloped mountain ranges and lush, tropical rainforests.
Kauai also boasts of Hawaii's only navigable river, one of the most sacred places on the island. After talking with our hotel concierge on a recent trip, we decided to add a five-hour Hawaiian river experience to our list of activities.
About the Wailua River
The 20-mile-long scenic Wailua River once connected the sites of seven different ancient Hawaiian heiau (temples). It has a long history with royalty, serving as a respite and a place to bathe. Beginning at the 5,148-foot Mount Waialeale in the center of the island, the river feeds two popular and easily accessible cascades: Opaekaa Falls and Wailua Falls.
Other Wailua River excursions include guided tours of the Fern Grotto, a natural lava rock cave sheltered by draping ferns. River goers can enjoy views of the Nounou Mountains (Sleeping Giant), a formation on a mountain ridge between Wailua and Kepa. It's aptly named because the mountain resembles a huge human figure lying on its back.
River Kayak Adventure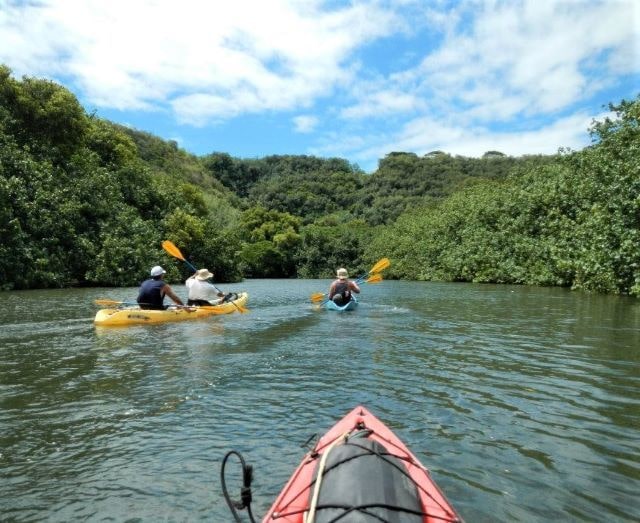 Our guided trip with Kayak Wailua on the scenic, tranquil Wailua River took us past lush jungle landscapes where towering emerald mountain ranges rose steeply from the water's edge.
Wailua is one of the most scenic rivers in all of Kauai. But what began as a fairly easy paddle on the river became more challenging as suddenly the winds picked up. It almost became the trip that never was as we struggled mightily against the wind and current. Every three strokes forward pushed us two strokes back. One couple in a tandem kayak even went overboard.
We tried hugging one shore or the other to no avail. The stiff headwind either pushed us to the river center or forced us into the brambles along the shoreline. Progress was virtually non-existent. Finally, after 20-sweat-soaked-minutes of intense power paddling and circuitous navigation, we negotiated the river's blustery curve and into calmer wind-free waters. Oh, what a relief!
Thankfully, the remainder of our journey was a relaxing expedition through this tropical wonderland. Now we could appreciate our magnificent surroundings the way we had intended.
Trek to a Hidden Waterfall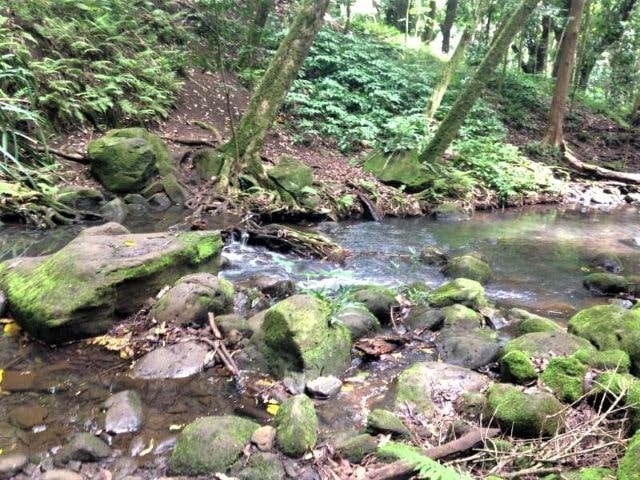 A moderate ¾-mile hike from our landing point guided us through a verdant rainforest as we waded through cool mountain streams and traversed muddy canyon trails. Thank goodness we were advised to wear hiking shoes as the footing can be slippery and treacherous. Flip flops will not hack it here.
At the trail's end, we were rewarded with the kayaking adventure's grand surprise. We stood there enthralled by the mesmerizing view and thunderous applause of a 100-foot bridal-veil waterfall.
Uluwehi (Secret Falls) is so named because of its remote location in the Wailua River State Park, well off-the-beaten-path. The only way to access the falls is exactly as we did—a river journey. Like other Hawaiian waterfalls, the stunning Uluwehi's flow is heavily influenced by rainfall. Because it's located in a tropical rainforest where rainfall is abundant, the falls always enjoy a healthy voluminous cascade.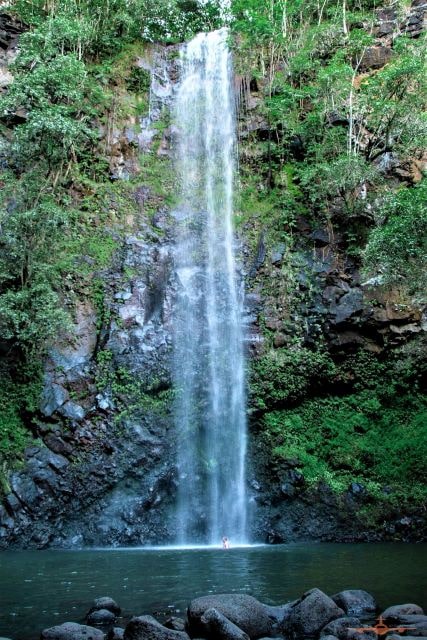 The falls plunge into a secluded pool that, in turn, feeds a mountain stream heading back down to the river. While the rainforest itself is warm and rather balmy, to say that the Uluwehi Falls and pool are cool and refreshing is an understatement. It took a while to get used to the temperature. We experienced another unexpected surprise standing directly under the falls. Water dropping over 100 feet packs a powerful punch. It was impossible to get that picture-perfect Kodak moment playfully posing under the falls as the pummeling water knocked us right off our feet.
After a refreshing swim in the clean waterfall-fed pool that washed away the mud from the hike and soothed our aching muscles, we enjoyed a relaxing lunch atop massive boulders overlooking the falls. This is one of those moments in paradise where you so wish you could hang onto it for as long as possible. But it was not to be as our guide announced it was time for our return to the river.
Our Return Trip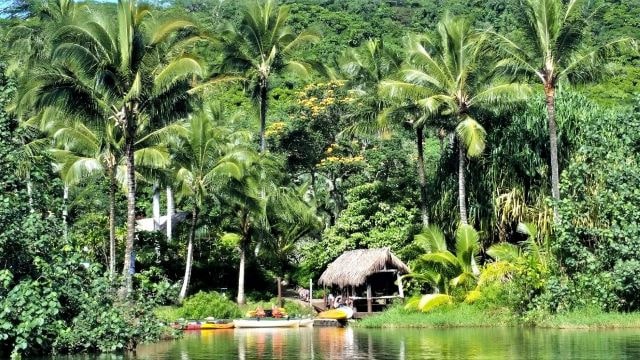 Once we reached the river's edge, it was nice to discover that our kayaks were still beached, waiting for us to hop back in. The return journey was remarkably easier thanks to the trade winds at our back. We made such good time we were able to pause frequently to take in this enchanted wonderland and capture the stunning views with our cameras.
Tired yet filled with a satisfying inspiration, we were so glad we decided to take the river kayak adventure. Our guide congratulated our small group on our successful trip. He then admitted to us that in over five years of guiding tours, he had never experienced headwinds that powerful before and had even considered turning us back. But we persevered and made the kayak trip one incredible outdoor adventure we'll never forget.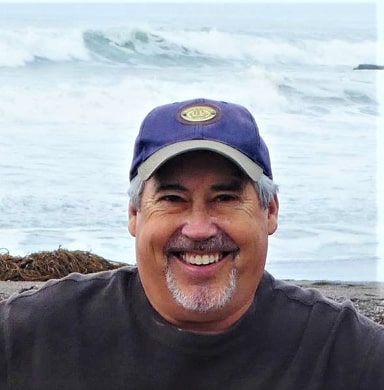 About Michael Kompanik—Michael is a retired U.S. Navy Captain from San Diego, California, who has traveled extensively around the globe. Always wanting to know what's around the next bend, he loves experiencing new cultures and destinations. His interests include nature, history, the outdoors, adventure travel, and photography. Favorite destinations include Europe, Mexico, and the Mediterranean.
---