By Cynthia Lamberty
ITWPA Member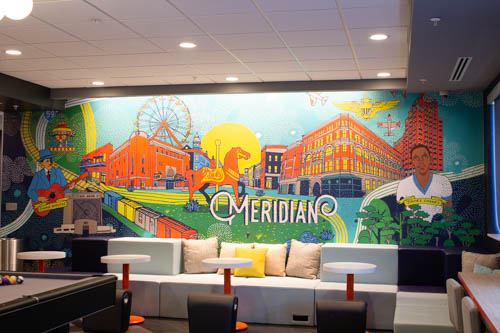 When you think Hilton, what comes to mind? Up-scale? Established? Old-fashioned? Maybe even stuffy? Well, when I hear Hilton, I think routine. Neutral tones, muted color schemes, and cookie-cutter rooms. Of course, the beds are comfortable, and you're greeted with a smile. But, basically, same old, same old.
That's what used to come to mind until I had the chance to visit a Tru by Hilton. It's a concept hotel. And it's still relatively new. The first Tru opened its doors in May of 2017. A bit behind schedule but Tru-ly about time.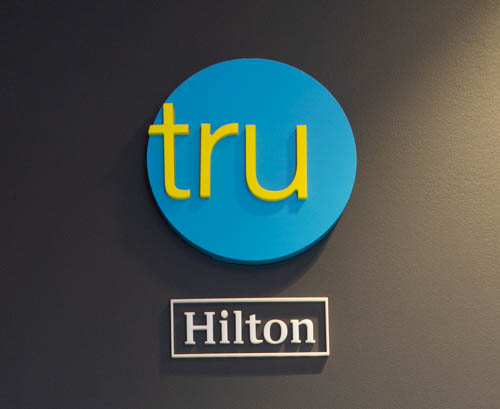 The difference is noticeable before you even park the car. Their logo- a bright blue circle with sunny yellow letters-says innovative. The double glass doors wear a bright white "welcome" in multiple languages and invite you in.
Let's Talk Lobby
There are no neutral tones or muted colors here. Instead, bright, bold colors and large, cheerful, well-lit lobbies make these hotels Tru-ly unique. The front desk isn't tucked into the corner, either. It's centrally located and circular, like their logo. It is, after all, the center of activity at any hotel.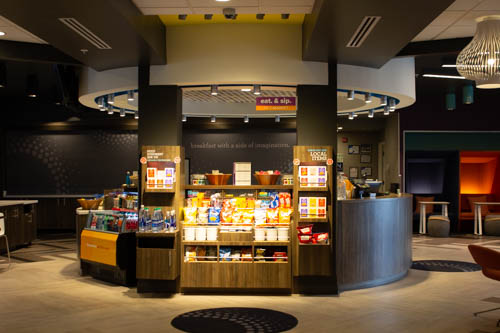 The three-foot walls surrounding the desk hold a large variety of snacks, munchies, and cold beverages. From salads to candy bars and beer to coffee, there is something here for each member of your crew—a welcome sight after our five-hour drive.
Tru focuses on community, and their lobbies reflect that. Each location features a mural highlighting local attractions and points of interest. And it doesn't stop there. That sense of community and gathering carries through the entire space. Various gathering spaces surround the front desk. A children's area with board games (and room to play them), an area with table games, a techie table complete with multiple USB ports, a lounge area for chatting and chilling, a coffee bar, and several areas for one-on-one conversing.
Even the elevator niche displays favorite local picks for dining and entertainment options, right alongside four-foot floor numbers in bright blue.
While most hotels focus on getting you into your room, Tru focuses on bringing you out. There is a bigger sense of community here—a Tru sense of belonging.
 The Great Outdoors
And speaking of gathering, how about a sunset gathering around a fireplace? The innovation doesn't stop inside the walls at Tru. There are inviting outdoor spaces at every location.
Oversized sofas, small tables, and a gazebo with a grill can accommodate both small and large groups. There are super-sized games, meant for outdoor use, scattered about, but the focus was the gas fireplace. A perfect place to gather after a busy day of exploring the area.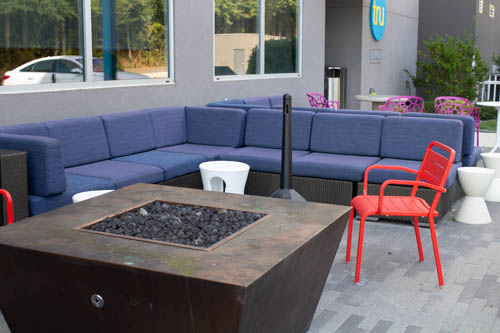 Bed and Breakfast?
Yes, of course. Not all Hiltons offer free breakfast, but all Trus do. It's not your average breakfast. Tru's Top-It breakfast bar offers 35+ toppings, so you are free to create your perfect morning. Yes, there are the old standbys like donuts and cold cereal, but Tru kicks it up a few notches by adding a waffle bar, hot egg dishes, biscuits and gravy (my personal favorite), and yogurt with fresh fruit. You won't see the breakfast bar from the lobby. It's tucked away behind a wall of screens until needed.
The room itself is the lovechild of Hilton's timeless comfort and Ikea's minimalistic style. Instead of heavy, oversized dressers, Tru opted for open closets and an abundance of open shelving. Luggage slips neatly beneath the bed. Larger, brighter bathrooms (that the best of homes envy) have plenty of shelves for your necessities. Top-quality linens and premium bath products ensure comfort at every level.
The Tru Test
Of course, the real test is how the hotel makes you feel. Did you sleep well? Did you feel welcome? What was the overall residual feeling of the place? Would you return?
We slept well and woke fully rested. Breakfast was great and fueled our morning. Yes, we will return. It isn't just the comfy beds or the fresh, hot breakfast. It's more than that. It's a welcome that feels like a personal invitation. It's the bright, airy spaces and the sense of connection to the local community. It's the way the gathering spaces draw you in and make you want to stay. It's the uplifting colors and refreshing spirit of the place.
Not only will we stay at a Tru again, we will actively seek them out. Tru promises a Tru-ly unique stay. To book your very own Tru-ly unique stay, click HERE. ~TPM
About Cynthia Lamberty—She is a freelance travel writer who specializes in bringing destinations to life through words. She writes compelling destination articles that inspire travelers and drive visits to those destinations. Visit her website at www.travelwriter360.com.