By Dorette Avlonitis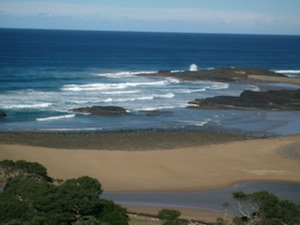 The perfect getaway from the daily grind, the Hole in the Wall Hotel and Holiday Village near Coffee Bay is hard to reach and hard to leave (not only due to bad roads).
When we started out in our rental car from East London airport, we were mystified that the GPS indicated it would take seven and a half hours to drive 177 miles. I thought it inaccurate and hoped the machine wasn't psychic … It was! There were roadworks going on along most of the way.
We wondered where old Mr. Mandela's home was as we passed his birth town, Qunu, and saw it on our way back, along with the Mandela Museum.
Some four miles from our destination, at about 8:30 in the dark of night, the little car skidded in powdery sand where larger vehicles had had trouble crossing. I gave up and called the resort manager, who quickly came to our rescue. We managed to turn the car in the direction we came from and followed him on a 31-mile detour to arrive at 10 o'clock. Once safely in our comfortable self-catering cottage, we decided we would not drive again soon!
The next morning as I opened the door, some locals were waving a bag and shouting they had crayfish for sale. We bought after some negotiation and had a wonderful lunch after hiking to the 'big hole,' amazed that the dunes were covered in lawn — and cattle and goats were grazing!
Even more amazing was the donkey that took a 'dust bath' in front of us and then got up and sauntered on.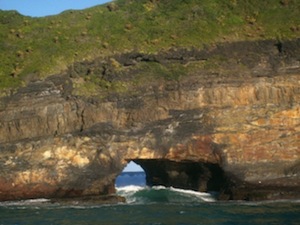 The next day we heard about 'little hole' and decided to hike there. We were at it a few hours and got to 'black rock' where we saw fishermen and wonderful scenery. Unbeknown to us we were close to 'little hole.' We went back there the next morning with a couple we met, Val and Cynthia, in their powerful vehicle along the barest of tracks … up to a point. Then we walked a distance to finally see 'little hole' way down the sheer cliffs.

The day after we bravely took to the road in our small car to explore the surroundings up to Coffee Bay. The place is somewhat of a hippie haven, and drumming could be heard from afar. We had lunch at the Kaleidoscope shop and bought a few trinkets.

Considering our long trip to Hole in the Wall, we decided to leave our resort a day early to meander closer to the airport at East London. We found a guest house where we spent a lovely last evening of our holiday, and had a long walk on the beach at Bonza Bay.
Then we slowly drove to the airport and handed back the car in good time for our flight back to Johannesburg's OR Tambo airport and HomeSweetHome!
The weather all this while (the third week in May) had been great. It did get dusky fairly early and sunrise was at about 7 a.m.
If you would like to purchase this article for your publication, please click here to contact the author directly.