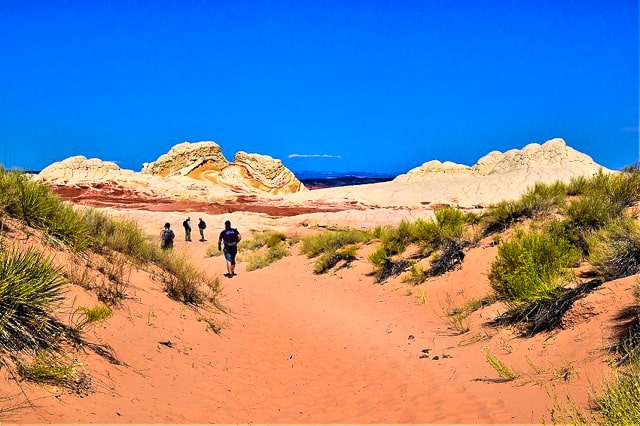 A Utah Arizona border tour was a must. When I started looking for tours of the amazing natural beauty surrounding Page, Arizona, fate took my search engine to Kanab, Utah. Okay, maybe it was Google, but somehow, I found Dreamland Safari Tours and their impressive list of off-the-beaten-path places to see. Their itineraries include everything from a few hours to several days in the backcountry (camping included)—just leave the driving to them.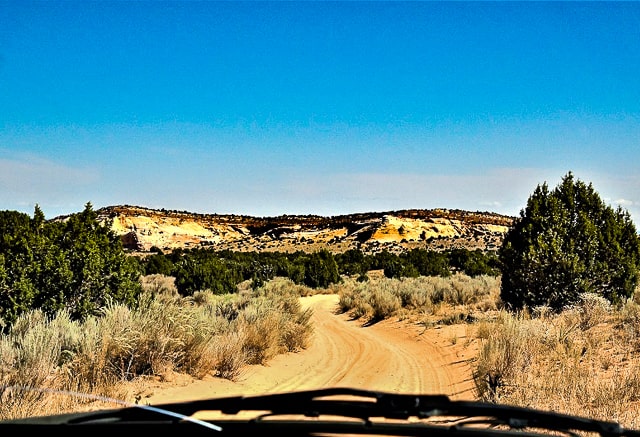 Some of the places I wanted to see were down 20-miles of bumpy, rutted dirt roads and then an additional 20-miles of deep sand. Just reading about others' tribulations who became stuck in the sand attempting these trials was sufficient for me. Being from the beach and traveling in a Hyundai Elantra, I knew better than to suggest we do the driving ourselves. We've put our abused car through enough on this trip. As my plans took shape, it looked like two days – two tours.
Off to Dreamland on the Utah Arizona Border
Dreamland is co-owned by a husband and wife team, Paul Gagner and Sunny Stroeer. Sunny is also a professional endurance athlete, adventurer, and accomplished outdoor photographer. Her love for the Utah and Arizona backcountry is evident in every conversation and email. Paul has led an exciting life (and still does) exploring, adventuring, and putting up first ascents on daunting rock faces across the US and internationally. He was one of the first National Park Service employees to be certified for helicopter-rappel rescues. Both Sunny and Paul are certified first responders, as are most of their guides.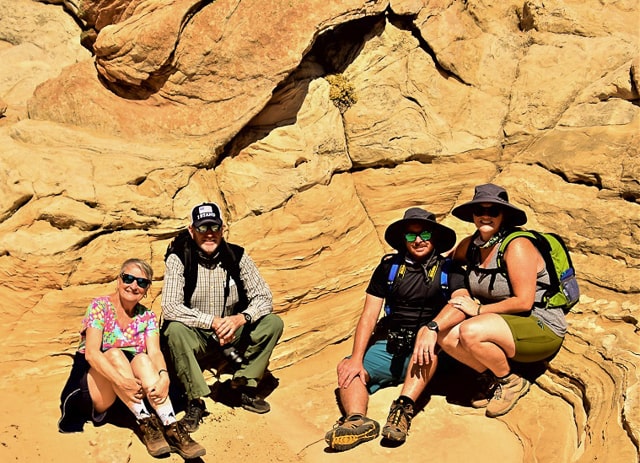 Dreamland Safari Tours offers outdoor adventure tours in Southern Utah and Northern Arizona that seamlessly blend photography stops with short hikes. Their naturalist tour guides are well-versed in the region and in first aid, CPR, and the handling of 4WD vehicles. As they say, "Let us do all the work. After all, it's your vacation."
White Pocket
Many visitors come to Southern Utah and the Utah Arizona border area to do The Wave. However, the rocks in this area rival The Wave, and no permit is needed. A win, win. Few people realize The Wave is just the beginning of the area's stunning, swirling, thin layers of strata. A pocket is defined as a small area that exhibits a different terrain from the surrounding land. White Pocket has astonishing hues adjacent to contrasting multi-color rock formations. It encompasses an even larger area than The Wave. Our tour was a full day, with lunch included.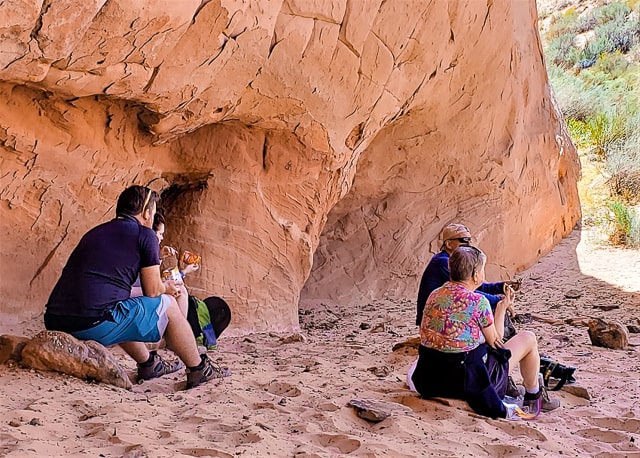 Found in the Vermillion Cliffs area, White Pocket is about a two-hour drive from Kanab. As our guide Steve Southam drove, zigging and zagging as necessary, he regaled us with the area's stories. He also told us tales of his youth, spent in England, and how he decided to come to America, longing to see the Wild West.
4-wheels and high clearance
Dreamland's fleet of heavy-duty, high clearance 4-wheel drive Suburban can carry up to eight passengers in air-conditioned comfort. Their guides are well-trained drivers for the local terrain and Utah Arizona border region. Steve knew just when to let the air out of the tires to provide more surface area for traction and better grip.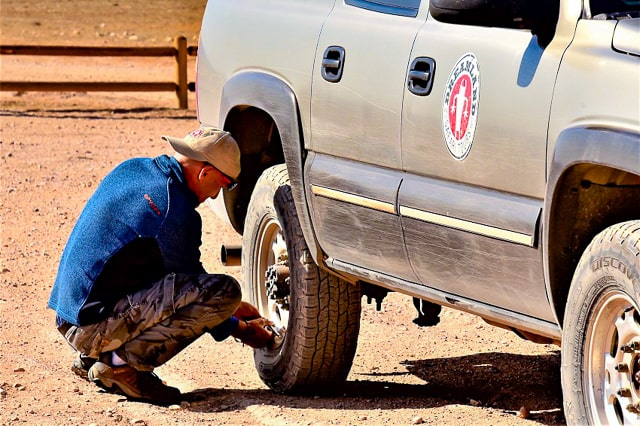 Our tour consisted of the two of us and another couple. We called them 'the kids' since they were considerably younger. Steve did a great job picking the paths that all of us could handle and enjoy. He spent time explaining the area's history. He explained how the rock had fractured into the shape of a pentagram because of the surface's constant heating and cooling. The pentagram is one of nature's strongest structures. The rain collecting in the cracks eventually deepened the grooves.
Much to my relief, Ryan stopped to take photographs as often as I did. Erica buddied with me to make sure we both made it down some of the steep inclines.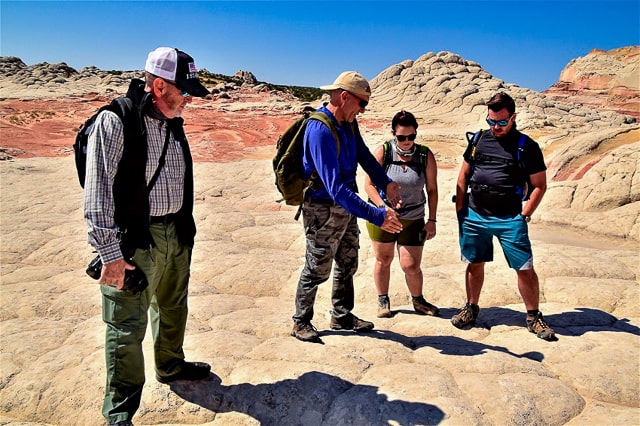 Made in the Shade of Utah Arizona border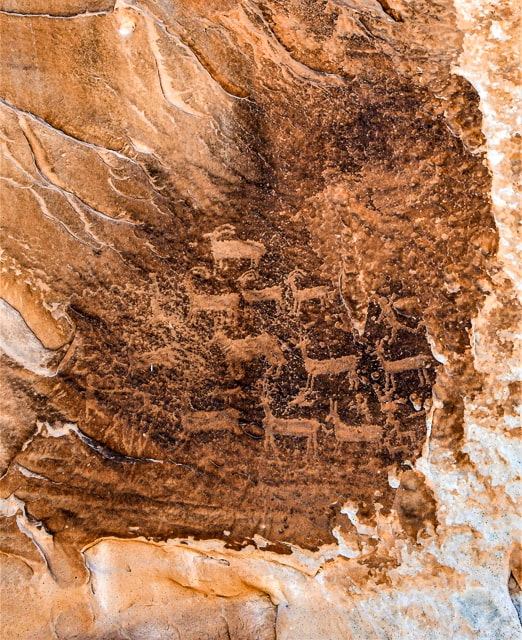 Steve knew the best path to take to arrive in the shade of a cliff overhang, complete with petroglyphs, just in time for lunch. Our sandwiches were homemade, thick, and tasty, with the tomatoes and condiments packaged separately, preventing soggy sandwiches. Sunny asked us in advance what meats and cheeses we wanted and thoughtfully inquired about any food allergies or health issues either of us might have.
Utah Arizona Border Tour Tip
When you go to White Pocket, remember your hat and sunshades—it certainly lives up to its name, and the glare may become unbearable. We walked at least three miles, but it felt like so much more with all the ups and downs. After a day like this one, I was relieved to spend the night a mere two miles down the road at BaseCamp 37°.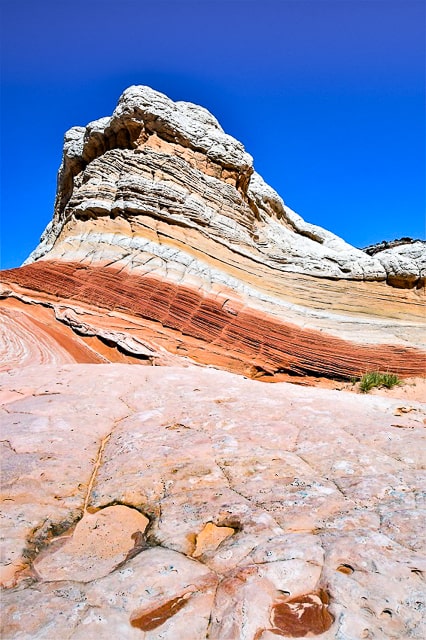 Conclusion – No matter what tour you decide your safari in the Utah Arizona Border region will be otherworldly and remembered for a lifetime.
About Jo Clark—Jo Clark is a happily-retired teacher, travel writer, photographer, food, and wine lover. Jo hails from South Carolina's Grand Strand. She loves learning about local flavors unique to travel spots and adding to her list of places off-the-beaten-path. She is a member of the ITWPA, TravMedia, and Travel Massive. See more of Jo's work on her website Have Glass Will Travel. Follow her on Facebook, Instagram, Twitter, and Pinterest.
About Darrel Mellies—Darrel is a retired Chiropractor that follows his passion for photography. He loves to read and study photography techniques and loves to travel—he is always ready to go. A former Navy man and oil driller, he has traveled to Greece, the Middle East, Europe, and Asia. Darrel has often said, "I'd rather travel than eat when I'm hungry, and I love to eat!" See more of Darrel's work at Photography by Darrel.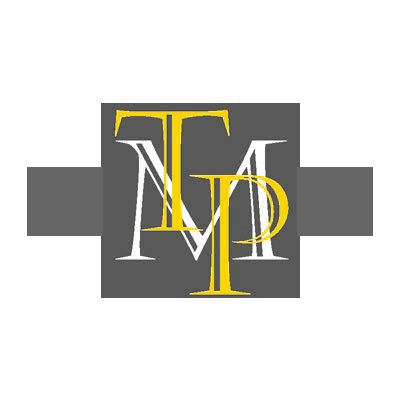 What is the difference between snapshots & photography?
You can read about it HERE