By Cathy Laska
ITWPA Member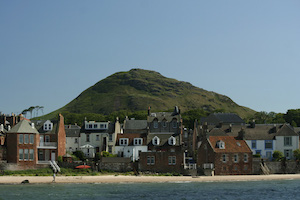 Leave early in the morning by train — with open return — from Edinburgh's Waverly Railway Station, adjacent to Princes Street, on the North Berwick Railroad Line. At line's end is the well-hidden but picturesque seaside town of North Berwick, which means "North barley farmstead" in Old English. Bordered by vibrant red and yellow flowers, the train's platform is an easy 10-minute walk up a tarred path from the town's old stone harbor.
Closest to the harbor is the Scottish Seabird Centre opened by Charles, Prince of Wales in 2000. Observe seals, puffins, and other wildlife with live interactive cameras. Zoom in on Bass Rock, a volcanic plug that looks almost white when more than 100,000 gannets migrate to nest and spend most of the year. Take an hour boat tour on the North Sea to Bass Rock and get a close-up of the historic lighthouse and prison that confined political and religious prisoners from 1672 to 1688.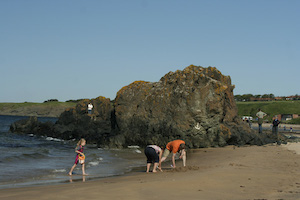 Just upstairs from the Seabird Centre is the Seabird Café, where you're afforded some of the most stunning views of the town and its surroundings. Buy a piece of the café's luscious homemade peach pie and relish it while sitting at one of many tables on the outdoor deck. Enjoy the scenery and listen to the melody of the waves while the breeze blows softly through your hair. "You might even see a pair of seals sunning themselves on the rocks," a resident told me.
Relax awhile, and then turn left from the Seabird Café to stroll along the coastline — and gaze at the Victorian houses lazing in the sunlight — to the outlying areas of the shore where there are numerous rock formations and lush green fields of grass. Along the way pick up seashells that have washed onto the golden sand, or enjoy the cool water of the tide-filling boating pond/paddling pool.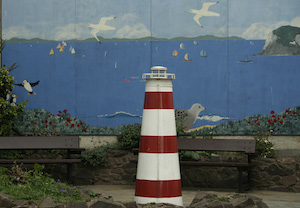 Walking two minutes inland takes you to charming High Street, where you can delight in tea and sweet shops along the way as well as refreshment at the pub. Explore the side streets, where you'll be welcomed to unwind on park benches backed by a number of artistic works. One of those is a mural of flowers and luminous sailboats with seabirds gliding high above and a cheery seal, looking quite alive, brought next to you. In front of you is a realistic red and white four- to five-foot-high lighthouse surrounded by more plants and rocks. Meander in the direction of Quality Street and Dalrymple Arms to glimpse Victorian and Edwardian architecture showcased in buildings both old and new.
From most any direction, it's impossible to miss North Berwick Law, a 613-foot volcanic hill rising out of flatland and overlooking this tranquil town of 6,605. The Law was shaped by movement of ice during the ice age. During the Iron Age, it was the site of a fort, and then later used as a lookout point to survey surrounding territory. Climb to the summit for breathtaking views over East Lothian, the Firth of Forth and Fife coastline, Edinburgh Castle, and beyond.
After an exhilarating time on the Law, stop by one of the sweet shops. Don't worry, they won't be hard to find. The scent of freshly-baked Scottish scones, ginger biscuits, ice cream, and shortbread will lead you in. Trains back to Edinburgh run till late evening, so sit back, savor your Scottish treat, and take in everything you see and hear. You can always take a nap on the 30-minute train ride back.
For more on North Berwick:
http://www.undiscoveredscotland.co.uk/northberwick/northberwick
http://www.visiteastlothian.org
If you would like to purchase this article for your publication, please click here to contact the author directly.