By Ann Jordan-Mills
Look up and turn full-circle. You are surrounded by majestic craggy mountain peaks. You might be seeing them unclothed, stark and defined against a vivid blue sky in summer, or covered with sparkling, pristine snow in winter.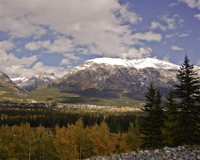 Look to the tree line to see the vibrant yellows and oranges of the autumn leaves dotted among the dark greens of the firs and pines. Maybe you hear the rushing and roaring of streams and rivers swollen with snow melt in the spring.
When you think of Alberta's Rocky Mountains you probably think of Banff, Lake Louise and Jasper National Parks. But no more than ten minutes from Banff (45 minutes west of Calgary) there's a small valley community called Canmore. In the shadow of world-famous Banff, Canmore is often overlooked, and those who discover this sleepy little town consider it just as beautiful … it's definitely more peaceful … and it provides access to all the activities you'll find in nearby Banff and Lake Louise.
You'll find Canmore in the Bow Valley corridor along the banks of the Bow River, surrounded by Three Sisters, Ha Ling, Lady Macdonald and other peaks, each with its own history and legend. The waters of the Bow run clear, cold, and sparkling through the town. You'll notice the deep teal-turquoise blue of the water caused by the glacial silt minerals created by the Bow Glacier. High up in the mountains, this icy giant grinds its way ever-so-slowly into Bow Lake, the headwaters of its namesake river.
Year round, there are activities for everyone. Walk, hike, bike; ski, skate, curl; play golf, explore the local caves, or glide with the sled dogs. You can shop, and you can eat. Choose from fine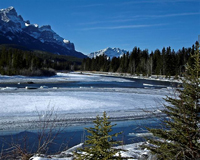 dining, vegetarian, oriental, pasta, soup … oh, those legendary soups … fast food, and bagel, coffee and tea shops. Be ready to loosen your belt a notch — unless you have plans for energetic exercise.
Whatever you decide to do, be aware of the other residents; the wild animals were here long before humans came. The Bow Valley is a major wildlife corridor and bears, coyotes, cougars, deer, wolf, and a couple of elk herds roam free and share the neighborhood.
You may meet a grizzly bear and her cubs while you are hiking, or spot a coyote strolling down the middle of the deserted main street when you leave your restaurant. (It's been known to happen!) These animals are not out to spoil your holiday. They are not really interested in you at all unless you get between a mother and her young, or find their food cache. Obey the "trail closed" signs, and check out the "Bow Valley Wildsmart" brochures, found around town, to learn about the ways of these other Bow Valley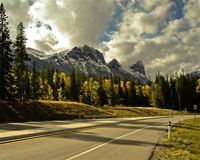 inhabitants.
And never, ever, think you can't come in winter — you would miss out on a huge visiting window with a whole variety of activities and experiences that are fun and exhilarating.
Face winter head-on and you won't even notice it — well, not much, anyway!
Because of the mountains and the long, narrow valley, Canmore has its own mini-ecological system, so whatever season you visit, bring a variety of clothing. It's been known to snow in July — though you could also encounter a heat wave.
If you do come in winter, be prepared for crisp, snowy weather. It's a beautiful time to be in the mountains, and it's cold, but dressed in the latest lightweight insulated clothing, you'll be plenty warm. Layers are best in all seasons, so plan to add or remove garments according to the conditions.

Useful Resources, if you go:
Weather Network
Calgary Airport
Transportation: Calgary to Canmore (Rent a Car or Take the Shuttle)
Stay (Several Major Hotel Chains, Boutique Hotels and Condo Stays)
Bike/ski Equipment Rentals
Golf Course Information
All you need to know about Canmore, including adventures such as spelunking and dog-sledding
If you wish to purchase this article for your publication, click here to contact the author directly.