…weaving history with a Southern Mexico tour
As we entered the Tzotzil Maya village of San Andrés Larráinzar, low clouds and misty fog hung over the hillside. We were entering a highland town outside of San Cristóbal de las Casas, in Southern Mexico.
An arch of broad green leaves decorated with white balloons stretched across the road – remnants of a recent wedding. A small group of weavers welcomed us to their workshop for a demonstration of the backstrap weaving Maya women have learned from their mothers and grandmothers since the time of the pyramids.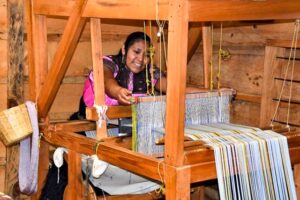 Based in San Cristóbal de las Casas, the eight-day Nouveau Maya Tour with Traditions Mexico took us to four small Tzotzil villages to immerse in the lives and traditions of the native Maya, whose roots run deep. Their history is told in the art they make. In-depth discoveries within the city itself brought us to three different museums, a recycled paper factory, a garden of near-extinct orchids, and many more surprises. Ana Paula, our guide from Oaxaca City, with a degree in design, shared her passion for textiles and the women who create them. Her spirit was a delight, and her knowledge a gift.
"Weaving is today considered to be a form of script, and Tzotzil women can read the verses on their looms."


____________
~ Amber Past
Southern Mexico tour
San Cris – for short – is a magical place, one of Mexico's Pueblo Magico's, and a designated UNESCO Cultural Heritage site – filled with colorful people, architecture, and crafts. Natives dressed in traditional clothing stroll the narrow cobblestone streets. Restaurants serve authentic Maya cuisine and beverages – Chiapas' chocolate and coffee are world renown.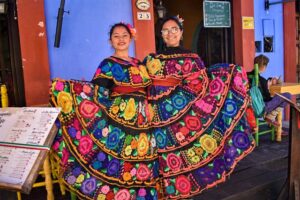 And visiting the village of San Juan Chamula was a travel back in time. Here, the center of the Zapatista movement, society runs on "uses and customs," not governmentally mandated laws. Outsiders may pay to enter the church of San Juan Bautista, but no photographs are allowed. The floor was covered in fragrant pine boughs. Families crouched in groups with their shaman, chanting, driving out the evil forces from the inflicted one, while thousands of candles lit the small sanctuary – images I will never forget.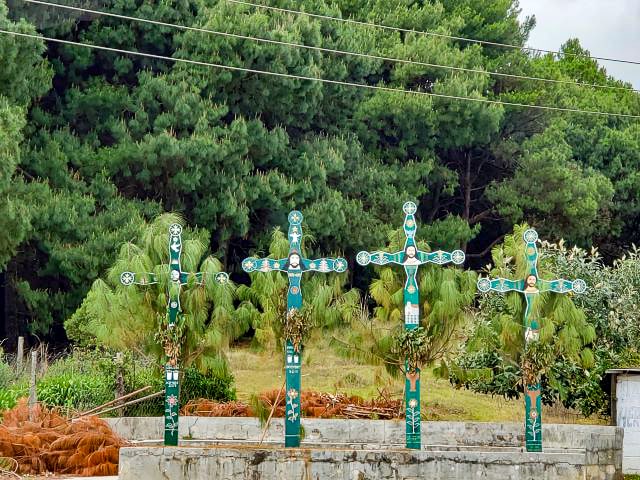 In the small pueblo of Belisario Dominguez, a young weaver named Maria, wearing the traditional Chamulan dress of a black woolen wrap skirt and a hot-pink satin embroidered blouse, demonstrated her art of weaving on a large pedal loom. She showed off her property and sacred sheep as we watched her grandfather and young brother, grinning broadly, grind coffee beans.
Weaving history on a Southern Mexico tour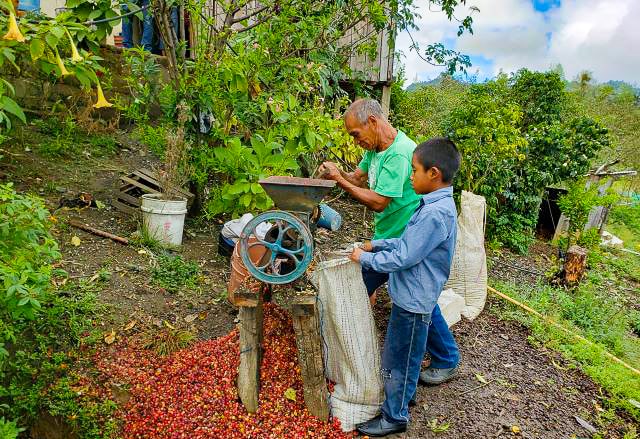 Not far, as the crow flies, Zinacantán is a kaleidoscope of flowers. Greenhouses dot the hillsides. Woven capes and vests are embroidered with large candy-colored flowers, as are the stacks of blouses in the marketplace. Next-door, decked out in their celebration outfits, locals attended a christening – part Christian, part Maya.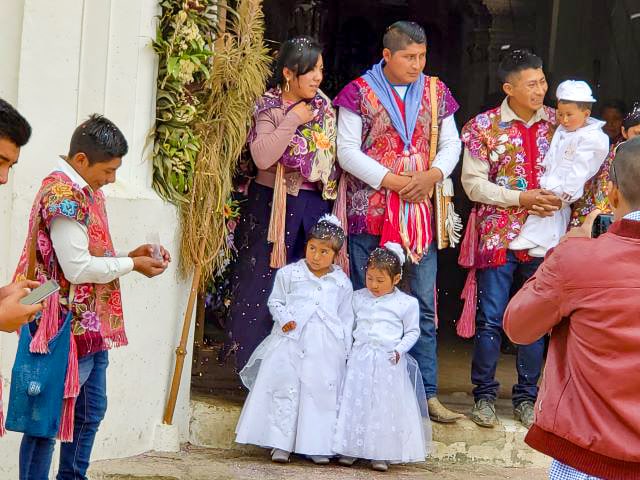 The Maya believe in living in harmony with the earth, and San Cristóbal residents are encouraged to recycle their old newspapers at publishing co-op Taller Leñateros. Operated by contemporary Maya women artists, founded in 1975 by poet Ambar Past, the workshop created the first books written, illustrated, printed, and bound by Maya artists in over 400 years. The Leñateros have rescued endangered techniques of making dyes from native plants and aid in the preservation of the Mayan language. Distinctive posters and art cards screen printed on hand-made paper are for sale.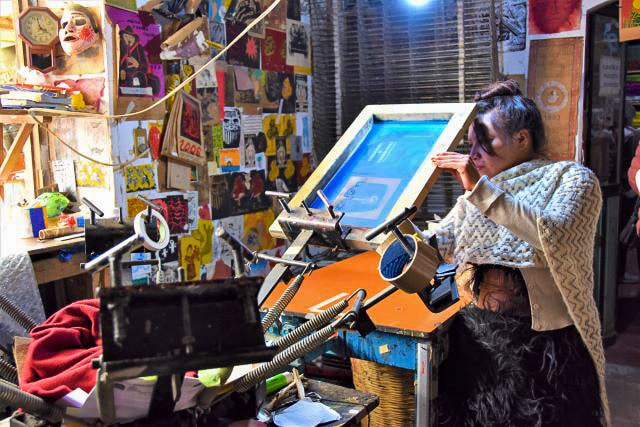 On a mission to safeguard and propagate some of Chiapas' natural floral resources, the Moxviquil Orchid Garden was a pleasant addition to the tour. We wandered beneath cascading bromeliad along a murmuring creek, passing by delicate orchids – so fragrant and exotic. The conservancy also hosts a Maya medicine garden.
Museo Sergio Castro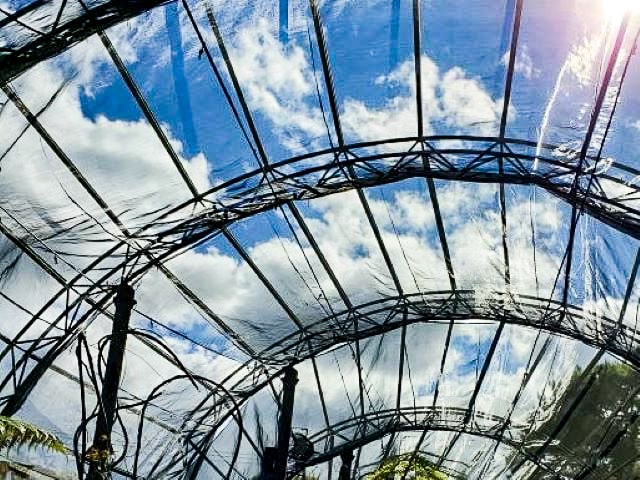 Closer to Centro, behind a weathered black door, Museo Sergio Castro is a fascinating small museum with over 100 traditional Maya costumes inside a medical clinic. Sergio Castro, who some call a living saint, is a 70-something humanitarian, whose veterinary training has allowed him to treat indigenous patients for over 50-years. He asks nothing in payment. His collection comes from gifts of their intricately woven and embroidered garments.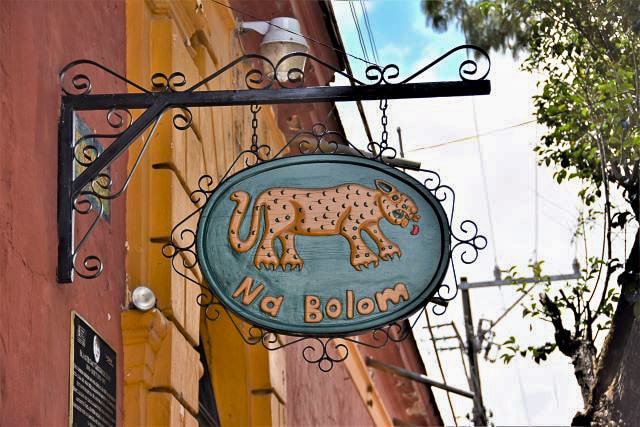 Castro, when he first came to Chiapas, worked with the Lacandon Maya in the jungle, as did Frans and Trudy Blom, who founded Na Bolom – House of the Jaguar. Now a museum, Na Bolom, holds documentation of their work to preserve the customs and traditions of the Lacandon.
The museum, their former home, is a beautiful neo-classic colonial whose mustard yellow walls and grand columns surround an interior garden. Artifacts, photographs, and memorabilia filled the rooms. There is also a gift shop, restaurant, cultural center, a library housing over 14,000 volumes, and a small hotel.
Textiles were the focus of the tour. We learned that ancient Maya traditions are relevant today and were relevant long before the Spanish invasion. To learn more about Nouveau Maya Tour, click HERE.
About Deb Dickerson—Dickson is a freelance travel writer and copywriter who calls the Pacific Northwest home. Always looking for an adventure and a different outlook, cultural travel is her thing – especially Mexico. When going local, she tries to stay off the interstate and enjoys cruising the Scenic Byways and Highways. Her work has been published in International Living, Short Weeks Long Weekends, Travel Post Monthly, Travel Through History, and various local papers. Learn more about Deb on her website.