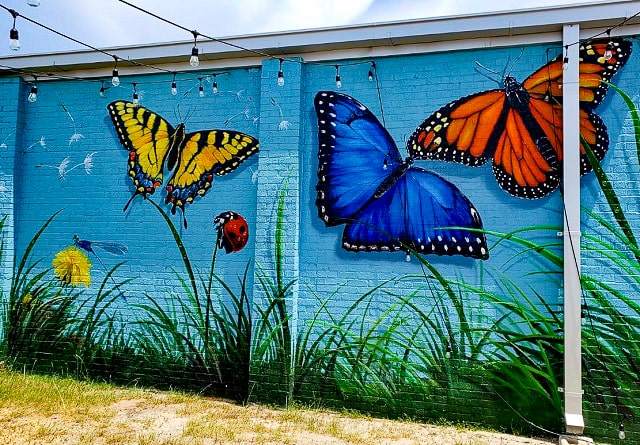 …Lake City South Carolina, it's only an hour away
Words and photos by Jo Clark, ITWPA Member
Admittedly, fun in Myrtle Beach's summer sun is the perfect vacation, but sometimes you need a break from the sun, sand, and surf. A little more than an hour away you can tour the artsy town of Lake City South Carolina.
Small town, big culture
Many small towns are quietly dying, but Lake City continues to grow and thrive by continually reinventing herself. Named their 2018 Readers' Choice for Best Small Town Cultural Scene, USA Today says of Lake City, "Small town, big culture."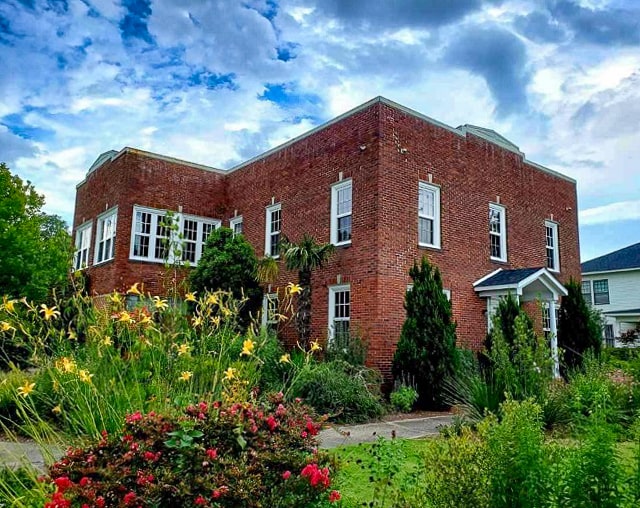 In the 1730s, the good water and inexpensive farmland attracted settlers. Officially named Lake City in 1883, the area's first industry was turpentine. As production dwindled in the 1900s, farmers began shipping strawberries north. In 1939 as much as 30,000 bushels of produce, such as snap beans, were sold at auction daily. Tobacco grew to be the second-largest crop in the state. Much of the area is still farmed, which makes for a beautiful drive to downtown.
Downtown in Lake City South Carolina
While downtown, enjoy free parking, experiencing the town's leisurely pace. Your first stop should be the Visitor's Center on Main Street. Pick up brochures and be sure to grab the Public Art Walk flyer, which has a downtown map, including 18-locations showcasing the area's artistic talent.
Since 2013, the Lake City ArtFields Collective has added new pieces yearly through a public art program—and by pieces, I'm talking BIG pieces–murals and sculpture. This annual competition offers a Grand Prize of $50,000 and attracts some 400 east coast artists.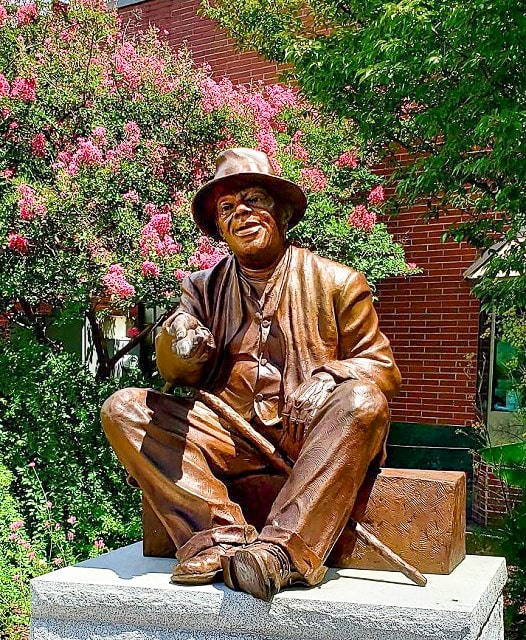 As you make your way toward Theatre Park (emphasis on park), stop by Alex Palkovich's statue of Huey Cooper on the corner of Acline and Main. A beloved Lake City character (1873-1978), Huey allowed folks to rub his lucky rabbit's foot—for a nickel. You can still rub that foot for luck; just drop your coin into Huey's pocket.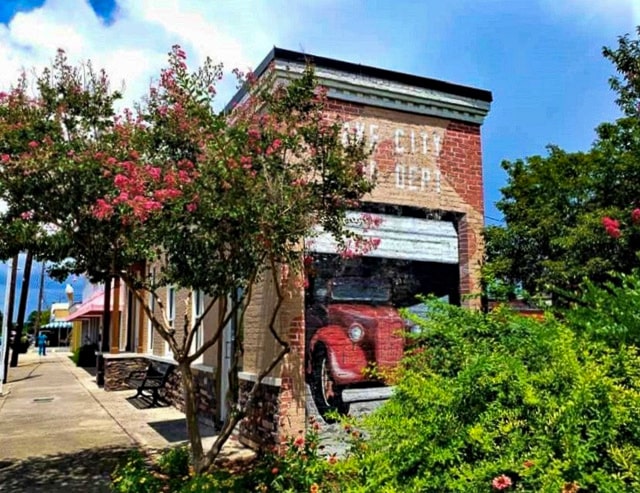 Peek to the left to spot the fire truck coming right at you. This mural predates the ArtFields initiative; painted by Randy McDonald and Ross Gandy in 1983, it features Lake City's 1936 fire truck.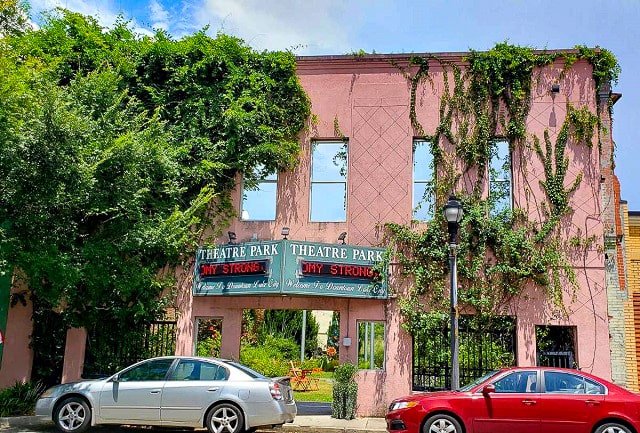 Cross the railroad tracks to check out Theatre Park. Walk right in and have a seat—no one will mind.
Having hunger pains

in Lake City?
After your break, walk back down Main to the Green Frog Social House for lunch. The new restaurant is named for the Green Frog, a sandwich and beer shop which opened in 1947. It had the dubious distinction of opening March 17th, 2020, and being closed due to COVID-19 mandates one day later by state mandate.
They are reopened and serving delicious food. Green Frog is very accommodating. The crew cheerfully divided the Fish & Chips in half for our lunch, leaving room for a Chocolate Brownie Sundae. That, of course, was my plan all along.
How observant are you?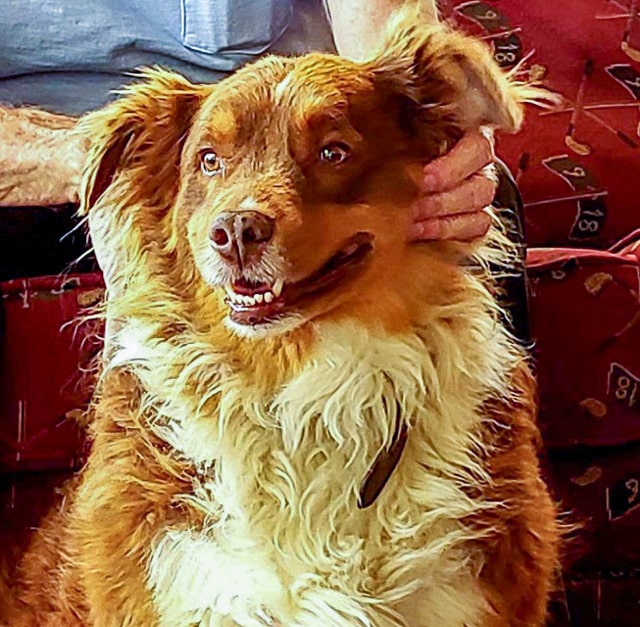 Stuffed, we made our way down a shaded alley to the Green Building, home to Emmett Kerr's Sip Co. Wine & Beer, for a cool drink. The building is covered in Donald Walker's mural of butterflies, which includes 30 hidden images; one is Nimbus, the wine shop's mascot. On weekends, Emmett has food trucks and live music. Since the building was a garage in a former life, all he must do is roll up the doors. When you're in town, stop by for a sip—pat Nimbus for me.
Returning to your car, admire the architecture of this town. Many of the buildings are on the National Register of Historic Places. Stop and peruse the eclectic goods in shops like Main Street Mercantile and Seven Boutique; where I accomplished some Christmas shopping.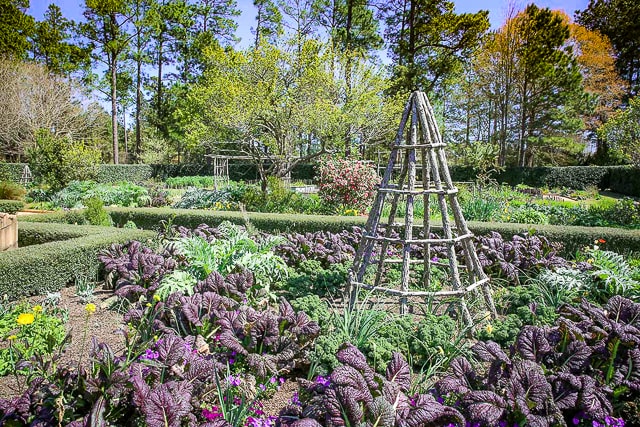 Notice the town's beautiful plantings. Moore Farms Botanical Garden maintains over 15-acres of public space; one of the things that helps Lake City keep its status as South Carolina's first Bee City USA and Tree City USA.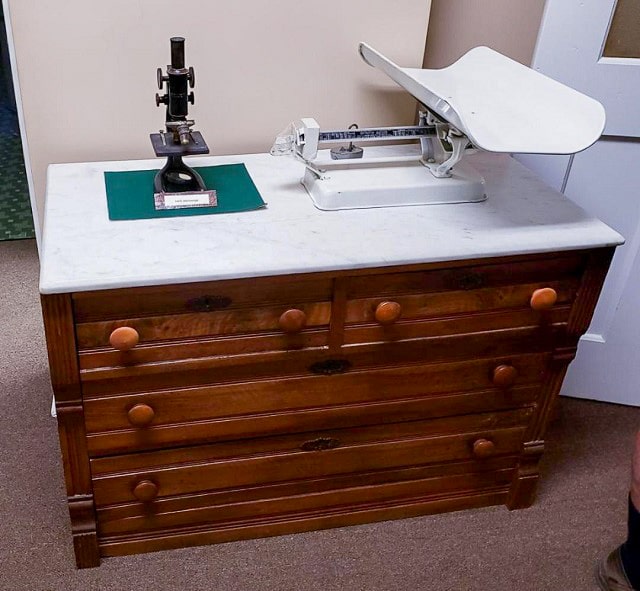 When the heat becomes unbearable, as it can in the South, head over to Lynches Lake Historical Society & Museum.
TIP: Park around back under the trees. Assistant Director Dale Smith escorted me on a comprehensive tour of the building. In 1938 Dr. James Whitehead built a private obstetric hospital. It quickly became an infirmary, closing in 1959. Whitehead maintained the clinic until retirement in 1986.
Many of Dr. Whitehead's personal effects are housed here, as well as local items dug or dived by Dale Smith. A lifelong collector of artifacts, he and his friends have provided numerous items from the Low Country land and rivers.
A sad chapter for Lake City South Carolina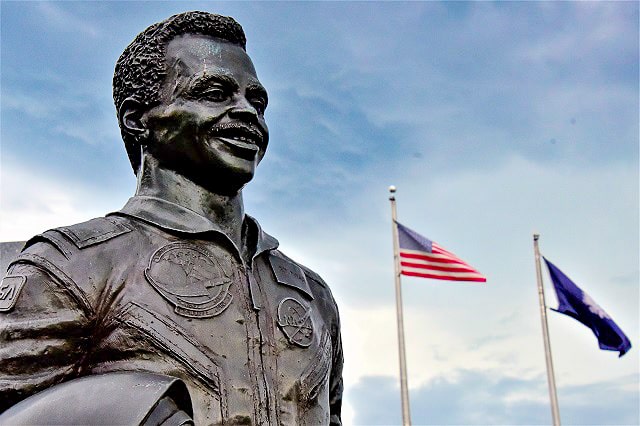 Across the street is the Ronald E. McNair Life History Center, museum, and final resting place of Dr. McNair. The Lake City native, America's second African American astronaut in space, perished aboard the Challenger shuttle when it exploded after launch in 1986.
Grain & gallery in Lake City
Jones-Carter Gallery, located in the former feed and seed store, offers exhibition gallery space, hosting several exhibits during the year from local to internationally known artists. Event listings are found on their website.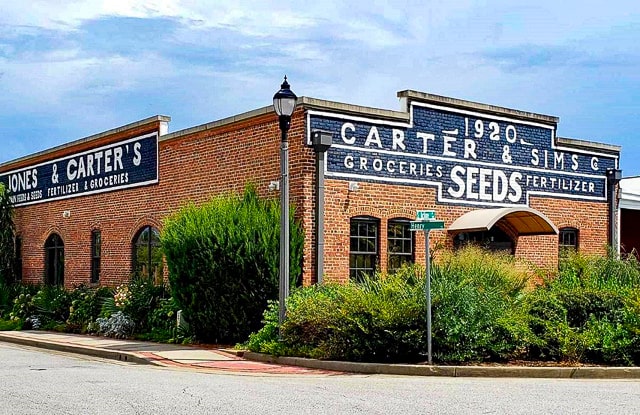 As you leave Lake City, consider stopping by 900-acre Moore Farms. Groups of 8 can schedule tours, and they offer free garden days each month. Maybe you'll be lucky and attend the Wine Stroll or the Beerfest. If you are hungry again, Brown's Bar-B-Que, on the way out of town, serves southern BBQ.
The area hosts so many festivals and events, you may have to return often. I'm looking forward to Fiesta Fridays, Hometown Holidays, Lift Your Voice Gospel Showcase, Model Train and Vintage Toy Show, Tobacco Festival, and the Rhythm & Q's Bar-B-Q and Live Music Competition – just to name a few.
To learn more about Lake City, South Carolina, click HERE.
About Jo Clark—Jo is a happily-retired teacher, travel writer, photographer, food, and wine lover, from South Carolina's Grand Strand. She loves learning about local flavors unique to travel spots and adding to her list of places off-the-beaten-path." She is a member of ITWPA, International Travel Writers and Photographers Alliance.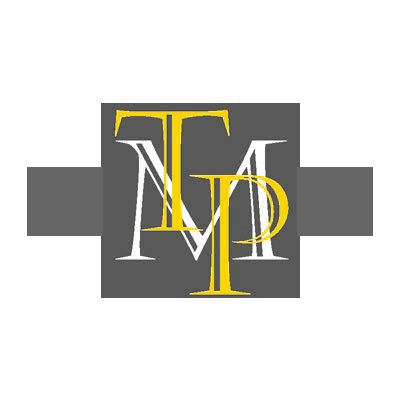 Having trouble starting your travel story?
World traveler, writer, editor, and golfer, Tim Cotroneo, shares his 'how to get started' tips HERE.