By Ken Forsberg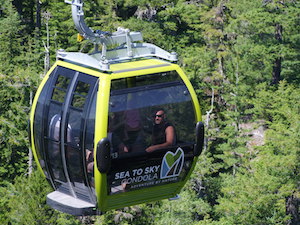 Only half the distance from Vancouver as the Whistler/Blackcomb peak-to-peak gondola, the new Sea to Sky Gondola, just minutes south of Squamish, British Columbia, makes a nice day trip for those of us who don't want to spend the entire day traveling. Less than an hour's drive from just about anywhere in Vancouver, this new facility offers easy hiking trails and sweeping views of not only the Squamish Inlet, but also Diamond Head and Sky Pilot mountain ranges. The drive up the Sea to Sky Highway is always scenic on a sunny day, and a very pleasant day trip can be accomplished in five or six hours.
The facility boasts a lovely café/restaurant/bar at the summit which I found to be very spacious and accommodating. One small note: after my short hike around the Panorama Ridge trail at the summit, I returned to the restaurant to find a fresh spring water drinking station free of charge near the cafeteria-style service line. This sort of consideration indicates that the management is aware of the needs of their visitors and not trying to gouge them for every dime. There was also open space inside by the retail shop and outside on the patio, and a scattering of picnic tables about the peak. So you are not only welcome to enjoy the hospitality of the restaurants, but they also make you feel free to bring your own food and drinks and enjoy the experience that way.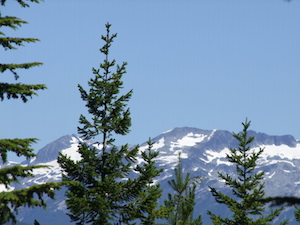 The trails at the summit are well-groomed and easy hiking for the most part. This seemed to attract many elderly visitors as well as many parents and grandparents with young children. Wayside natural benches and groomed lookouts make the hiking pleasant and safe.
On my way back down I met a couple of lovely young ladies who had just come up for the afternoon to enjoy a couple of cocktails and a chat at the bar, another option to explore — and why not? I could go for that!
Perhaps the lack of the fear factor of adventure traveling won't appeal to the adrenaline junkie here, and the whole thing might seem a little "square." I can strongly suggest that if you're looking for a pleasant afternoon out of the city, be "square" and be there.
If you would like to purchase this article for your publication, please click here to contact the author directly.
Are foreign drugstores clinically appropriate for Americans. Part 2