By Jim Reno
If Las Vegas by the Sea is your idea of a good time, then add the Hard Rock, Punta Cana to your list of must-see Caribbean mega-resorts. This was not the quiet, couples-only Caribbean island experience. This was more like a nice cruise ship that decided to permanently dock itself on a beautiful beach where everyone was beautifully tan, spoke English and Spanish, and seemed to have a song in their heart. That's the Dominican Republic — the land of the friendly people.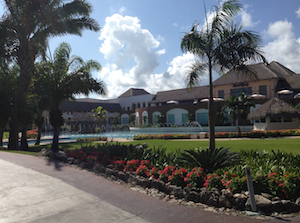 The hotel itself is a combination of membership-owned, time-share-style "club" rentals mixed in with traditional hotel suites. There is one fenced off "members only" beach area near a similarly marked pool area. However, the resort is so large that these two private areas do not impede the rest of us from enjoying the many amenities this enormous resort offers.
Depending on where your room is located, you will only be about a 15-minute walk from even the most distant amenities. If you don't feel like scuffing your new Jimmy Choos, there are free golf cart trollies that come by frequently and the hotel is laid out so that you are never that far from popular stops like restaurants, pools, or shopping. The resort was thoughtfully designed so that the users of the adults-only clothing-optional pool (aptly named Eden) are a safe distance from the toddler's pool where SpongeBob might just make an appearance. Many resorts make it impossible to enter without crossing the money-grabbing gauntlet of the casino. At the Hard Rock, the casino has been tucked away into a front corner of the hotel. If you lose your money there, you have no one else to blame.
I would advise taking advantage of the "unlimited points" offer at the hotel. It is a way to leverage the length of your stay toward real savings on a variety of off-site excursions and/or on-site benefits. For example, our six-night stay paid us 1,500 points, so my wife and I opted to use about 300 points for a six-hour mountain tour. The points were deducted and we were given an 80% discount, so the tour cost only $44 for both of us. We then used some of our other points for discounts on souvenirs and a couple's massage in the massive spa. We had a couple's massage for 50 minutes and then tried out the dry sauna, the steam room, the jetted pools, and aromatherapy and lounged in the main chill-out area for about 30 minutes sipping herbal teas. Total cost for both of us: $70, no gratuities expected. The sheer size of this resort makes it feel it was built for giants, but the spa felt like it was built for Roman or Greek royalty. We never wanted to leave.
When you are awarded your points package, you will be asked if you wish to join the hotel club, which can be a valuable option for the right kind of traveler. Usually, resort "time-share" offers like this turn into a wrestling match with commission-starved salespeople trapping you in a three-hour headlock. Before your automatic defense mechanism against time-share discussions kicks in, rest assured. The Hard Rock was a refreshing 15-second soft sell. We politely declined, and surprisingly, we were not asked again.
The lobby and main hotel area had several restaurants ranging from casual buffet-style dining to a (slightly dressier) more traditional dining experience. The food choices ranged from Italian to Mexican and sushi to steak, with a café/deli and even a hibachi restaurant with chefs cracking jokes, lighting fires, and flipping knives. There is truly something for everyone's palate.
Children are welcome everywhere and the hotel features youth-oriented play areas as well as child care and an arcade. There is upscale shopping located in the main hotel as well as a full spa, beauty salon, and gymnasium, and rock history art exhibits everywhere. The casino is similar to what you would find in Las Vegas, with modern gaming and machines, the only difference being that this casino closes around 2 to 3 a.m. and opens again at 10 a.m.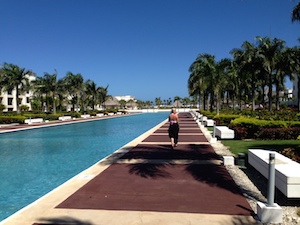 The grounds in between the hotel and the beach showcase several huge, decorative, shallow pools amid lush, manicured grounds. As I strolled by these pools, it seemed a shame that I could not get in them. And the grounds, too, seemed to be a bit large for their usage. Again, this was a resort built by alien giants from another world, so perhaps the gigantic, open, concrete plaza in the center was really a landing area for spacecraft. More likely, huge concerts and corporate parties are staged there, but when vacant, the area looks a bit lonely.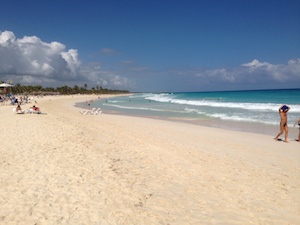 Trollies passed us repeatedly, but my wife insisted we walk off some of the huge breakfast we had just eaten, so we meandered along the concrete pathways in between the four- to five-story buildings. We approached the pool areas. At the Hard Rock, there were many pools and some of them were massive. There was one pool in the middle of the grounds, near the beach, where people were practicing SCUBA diving. The pool was only about four feet deep, but it had to be 60 yards across. We took a couple of towels and headed for the beach, which was appropriately large. The sand was incredibly soft and had that pinkish sheen to it when the water receded. The water was gin bottle clear and warm, with small, playful waves just large enough to prohibit Hobie Cat sailboat rentals. A man brought two beach lounges to us as we surveyed the shoreline, so we sat down — and a moment later a woman offered to bring us cocktails. We smiled and knew we'd be there for a while.
It's not often that I visit a resort this large, as I usually prefer a more personalized and intimate resort experience. This mega-resort attempts to satisfy everyone. The sheer size of the Hard Rock allowed it to offer such a wide range of amenities, food, and activities that it was difficult to complain. If you don't like the loud music, walk three minutes to a quieter area. If you don't like the food, switch restaurants. And if you get tired of walking, a smiling trolley driver will take you anywhere. For me, I could not stop smiling as I rolled up on my rented Segway, dove into the pool, and ate fresh sushi at the swim-up bar while I checked my email using the free resort Wi-Fi. I have to admit, it does not get much better than that for me.
If you would like to purchase this article for your publication, please click here to contact the author directly.