By Jennifer B. Graham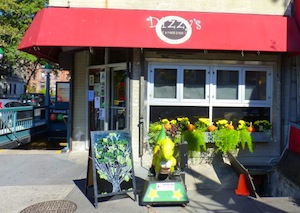 They're located on the F-subway train line at 7th Avenue in the Park Slope neighborhood of Brooklyn, New York. As I hustle — or rather, huff and puff — up the subway steps into the daylight, a waft of hamburgers, fries, waffles, and other delicious diner fare permeates the summit as a reward for my effort in the scrum of underground travel. Dizzy's is not just any old long-counter, greasy spoon diner, it's a "finer" diner where comfort food is made from the freshest ingredients and presented with flair.
I enter and the black and white checkered floor tiles reminiscent of a 50's original diner catch my eye. Canary yellow walls exhibiting eclectic pieces by local artists together with speakers piping contemporary jazz tunes create a casual, funky, inviting atmosphere. Dizzy's was formerly the Park Towne Coffee Shop-cum-diner, a regular neighborhood haunt for many years. When it came up for sale a decade ago, Matheo Pisciotta and Ben Hoen, then ready to team up in a restaurant venture, snapped it up. The original Coffee Shop sign still has pride of place on the wall behind the counter.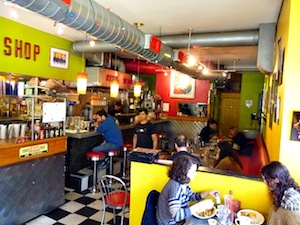 Dizzy's doesn't simply churn out the "same-old-same-old" fast-food burger and fries. Their food is pleasing to the eye, reflecting Pisciotta's artistic talent. The burgers are juicy and the French fries crispy and flavorfully seasoned. Dizzy's offers an extensive breakfast, lunch, and dinner menu including everything from The Power Breakfast, Dizzy's Crabcakes, to one of their midweek specials, Bourbon BBQ Salmon. Their established favorites are Tuna MacDaddy, Eggs Ben A Dizz, and Dad's Favorite Meatloaf. Dizzy's offers excellent value for the money, which, by the way, is cash only. With Pisciotta's generous portions, you can get a good feed for $12 plus tax. This is borne out by the place's being packed to capacity — on weekends especially.
Both Pisciotta and Hoen have extensive culinary training and experience, having respectively worked in family and numerous restaurants. The duo is as different from each other as Laurel and Hardy. Pisciotta is proud of his Italian heritage, love of food, and portly girth, while Hoen is skinny and has to keep reminding his partner about portion control. "I'm Italian," laughs Pisciotta. "It's got to be a lot of food — a bodanza. Pile it on." He places his hand on his paunch and adds, "Make people feel it."
While Pisciotta, who studied art in high school, can produce a beautiful drawing in a flash, Hoen, the analytical one, can whip up a beautiful spreadsheet effortlessly. "I'm the brakes," says Hoen, and, referring to his partner, "He's the accelerator." The buddies complement each other in a balanced relationship. Dizzy's success has been showcased in New York Magazine and the Food Network's series, Best of The Best.
I rarely eat waffles, but every time I visit my daughter in Brooklyn, I stop by Dizzy's for their melt-in-your-mouth waffles freshly unmolded from the waffle iron and served with New York maple syrup and sweet butter. My request for a sprinkle of pecans is gladly obliged. I wash down my meal afterwards with a pretty decent espresso latte and leave wholly satisfied. I always look forward to my next Dizzy's fix.
If you would like to purchase this article for your publication, please click here to contact the author directly.