…Stanley Park, a priceless natural treasure
By Michelle Fedosoff, ITWPA Member
Stanley Park is in the heart of Vancouver BC. Surrounded by the Burrard Inlet and English Bay, Stanley became Vancouver's first city park in 1886.
The park is a designated National Historic Site of Canada. It has been named "the best park in the world" by the Travelers' Choice Awards.
Most of the park is forested. There are a half-million cedar and redwood trees in 1,001-acres (405.1 hectares). Vancouver is dedicated to maintaining the natural state of this urban green space. The park holds many attractions. It's easy to spend a day there among Nature's beauty.
Walking cycling or driving
The Seawall is an 8-kilometer (4.97 miles) path around the outer edge of the park. It runs beside the Pacific Ocean. It is perfect for viewing Purple Starfish at low tide. If you're lucky enough, the seals will be looking for fish.
The Seawall is divided into two lanes, one for pedestrians and a one-way for cyclists. It is paved and flat, so it is easy for everyone to use. There are several options for stopping; washroom facilities, benches for resting, play areas for the kids, and places to eat.
Another option is the Scenic Drive, a one-way drive around and through Stanley Park. It is a great way to get a quick look at the park and offers many places to pull out for views and adventures. You pay for parking throughout Stanley, but one ticket allows you to park in several locations.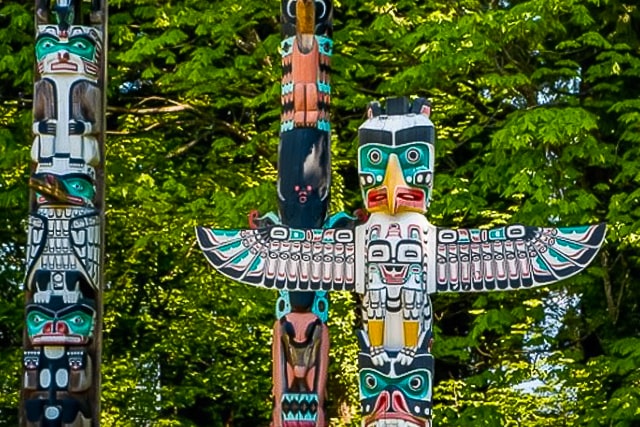 A visit to the totem poles at Brockton Point is a must. The collection represents the First Nation Peoples throughout British Columbia. Each carving on a pole represents an event and has a meaning.
From Brockton Point, a short walk along the Seawall brings you to the woodland path leading to Beaver Lake. Walking under the trees and among the ferns is a quiet oasis compared to the busy Seawall. You will find many aquatic animals on the 1.5-kilometer (0.93 miles) walk around the lake.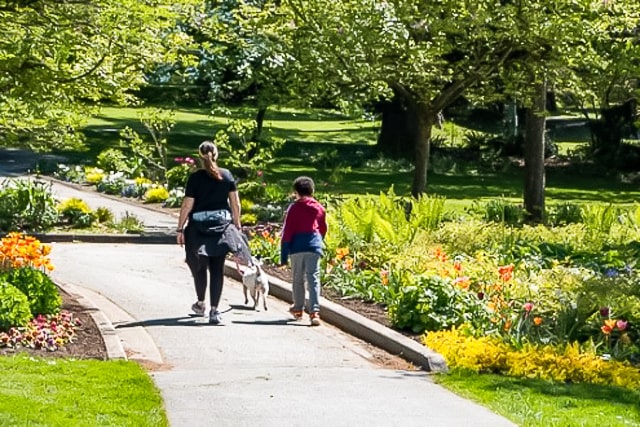 Another short walk in the woods will bring you to the Rose Garden. The beautiful garden and picnic area have colorful blooms in spring. Roses fill the grounds in summer.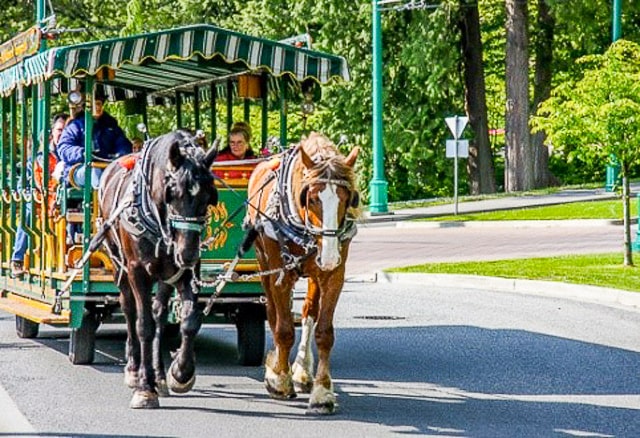 Riding the rails & horse-drawn carriages
When you want to see more of the park, but are tired of walking, the Stanley Park Miniature Train is a 2-kilometer (1.24 miles), 15-minute ride through the forest and over trestles. On certain days of the year, your canine companions are also welcomed to ride.
For horse lovers, Horse-drawn Carriages will take you for a one-hour ride through the forest. A professional guide provides the history of the park. Information about the redwood forest and some of the wildlife living there is included.
Encounter dolphins, otters, birds, & beavers
A visit to the Vancouver Aquarium, located in the middle of the park, is a popular activity. It is home to the dolphin habitat, the rain forest walk, and the otter exhibit, which will make everyone smile. Those otters are just such characters.
Lost Lagoon is a small man-made lake surrounded by a walking trail. The trail is flat except for the bridge. It has benches for resting or watching wildlife. This is a popular place for bird watching with many different species of ducks, Canada Geese, and White Swans nesting in the area.
If you are patient enough, you will also be treated to a visit by the raccoons in the area and maybe the local beaver. Stanley Park Nature House is located here. It's a great place to stop for information on local wildlife or maybe a ranger tour.
Family activities
Second Beach is family-friendly with its lifeguard attended outdoor pool, children's playground, and sandy beach. Also, a great place for a picnic, with tables, a concession, a coffee vendor, and public washrooms. There's no reason to leave the area for several hours.
For golfers, Stanley Park Pitch and Putt Golf Course is a pretty Par-3 course surrounded by trees and mature rhododendrons. During the summer months, there is a fee to play. Clubs and balls are available to rent. In winter, the course is open, and play is free, but the course is only maintained at basic levels.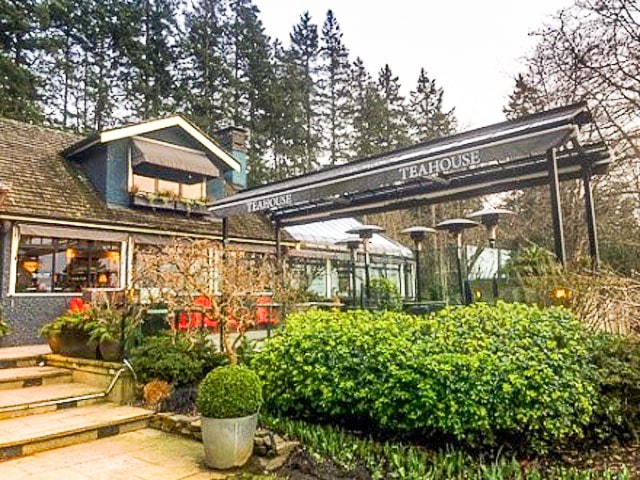 Shopping and dining
Shoppers will find several locations such as Legends of the Moon, Prospect Point Trading Post, Nature House Gift Shop, and Aquarium Gift Shop. Painter's Circle features painters creating and selling their original artwork.
From ice cream and drinks at the concession stands to burgers and sandwiches at Prospect Point Café, to upscale dining at the Teahouse, there are eatery options for every taste and budget.
There's so much to do at Stanley Park, you might find that you have run out of time for everything, that's OK. Just return the next day and continue exploring.
About Michelle Fedosoff—Michelle is a traveler, writer, photographer, wife, and mother. She has traveled to 13 countries and is always on the lookout for something interesting to do. From counting turtle eggs in Mexico and looking for tigers in India, eating Haggis in Scotland and pig snout in Spain, drinking chai tea from street vendors in India to black sesame hot chocolate in Canada, she is willing to try almost anything once.