By Carol A. Pierini
ITWPA Member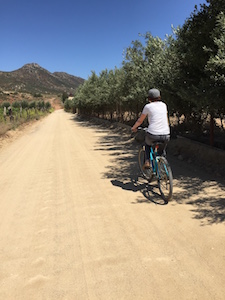 A picturesque two-hour drive down the Pacific coast from San Diego into Baja California and Valle de Guadalupe to the Ruta del Vino (Wine Trail) opens up an exciting experience of wine tasting, foods, and exploration. Only four wineries existed here 27 years ago. Today, more than 100 wineries thrive in Valle de Guadalupe, and more are coming. Most have tasting rooms that are open year round and others are by reservation. Highly acclaimed local restaurants are scattered throughout the valley among the wineries, as are boutique hotels with swimming pools and small B&Bs that offer quiet evenings and delicious breakfasts. The low-key feel of this region has become a major draw for wine lovers who miss the pre-tourism days of Northern California wine country.
We chose Terra del Valle, a small B&B located in the heart of Valle de Guadalupe, for our long weekend stay. The innkeepers encouraged us to visit the surrounding wineries by bike to enjoy an exhilarating morning ride before tasting. Our first morning began with a robust breakfast of fresh orange juice from the inn's orchard, local cheeses, olives prepared on site, breads, and other fresh offerings. We headed off on bikes for Viña Emiliana. The winery's Casa Madero Malbec 2012 and Chenin Blanc 2013 were both gold medal winners at the Concours Mondial de Bruxelles in Mexico. A short distance farther up the dirt road from Viña Emiliana, on a hilltop overlooking olive groves and row after row of grape vines, is the Decantos Vinicola, where for the past seven years, wine has been made via the gravity method. This elegant, contemporary hilltop winery is complete with a small tapas restaurant.
We followed dining recommendations for a late lunch at La Cocina de Doña Esthela, which offers traditional Mexican dishes. You may bring your own wine or beer if you wish. All restaurants in the valley are seasonal, with farm-to-table ingredients prepared by outstanding local chefs. Deckman's en el Mogor, under the executive management of Chef Drew Deckman, is a food lover's delight where dining under the trees and sipping local wines while overlooking the vineyards is a perfect ending to a beautiful day.
Getting around the wine route is easy if you use UberValle, an Uber service that provides private drivers to chauffeur you all day long to the wineries and to dinner in the evening. Many visitors to the wineries are finding UberValle to be the most comfortable way to enjoy this wine and dine experience.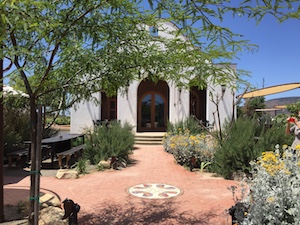 Wineries in Valle de Guadalupe are family-owned, and all pride themselves on the naturalness of their wines.  Many are certified organic. The new Museo de la Vid y El Vino has extensive exhibits that describe the history of this region, which is very similar to the wine areas of Napa and Sonoma in climate and grape production.
Boutique hotels are opening with panoramic views of the valley and hip hangout bars. Restaurants like Corazon de Tierra are featuring tasting menus with modern Mexican dishes. Fauna, David Castro's latest opening, and the Food Truck at Adobe Guadalupe Winery and Inn are both hot spots in Valle de Guadalupe.
Plan now to travel to Baja California, and be a part of the wine and culinary excitement. Whether you travel simply and economically or elegantly, you are certain to enjoy every moment on the Valle de Guadalupe Wine Trail.
Note: Bring your passport, as you will need it to cross the border coming back to the U.S.
If you would like to purchase this article for your publication, please click here to contact the author directly.