By Des Townshend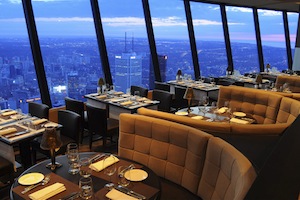 The best time to arrive at the CN Tower's revolving restaurant in the heart of Toronto is an hour before the sun goes down, as it takes 72 minutes to make one complete revolution. That way, you will catch a daytime view of the cityscape, and by the time you reach your dessert course you will experience the sun disappearing below the horizon as city lights wake up the vibrant cafes, nightclubs, and theaters far below.
Dining in the CN Tower restaurant — simply called 360 — with its 12 awards of excellence is one of the "must do's" in Canada's largest city, especially if there is someone special in your life whom you truly want to impress. I promise she (or he) will not be disappointed!
The glass-enclosed elevator on the outside of the tower will give you a view of what is in store. Once you are seated at your pre-booked table, relax and take in the breathtaking view. On the south side you are looking down at Toronto Island in Lake Ontario, while on the other three sides is the bustling city with its colorful mosaic of ethnicities. Over 145 languages are spoken in the school system, as immigrants settle from every corner of the world.
Ranked as one of the best restaurants in the city and having received the Distinguished Restaurants of North America (DiRoNA) award every year since 1997, 360 has a cleverly thought out menu to meet the appetites of all diners. For dinner you have a choice of two fixed prices offering great value (three courses for $55 or four courses for $68), or you can choose from the extensive a la carte menu. The menu is updated twice a year, and certain prices will vary depending on the season.
My friend and I settled into our window table anticipating a pleasant evening. It was her first visit to Toronto, and I was anxious to impress her. Perhaps I was influenced by a reader's poll in Where magazine giving it the rating "most romantic restaurant."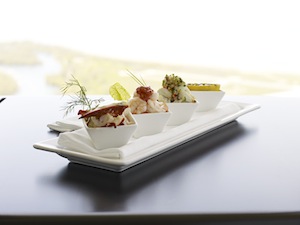 I started with butternut squash soup seasoned with maple glazed walnuts and rosemary that was poured at the table into a warm bowl, while my friend selected the baby leaf Caesar salad. Bon appetite!
We both requested the delicately orange dusted smoked Atlantic salmon for our entrée. The menu also featured three different ways of preparing pork. As with many quality North American restaurants the menu includes a choice of beef, seafood, and lamb or pork, along with appropriate vegetables and sauces. All are presented with flair by the friendly servers who are genuinely interested in making your evening an experience to remember.
Hoping to impress my out-of-town guest with a Canadian wine, I ordered a bottle of Pinot Noir from the Niagara wine district of Ontario. Joel Fleischman of Vanity Fair describes Pinot Noir as "the most romantic of wines, with so voluptuous a perfume, so sweet an edge, and so powerful a punch that, like falling in love, they make the blood run hot and the soul wax embarrassingly poetic." For the less poetic among us try calling it "sex in a glass"!
Guests are invited to make their wine selections using an iPad containing the restaurant's wine list of over 550 labels from the "World's Highest Wine Cellar." Easy to use by wine lovers, the iPad allows you to select your wine by region, by type, by vintage, by name, or by price. Every year since 1999, Wine Spectator magazine has given 360 an Award of Excellence.
We relaxed back in our chairs after our entrée course, quite satisfied until we saw what was delivered to our neighbors' table. Neither of us could resist the decadent Dark Chocolate Tower dessert, created to meet the wildest dreams of chocolate lovers.
Peter George, who leads the culinary team at 360, grew up on a farm in Ontario where he learned the value of fresh, locally grown produce, and he continues this tradition at his restaurant. George oversees a garden on CN Tower grounds that produces over two dozen varieties of herbs, edible flowers, and an assortment of vegetables, which he harvests to supplement his kitchen.
After coffee it was time for us to turn our attention to the panoramic view of the sun setting as we had just about completed a single revolution of the Tower. We walked outside, high above the city on the protected deck, to a howling but fresh summer wind in our faces, and decided not to take in the exposed EdgeWalk that requires a harness for more daring folk who make their way over the yawning gap to the ground below.
For your best experience of this high restaurant I suggest you check the weather before arriving, to avoid viewing disappointment from low cloud coverage.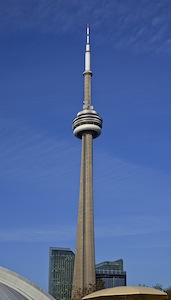 Although I have eaten at this Canadian icon on several occasions, I am convinced that every time it is better than the last — and more importantly, my friend commented: "It was a truly wonderful experience, never to be forgotten!" It is the most interesting site in the city of Toronto and well worth the dining experience.
Booking in advance is highly recommended, as this allows you to take the restaurant elevator (thereby avoiding a long lineup of sightseers who are not going to the restaurant) and ensures you have a table.
Caution: Do not place valuables on the ledge beside the table, as your table is part of the revolving restaurant, and you may never see them again.
www.cntower.com
For reservations call (416) 362-5411
If you would like to purchase this article for your publication, please click here to contact the author directly.