By Kathryn Anderson
ITWPA Member
The ocean breeze gently blows your hair. The glow of the sun warms your face. The smell of the salty ocean fills your nostrils while the sound of the waves calms your nerves. The sight of sculptures along the Malecón makes it a stroll that delights all your senses. This 3.1-mile stretch of promenade in La Paz is decorated with large sculptures that include a variety of sharks, a mermaid, an anchor, a giant oyster shell complete with pearl, and many more. The city of La Paz is filled with numerous art studios, but the Malecón is akin to a stroll through an outdoor gallery. Starting at the Marina of La Paz in the south, it runs to Playa Coromuel in the north.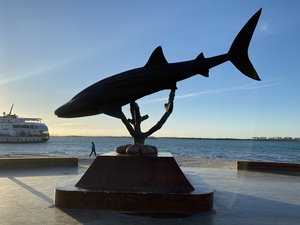 Big city with beach town vibes
The capital city of Baja California Sur, La Paz, boasts approximately a quarter-million people who call it home. It is the most populated city in the state. What is so amazing is the small beach-town feel you experience as you meander down the art-filled promenade called the Malecón. If you look to one side, you see the endless ocean, and on the other, streets lined with local cafes, restaurants, bars, and quaint shops. As you walk this stretch of La Paz, you would never know you were in the fourth-largest municipality in all of Mexico.
When one thinks of visiting this area of Mexico, Cabo San Lucas would be the city that comes to mind. Many would never venture to La Paz if it were not for the excursions offered by Cabo's countless resorts. Want to swim with Whale Sharks? They'll pick you up in the morning, drive you to La Paz for your water adventures before whisking you back to Cabo.
What you'd miss would be the opportunity to experience the city of La Paz and the picturesque Malecón. Its artistic flair aside, the fact that you can enjoy a leisurely stroll alongside the water without countless vendors trying to sell you something every 30 seconds makes this a rare and wonderful occurrence in Mexico. Walking the marina-side boardwalk in Cabo is a starkly different experience. Vendors hassle you at every turn.
Habla Espanol?
As one of the larger cities in Mexico, you will find that most people speak enough English to help you get around, but they certainly appreciate any Spanish you do speak. The first word you may wish to practice is the name of the city itself. La Paz translates to 'The Peace' and is pronounced la 'pass.' I was corrected after taking the quintessential tourist photograph of the giant, colorful La Paz sign found on the Malecón.
Stunning sunsets
If your timing is just right, you'll be rewarded with a glorious sunset. The golden yellow hues morph into a fiery orange before turning to pink and disappearing into the horizon. From a rooftop patio, I watched this colorful show take place between palm trees that rustled in the wind. It was certainly a sight to behold, and one that was perfect for watching while sipping an ice-cold cerveza. If you find yourself in Cabo, or anywhere near La Paz, do yourself a favor and spend a night or two here enjoying the small, beach-town vibes found alongside the Malecón. It does become quite lively at night, especially on the weekends. If you wish for a restful sleep, ensure your hotel isn't located right on the strip. ~TPM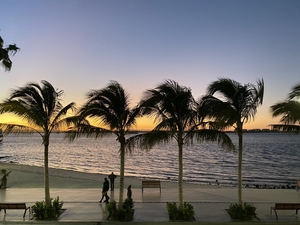 About Kathryn Anderson—Kathryn is a freelance health, wellness, travel writer, and blogger whose mission is to inspire adventurous people to live their best life through travel and self-care. Based in Vancouver BC, she frequently travels the globe and has visited 21-countries on 5-continents. Follow Kathryn on Facebook, Instagram, and her travel blog Coffee and Mascara.