By Roy Sherrid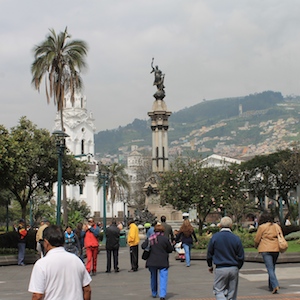 Our first clue that my wife Melody and I were going to be staying at a hotel that was not your standard lodging was when we were assisted out of our taxi by two colonial-Spanish-dressed doormen, complete with embroidered vests and cuffed frock coats. We had been traveling to Europe on our previous vacations over the years, but this year we chose to visit another part of the world. We decided to fly south to Quito, Ecuador.
We had booked our reservation with a hotel that is in the heart of the historic district of Old Town Quito, the Hotel Patio Andaluz. The hotel is listed as a National Monument by the Ecuadorian government because it was once one of the original ancestral noble homes of the sixteenth century, when the town was known as San Francisco de Quito. It is part of the Ciacotel hotel line of boutique hotels in Ecuador. But it was not always a hotel. The structure has had many different lives in its 300-plus-year history, ranging from being a casino to use as offices and apartments, until it was renovated and finally opened its doors as Hotel Patio Andaluz in 2004.
As soon as you step inside the door, it is very easy to see that this truly was the home of colonial Spanish nobility. The reception lobby must originally have been the home's greeting parlor, from where you step down into a lofty covered atrium. Today, the atrium functions as the hotel's first-rate restaurant, called Rincon de Cantuna. A terrific breakfast buffet of the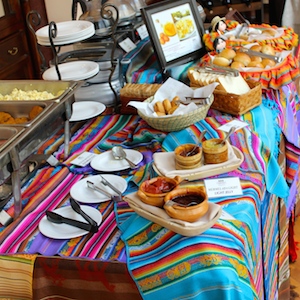 freshest local fruits is displayed every morning on locally woven and beautifully colored Ecuadorian cloths. The buffet is a complete breakfast with eggs, meats, and breads, or you can order from the menu. Melody and I also had a delicious and tender Filet Mignon for dinner in the Rincon de Cantuna one evening.
Hotel Patio Andaluz has 32 suites, and even ones with romantic loft bedrooms. The rooms are spacious. The beds are very comfortable, and that is important — you will really appreciate that fact after a long day of walking the streets of Old Town Quito.
The Hotel Patio Andaluz is only two short blocks from the Grande Plaza, also known as Independence Plaza. There are historical and cultural museums, national monuments, and several beautiful churches within steps of the doors of the hotel. Melody and I toured as many of these sites as we could find, and were in awe of the beauty of the architecture, the wonderful baroque and intricate gilt decorations of the Iglesia de la Compania de Jesus cathedral, and the friendliness of the Ecuadorian people. Everywhere you go, people smile at you, or return your smile.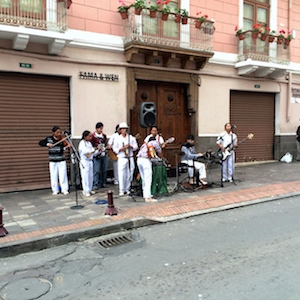 On a Sunday that we were there, three different native Ecuadorian musical groups performed in or nearby the Grande Plaza. They were all excellent, and it was a pleasure to hear the skill of these local artists blending the sounds of their guitars, drums, violins, and flutes. It was very moving. We have stayed at some fine hotels in the past, like the Four Seasons, and the service has always been excellent. But at the Hotel Patio Andaluz, it seemed that the entire staff genuinely wanted to serve, and enjoyed serving, their guests. They would anticipate our needs and seemed to cheerfully go out of their way to do little extra courtesies to make our stay more pleasant. All of them were very gracious, welcoming, and eager to make us feel at home. We found that to be true from the doormen to the kitchen staff to their lovely hotel manager, Daysi, who we had the pleasure of eating breakfast with one morning.
We thoroughly enjoyed our stay at the hotel, and our time touring the many sites of the city. I can't think of another hotel I would rather stay in when visiting the historic district of Old Town Quito than the Hotel Patio Andaluz. You can't help but feel like you are stepping back in time when you step into that 300-year-old noble home that is now a classic boutique hotel.
If you would like to purchase this article for your publication, please click here to contact the author directly.