By Vicki V. Johnson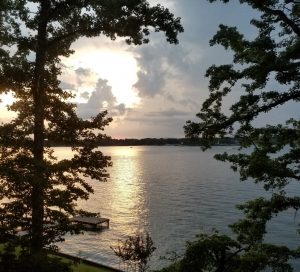 Located approximately 30-miles east of Birmingham Alabama, the lake borders St. Clair and Talladega counties as a 17,000-acre reservoir. Built by the Alabama Power Company in 1965 and positioned in east-central Alabama on the Coosa River, Logan Martin Lake is a place of beauty and serenity that encompasses everything from luxurious real estate to vast natural resources.
Described by locals as the "lake of a thousand coves," this lake offers boating, skiing, swimming, freshwater fishing, and so much more. When you wind around the scenic highways and travel along the paths that lead you toward this majestic area, the visions of this great body of water captivate you. The cool breeze and sun-kissed sparkles off the lake can lure any traveler, making it a must-visit destination. Clean air and natural terrain are ubiquitous. You'll find friendly people in this Sweet Home Alabama state.
This area has a locality that gives a traveler the best of both worlds. A quiet, serene place to enjoy rest and relaxation, or a call for adventure in outdoor sporting or hiking events. The Talladega Superspeedway Motorsports Complex nearby attracts race fans and spectators from all over the world, and many of them enjoy Logan Martin Lake while in town.
There are nice variations of parks, vacation rentals, hotels, hometown fresh produce vendors, and charming spots for dining to choose from in this well-kept asset. There are also day-use recreational facilities, public boat docking, designated swimming areas, adventure playgrounds, seasonal events, fishing outlets, and tournaments, just to name a few. The local census defines the glorious sunsets as what people dream about; and what artists paint. Photography professionals or enthusiasts alike, have a canvas to create pictures that speak to the soul. There are thousands of acres of land that are undeveloped and natural along the lake, which call to the primitive camper seekers, as well as hikers, bird watchers, and forest dwellers. The mountainous landscape adds to the natural beauty, and the views are truly a sight to be seen.
Come join the community of peaceful and enjoyable inhabitants of Logan Martin Lake. For a vacation, a season, or a lifetime, don't miss the enchanting allure that abounds here.
If you would like to purchase this article for your publication, please click here to contact the author directly.