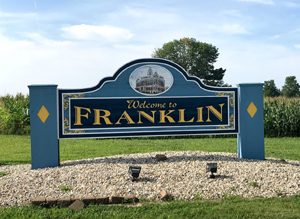 Is it possible to have a fun weekend in a small town just south of Indianapolis? You bet. The small town of Franklin Indiana, population 24,000, is full of interesting places to visit. Farm animal yoga? Salvage shopping? Art Deco theater? You'll find all this and more along with some excellent restaurants. If you need to get out of the city, Franklin is the perfect getaway.
Great Eats
Start your visit by indulging in a crispy, fresh brick oven pizza or calzones and creative drinks using local spirits at Richard's Brick Oven Pizza. Located in an unassuming building on the edge of downtown, Richard's has a local cult following. The prices are reasonable, the food tasty and the atmosphere casual. You can't go wrong with a calzone loaded with interesting toppings such as goat cheese, andouille sausage, and roasted red peppers. Be sure to ask for the homemade alfredo sauce for dipping. Add a glass of wine or a mixed drink like the Hoosier Donkey, a Moscow Mule using Indiana vodka. Indulgent for sure.
The Willard is another great locally owned restaurant – located right next door to the Artcraft in downtown Franklin. It's housed in an old home that was built in 1860. The history of the home has been preserved in the layout of the restaurant, the interior brick, and beautiful wood details. The food is excellent, especially the wings and pizza, the drinks are strong, and the prices are reasonable. A family of four can easily enjoy a dinner with drinks and tip for $70 or less.
Finally, you won't want to leave town without indulging in some ice cream or tasty candy treats at The Hoosier Cupboard. This local candy store can be found alongside the railroad tracks heading out of town. Along with a huge variety of candy, a small railroad museum is free for visitors to peruse. Stock up on goodies to enjoy on your drive home.
Classic Movies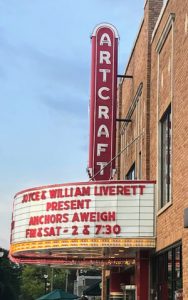 Just a few blocks of walking will lead you to the Artcraft Theatre. The Artcraft was built in 1922 and then renovated in the Art Deco manner in 1948. The Franklin Heritage non-for profit has been hard at work in recent years restoring it to its prior glamour. Thanks to their efforts, you can enjoy a movie most Fridays or Saturdays. The Artcraft shows everything from old movies to cult classics. We saw 1945, Anchor's Away, starring Frank Sinatra and Gene Autry. A recent showing of Talladega Nights included a glass of local beer. The Artcraft isn't just a movie theater, it's an experience you don't want to miss.
Shop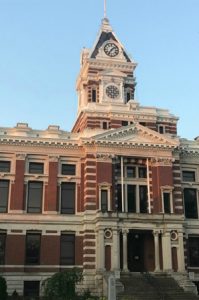 For those who like to shop, Franklin boasts a number of local shopping opportunities. Downtown on the very walkable square around the courthouse, you'll discover antiques, home décor, clothing boutiques and more. Just a few blocks from downtown are the shop salvage lovers will salivate over. Madison Salvage is a non-profit store containing hundreds of salvaged items – the majority before 1970. With rooms full of treasures such as church pews, old wooden doors, and lighting fixtures, it's a fascinating place to explore.
Farm Animal Yoga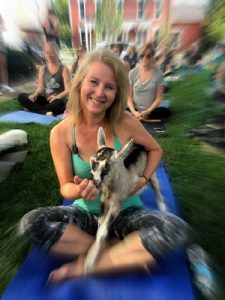 Ever heard of Farm Animal Yoga? It's just like goat yoga but with a variety of animals such as kittens, chickens, goats, and even a pig. Tagalong Boutique offers it or the more standard goat yoga weekly at 10:00 AM on Saturdays. The class is simple enough for a beginner but fun enough for anyone who loves yoga. After spending a morning stretching in the sunshine and playing with baby animals, it's hard not to depart with a smile on your face.
Next time you feel the need to explore outside of Indianapolis, I encourage you to check out Franklin. The town might not have a big-city feel, but it certainly has the excitement of one.
If You Go
Richard's Brick Oven Pizza – 229 South Main Street – 317-738-3300
Historic Artcraft Theater – 57 North Main Street – 317-736-6823
Madison Street Salvage – 350 East Madison Street – 317-739-0601
The Willard – 99 North Main Street – 317-738-9668
Goat Yoga at Tagalong Boutique – 251 East Jefferson Street – 317-438-7640
Hoosier Cupboard – 370 East Jefferson Street – 317-346-0680
If you would like to purchase this article for your publication, please click here to contact the author directly.