By Harry Singh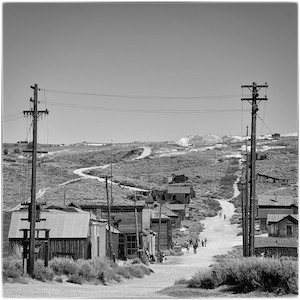 While moving from San Francisco to Bodie, a little girl wrote in her diary: "Goodbye God, I'm going to Bodie," a phrase that came to be known throughout the west.
As the legend goes, Bodie was second to none for its wickedness. Justice vigilante-style, saloon brawls, and stagecoach robberies became more the norm than the exception. Reputations are earned over a lifetime, but Bodie had earned one for violence that rivaled the likes of Tombstone, Arizona, in two short decades. These fascinating boom towns are famous to this day, thanks primarily to their celebrated gunmen — and Bodie had its very own, "The Bad Man from Bodie."
People often asked the question, "Why can't men get along in Bodie without fighting?" Interestingly, the answers ranged from being purely whimsical to hilarious to downright sad. Some blamed it on the 8,500-foot elevation and the treacherous climate. Others humorously cited that sitting down to dinner without a bullet hole in your hat was a sure way to tarnish your own reputation. Many, however, saw it as a sad yet true reality that everybody who came to Bodie fought regularly just for entertainment.
Located on the eastern side of the Sierra Nevada Mountains in California, Bodie was discovered by William S. Bodey in the mid-1800s, a period in time which saw the height of the California gold rush. This is how Bodie got its name. Some argued that the difference in spelling was due to an error made by an illiterate sign printer; however, it was found to be deliberately done for the sake of easy pronunciation.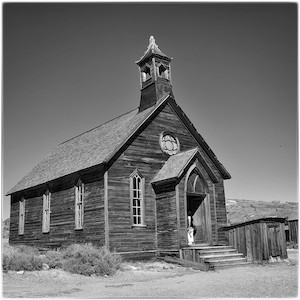 By the early 1880s the population had ballooned to over 10,000. One mill and twenty miners had grown into a town with 60-plus saloons, gambling joints, opium dens, and even its very own red light district. You could name your vice and you would find it in Bodie. Often, miners and their money earned during the day did not make it home for the night. A combination of money, lust, alcohol, and guns proved lethal and killings occurred with monotonous regularity. So much so, that asking "Have a man for breakfast?" (which meant "Did anyone get killed last night?") wasn't so out of place at the breakfast table.
The streets are quiet now and Bodie today is a town frozen in time and in a "state of arrested decay," a condition where the buildings are protected but do not undergo restoration. It is quite possibly the best preserved ghost town west of the river Mississippi. The famous bad men and their guns are all resting in their graves and only five percent of the buildings are still left standing. Even though it was designated as a State Historic Park in 1962, not many are aware of its existence.
Getting to Bodie does not require special planning since it is easy striking distance from nearby tourist destinations like Lake Tahoe and Reno to the north, Yosemite Village to the west, and Mammoth Lakes a short hop to the south. It certainly is a pure delight and a journey back in time for the young and old. Located 13 miles off State Highway 395, the last few slow, dusty, and bumpy miles weave and wind past encroaching California sagebrush, creating a feeling of traveling back to the 19th century.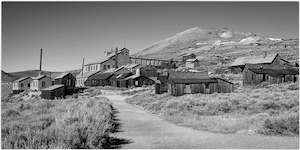 As one approaches, the few remaining weather-beaten buildings that are left standing can be seen a short distance away. The temporary aggravation of bumping along the dirt road quickly dissipates and one is immediately transported to an era and terrain somewhat similar to what is often depicted in Country Westerns.
Though Bodie is accessible all year long, a bit of advance preparation during the winter months goes a long way in ensuring a fun visit. Skis and snowmobiles replace cars and SUVs during the winter months. The powdery snow is so soft and deep that it effectively renders even the normally rough-and-tumble SUVs useless. Just such an adventure in the snow could certainly add an exciting element to the visit, which even during the easier summer months is a pure delight.
If you would like to purchase this article for your publication, please click here to contact the author directly.