By Melissa Jones
ITWPA Member
"When you work hard all day with your head and know you must work again the next day what else can change your ideas and make them run on a different plane like whiskey?" — Ernest Hemingway
Next time you're in Park City, Utah, be sure to hit a local favorite watering hole — the High West Distillery & Saloon. Whether you're visiting in the summer or during the peak ski season, it's an experience you don't want to miss! Just a block off historic Main Street, at the bottom of the Quittin' Time ski run, sits the "world's first and only ski-in gastro-distillery." You can't miss the 250-gallon copper still gleaming in the front window.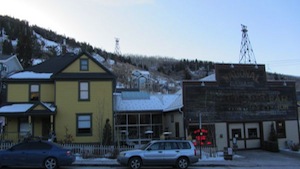 The restaurant and saloon are housed in a two-story Victorian house built in 1914 and the adjoining "National Garage," once a livery stable for workhorses in the local mines. When automobiles became the latest rage, the stable was converted to a service station.
After a short wait, we were led through the walkway, past the still, and up a narrow flight of stairs into the adjacent house. Upstairs, we were seated in a cozy room overlooking historic Park City. Western vignettes of Roy Rogers and Annie Oakley adorned the walls while Johnny Cash music played in the background.
The drink menu boasts a number of tasty selections. From popular High West favorites (be sure to try the High West Lemonade) like Dead Man's Boots and Whiskey Smash to the classic Manhattan or a shot or two of in-house distilled spirits, you're sure to find something to whet your whistle.
The seasonal food menu is equally impressive — and affordable. You can enjoy unique and lip-smacking "saloon bites" that promise only the freshest ingredients (and a dram or two of whiskey) in every dish and include bacon- and bourbon-flavored High West Popped Corn. Ask your waiter about the featured specials. We tried a juicy heirloom tomato stack (grown in Utah) and a zesty Wild Rice Mushroom Soup (yes, there was a delightful kick to it).
For the main dish, there's something for everyone, whether you're a meat lover or a vegetarian. Small plate offerings include Black Coffee & Bourbon Glazed Cod, while large and specialty plates feature Pan-Seared Utah Trout topped with Roasted Grape & Caper Berry Sauce, Idaho Elk with Chanterelle Mushrooms, and the infamous High West Burger. If you're in the mood to share a meal, try the Whiskey Cheese Fondue.
You can even get kid-friendly Lil' Buckaroo plates for the youngsters — mac 'n' cheese, spaghetti, and other kid faves. Summer desserts range from fresh fruit cobblers to a whiskey and chocolate sampler and more.
On your way out, don't forget to stock up on your favorite spirits — the General Store is the only state-registered store open for bottle sales on Sunday in Utah. In a state with strange alcohol laws (it's dry on Sundays, folks!), it's nice to know you can get a dram or two of whiskey when you want.
If you'd like to purchase this article for your publication, click here to contact the author directly.