By Christine Cornforth
Travelling north from Perth, Western Australia along the Great Northern Highway, you pass by many acres of bush and farmland, a seemingly endless vista of countryside. Then, 132 km north of Perth, a surprise awaits — Australia's only monastic town, New Norcia.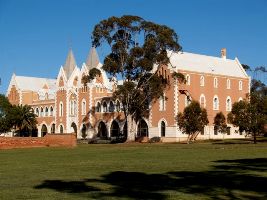 New Norcia looks like a village that has been wholly removed from its native Spain and transplanted into the bush landscape.
The collection of buildings is run by Benedictine monks with the help of lay people. Although the school and orphanage for local aboriginal children are no longer operational, there is still enough to keep a tourist enthralled for quite some time. It's possible to "Meet a Monk," take part in chapel services, partake of some Abbey Ale in the hotel, and tour a museum full of priceless paintings and artefacts.
Another of the town's big attractions is the New Norcia Bakery, renowned for its superior quality breads, nutcakes, panforte, and biscotti. These products are made on the premises and sold both in the town and in a few select stores in the city of Perth. The area is also home to an abundance of olive groves which supply the fruit to make their much sought after olive oil.
A visit to New Norcia is a great alternative to the hustle and bustle of the city. Your visit can take many forms. It can be a spiritual time of contemplation and renewal; it may be educational — learning about the monks' support of the aboriginal community or the history of olive oil making; or you may simply want to gaze at priceless paintings by well-known international artists.
While it is possible to do the trip comfortably in one day, it is a pleasant place to have an overnight stay. Accommodations include a hotel from a bygone era with 16 guestrooms, a guest house which, though basic, can be utilized on a donation basis (AU$75 is suggested, but the choice is yours), or you can choose a powered camping ground for your own tent, caravan or RV. In New Norcia, there is something for any and all types of travellers.
If you wish to purchase this article for your publication, click here to contact the author directly.