by Teba Orueta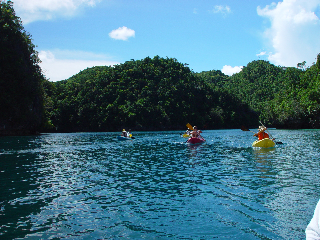 When you search for a real getaway to disconnect and relax, it pays to look for a place that feels like it could be your own; where the owners are waiting to greet you like family; where everywhere you turn there's a spot for contemplation; where the food is so deliciously tasty that you want to take the cook home with you; where everything is so well thought-out you never want to leave. A place you keep coming back to because you cannot find a match.
These places are like rare gems; difficult to come by and secretly guarded by those in the know. Well, you're in luck. I'm going to let you in on a little secret.
Tucked away between lush mangroves and a fine white sand beach lays this unique getaway. The owner, Frenchman Nicolas Rambeau, fell in love with Siargao and following a dream, built this romantic nook amidst the lushness of a traditional fishing island facing the Pacific Ocean.
Ten years later, towering pandan trees welcome you into his beautifully tended property, Pansukian resort.
From the moment you arrive at Pansukian, you know you've stepped into a different pace of life. Nothing about your arrival here is common.
To quench your thirst after the journey, you are greeted with freshly squeezed calamansi lemon juice, made fresh that morning and always tastefully adorned with a small flower from a nearby tree.
You will soon forget you had luggage; the staff will swiftly take care of it the moment you step off the car or the boat. All you need to do is take your shoes off for the remainder of your stay; Nicolas designed fine white sand walkways precisely for this purpose. And every villa has a big clay pot of fresh water to wash your feet before entering.
And, in fact, this is the only part of your space other guests will ever see. A raised wooden walkway winds slowly to your villa, hidden away in the privacy of its own overgrowing garden.
No two villas are alike: You may find an impressive hand-carved headboard inspired by the Cambodian temples of Angkor Wat or be surrounded by intricately woven baskets and other treasures from the farmers of the northern archipelago.
Each villa combines the natural elements seamlessly. The towering rooftop supported by beautiful wooden beams lends a sense of airiness and space indoors. Natural light streams into the room through the large bay windows, and the sliding doors allow for a view of the water, the garden or both. The floors are lined with smoothly-finished wood welcoming you warmly to your very own tropical retreat.
If you come with a guest, you need not worry about stepping on each other's toes. Every room has a large queen-size bed, two bay-view window day-beds, and a grandiose bathroom with natural light and a walk-in shower. Decked out with your own private hammocks, outdoor loungers and Thai floor cushions, you may find you never want to leave your little nook.
Pansukian meals, all included in your rate, are a feast you will look forward to day in and day out.
Inspired by the world travels of Nicolas and his partner Geraldine, you will avidly devour anything from fresh mud-crab caught locally, to mouth-watering Thai red curry.
Spaniards claim Nicolas makes fine seafood paella, and vegetarians feel at home with creamy home-made soups and sautéed local produce.
Ice-cold lemongrass tea is infused daily and when you want mouth-watering young coconut for dessert, you need only ask and one of the boys will climb a palm-tree to fetch it for you on the spot.
The resort also offers deliciously fresh cocktails, like their signature piña colada made with fresh ingredients grown locally. Best of all, the dining room and the bar are both a few feet from the water, making the experience a feast for all senses.
If you manage to make it out of your villa, Siargao really does have plenty to offer.
Named after the sandbar opposite the resort, Pansukian boasts a number of kayaks to let you explore nearby wonders while keeping fit. An experienced PADI Divemaster, Nicolas will gladly train, test and certify you in a variety of diving modalities or take you out fishing on one of the resort boats. Local lagoons, sea pools and deserted fine white beaches are within easy reach. In fact, you may find you often have the resort beach all to yourself.
World renowned Cloud-9 surf reef is only a 20-minute ride away, where expert surfers brave the waves and local instructors gladly take you under their wings if you are a novice. Kids will feel at home here too! Geraldine loves to show them the resort's fascinating shell collection, and tell stories of how animals live underwater.
With sand, sea, local animals and plenty of smiling children to show them a good time, you won't need to worry about babysitting, and best of all, you'll get to enjoy a well-deserved and very affordable 2 hour massage, every day of you like.
Indeed, you will soon be wondering whether you shouldn't actually move the whole family here.
It is not by chance that Pansukian resort sees repeat customers coming back from as far as Europe and the US, year after year.
If you go:
It may surprise you to find that Siargao enjoys the opposite climate to the northern Philippines, making it an ideal getaway during Manila's rainy season or the perfect holiday choice if you're flying from other countries or continents in the Northern hemisphere.
Don't hesitate and book your stay anytime between February and September. Special rates are often available by calling the resort's reservations number on: +639279342970
SEAIR fly daily from Manila to Surigao del Norte where you can catch a fast ferry to Siargao island. Alternatively, charter a Pansukian boat to pick you up in Surigao and take you directly to the resort in style.
For more information, see: http://www.pansukian.com
To buy this article for use in your publication, click here.