By Rosemary Francis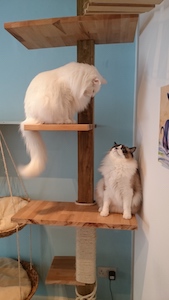 Nestled under Edinburgh's protective castle rock, just off the wide sweep of the Grassmarket, there is a café with a difference situated at 17-19 West Port. The shop window is empty save for some carpeting. However, you may see two felines flash through it playing chase, or perhaps, in a late sunbeam, there may be a snoozing cat curled up in a ball.
This is the home of Maison de Moggy, which opened in May 2015. The owner, Laura O'Neill, who had been intrigued by the cat cafés on her visit to Japan, thought the concept just might go over in Edinburgh. Not only can you purchase the "purrfect cuppa" tea, coffee, or soft drink but also homemade cakes, all prepared in a cat-free area.
The main reason to come, though, is to enjoy the cats. Gently stroke them, entice them to play with the many toys provided, or just watch as they pounce and chase each other. Under the ruling paw of the smallest cat, a Sphynx named Elodie, are two Norwegian Forest, three Ragdolls, two Bengal Siamese, two British Shorthairs, a Maine Coon, and a Chinchilla Persian. These purebreds are selected for their demeanor as kittens, carefully monitored by veterinarians, and averaging four months to two years of age. To further protect the cats, there are rules posted on the wall — and enforced under the watchful eye of the "cat nannie" — protecting cats and humans alike. Space is limited and so, too, are guests. Reservations are requested, usually made on the hour for an hour and costing £7 (about $9) per person. To keep the cats less stressed, children under 10 are not admitted and those over 10 must be accompanied by an adult.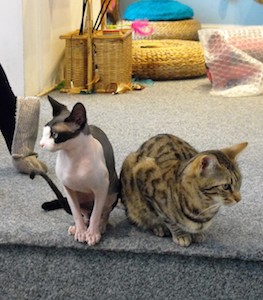 Studies have shown that stroking a cat lowers one's blood pressure, so if the cats aren't too busy playing, perhaps you can multi-task. Definitely you'll smile.
Should you have time to spare before your reservation, you may wish to stroll back to the Grassmarket. Lined up cheek-by-jowl are Italian, French, and British restaurants. With the wide market street, most of the restaurants have blocked off their central street spaces for evening dining under the trees and stars when the weather allows.
Meanwhile, back at Maison de Moggy, the last booking is at 5:30 p.m. It's a great opportunity to spend time with fuzzy felines when you're away from home and missing your moggy, or perhaps you've just "lost" your pet, or where you rent no pets are allowed. In Edinburgh, it's a wonderful chance to meet exotic breeds you may never have encountered before while you take time to relax before exploring some more of this vibrant city.
There are stairs off the Grassmarket leading up to Castlehill and onto the esplanade of the castle, or down the Royal Mile to the Palace of Holyrood House. If you're coming from Edinburgh's main thoroughfare, Princes Street, come up The Mound and over The Royal Mile and turn at the first right off George IV Bridge and down the West Bow into the Grassmarket. The West Port is on the far side and this café with a difference is on your right.
If you would like to purchase this article for your publication, please click here to contact the author directly.