By Mike Hopkins
ITWPA Member

When is the "off season" in Central America? Well, for most places it starts around May and runs through October, which is also the rainy season. Now don't get all wrapped up in the phrase "rainy season," because it doesn't equate to every day being a total washout. Actually the months of May and June as well as September and October are considered the "shoulder season," with the weather being good most of the time. Yes, there will be some periods during the shoulder and rainy seasons when it will rain all day, but for the most part, it's only a few showers.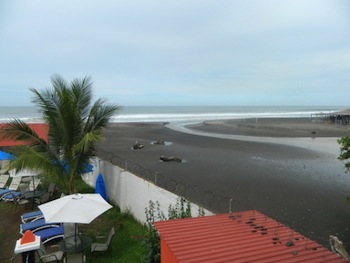 So, is the off season the right season to travel for you? If you like to be in the mix with crowds of other people, wait in extended lines, or maybe even not be able to make a reservation at a highly recommended restaurant, the answer is probably no. However, if you want to enjoy quiet walks down uninhabited beaches, be one of the few riding the cable car to the mountain top, or look at the local sites with a personal tour guide, the off season might be right for you.
I recently returned from an off season trip to Tegucigalpa, Honduras, and La Libertad, El Salvador, where, while it was cloudy and had scattered showers for a couple of days, I didn't have to cancel anything. I saw historic churches and museums, walked uninhabited beaches, had hotel pools all to myself, and enjoyed great meals without having to wait. In the churches and museums of Honduras, personal tour guides could be found because there were no large groups and the staff were anxious to share their heritage. On the beaches of El Salvador, there were no surfing crowds or loud parties, just plenty of sunshine, warm ocean breezes, and peaceful strolling.
In Honduras and El Salvador the hotel occupancy was so low the staff outnumbered the guests, so I was almost always "first in line." Whether I was ready for a meal in the restaurant or on the beach, a poolside drink, a taxi, or just information, my requests were taken care of immediately.
The lack of crowds and abundance of helpful locals were not only evident at the attractions, hotels, and restaurants, but in the airports as well. In both Honduras and El Salvador, the process of clearing Immigrations and Customs was by far the fastest and easiest that I have personally experienced. In both airports, from the time I got off the plane to the time I was outside the terminal was about thirty minutes. Now, granted, I travel light and only had a carry-on, but the checked luggage from our flight was already arriving in the terminal when I started the Customs clearing processing.
So if you want to be treated like a king or queen, explore on your terms, or just lounge around for days on end, taking a vacation during the off season is for you. However, if you like being treated like just another face in the crowd, don't mind waiting on latecomers in a tour group, or don't want a quiet moment to plan or reflect, then the off season probably is not for you.
If you would like to purchase this article for your publication, please click here to contact the author directly.